Galaxy Note 4 vs HTC One M8: What You Need to Know
With a Samsung Galaxy Note 4 release date confirmed for October, many consumers now have a tough choice between the new Note 4, and other popular devices like the HTC One M8 or LG G3. After going hands-on with the company's new Note 4 smartphone, here we'll compare what it has to offer over the competition.
Earlier this month Samsung took the stage for its annual Unpacked event and announced a successor to last years Galaxy Note 3, and a few other devices. Those being the all-new Galaxy Note 4, Galaxy Note Edge, and Gear VR headset.
Read: Galaxy Note 4 Hands-on
The past year has been ruled by the Galaxy Note 3 when it comes to consumers buying devices with a large screen, but now there's two brand new options worth checking out, not counting the newly announced iPhone 6 Plus. While it isn't as big as the Note 4, HTC's popular One M8 still has a lot to offer, and may be something buyers will choose over the phablet-sized Note 4. Below is everything you'll want to know about both devices.
The Galaxy Note 4 release will be coming in October, as stated above, and in these next few weeks consumers are going to have to decide which phone is worth buying. While obviously the now lower priced Note 3 is worth considering, smartphones like the Galaxy S5, HTC One M8, or new iPhone 6 are all contenders at this point.
Here, we want to run down the key differences between the Galaxy Note 4 and the HTC One M8 in an effort to help those that are debating between flagship smartphones from two major players in the Android ecosystem.
Display
The screen size and quality is a huge factor many buyers take into consideration, and that will be especially true with the Note 4. It's a big device, but its worth it for the stunning screen. While the HTC One M8 isn't as big, it still sports a 5-inch 1920 x 1080p full HD display that looks excellent as well, especially outdoors or in direct sunlight.
The new Note 4 employs a bigger 5.7-inch Quad-HD display, but using Samsung's impressive AMOLED technology. This is a pretty big size difference, and using one yourself would probably help prospective buyers make the right choice. At the same time, the HTC One M8 has some big bezels, so the device isn't all that much smaller, even though the display is nearly an inch bigger on the Note 4.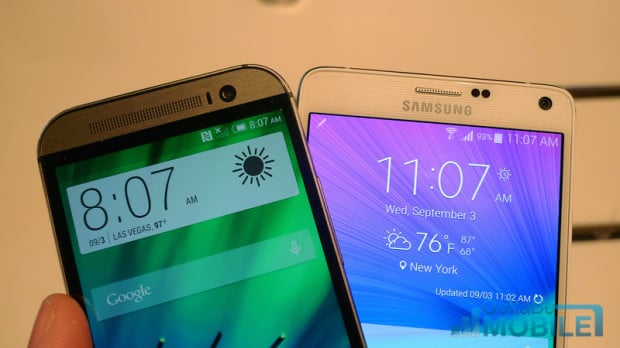 The quad-hd resolution on the new Note 4 is simply stunning. Images and video pop, not to mention the colors and saturation were excellent. HTC's SLCD3 display will still probably be better outdoors, as they've focused on that alot, but both looked pretty good when compared next to one another.
There's also the new Note Edge, which is a Note 4 with a curved display. We'll talk about that more later, but it offers all the same features of the Note 4, with a twist.
After spending some time with the Note 4 we'll have to give this one to Samsung. The AMOLED screen is gorgeous, crisp, vibrant, and saturation is excellent. The HTC One M8 has one of the best displays in that size category, but if you're looking for a huge screen you can't go wrong with the Galaxy Note 4.
Design
These devices couldn't be more different when talking about the design. The new Samsung Galaxy Note 4 is the first Galaxy Note with a metal design, even if there's only a little bit of it. Wrapped around the entire device is a sleek lightweight aluminum frame with chamfered edges and sleek curves. It looks wonderful, and will help with durability. That aside, this looks nearly exactly the same as the Note 3 from 2013.
This is the first Samsung Galaxy Note to have aluminum, and it makes the device feel premium, be more durable, while keeping it lightweight. It's a welcomed edition, and users will like it once they get their hands on it.
On the other side of the isle we have the HTC One M8. They've decided plastics are for the birds (and Samsung) and its last two releases have been completely designed from a durable unibody aluminum shell. The HTC One M8 has a brushed aluminum unibody frame only split up with plastic lines to offer better signals for WiFi, Bluetooth, and data connectivity. It's arguably one of the best looking and feeling smartphones available today, and has that premium look and feel that most can't rival.
Read: HTC One M8 Review
Those who've used a Note device in the past already know what to expect. The device is nearly the same but with a new metal band around the frame, and a new textured back not unlike the Note 3. The HTC One M8 though, has a durable aluminum shell, two cameras on the back, and huge speakers on the front. One of the biggest aspects of the HTC One, and the One M8 released in 2014 is the front-facing speakers. They sound excellent, are crisp, and deliver a better audio experience than any Android device I've used to date.
If music and video is important, the HTC One M8 is your best bet.
Specs
While specs and numbers aren't everything, there are a few details users will want to know about. The HTC One M8 had the best technology available when it arrived in March, but a few months later and the Note 4 has the latest quad-core technology, some battery quick-charge features, and more. Here's the cold hard numbers for those interested.
Galaxy Note 4 Specs
5.7-inch 2560 x 1440 Quad-HD Display
2.7 GHz Quad-Core Snapdragon 805 Processor with 3GB of RAM
32GB of storage and micro-SD expansion
Android 4.4.4 KitKat (Google's latest release)
16 Megapixel OIS Camera and 3.7 front camera for wide angle selfies, panorama mode, and HD video
Fingerprint scanner, heart rate monitor, UV sensor
3,220 mAh Battery
Quick Charge (50% in 30 minutes)
Improved S-Pen
Aluminum Edges
White, Black, Gold, and Pink colors
HTC One M8 Specs

5.0-inch 1920 x 1080p Full HD Display
2.5 GHz Quad-core Snapdragon 801 with 2GB of RAM
32GB storage and micro-SD expansion
Android 4.4.3 KitKat
Two 4 Ultrapixels rear cameras, 5 megapixel front camera for selfies
Dual front-facing Boomsound Speakers
2,600 mAh battery
WiFi, Bluetooth, NFC, 4G LTE, FM Radio, IR Remote
Black, Silver and Gold Brushed Aluminum Unibody Design
Samsung's Galaxy Note 4 may have a few areas that tops the HTC One M8, mainly because it was released later in the year. Some of those being a bigger screen, newer quad-core processor, not to mention the 16MP OIS camera vs the poorly received "Duo Camera" on the One M8. Both devices are powerful, stacked with features, and should make any user happy for years on end.
It's worth noting the Duo camera on the rear of the HTC One M8 does some fancy features like post processing. Letting the user change the focus point after the take a photo, add enhancements, and much more. Software tweaks enable this from Samsung, Google, and other cameras, but it's the best on HTC's One M8.
Software
Both of these devices run Android 4.4 KitKat, but they look completely different. Anyone that isn't new to the Android scene knows manufactures put custom skins over stock Android to differentiate themselves from the others, and these two do it the most. Samsung's TouchWiz has a lot to offer with new features, motion controls, hand gestures and more, but HTC has a few too.
Samsung's tailored a lot of the experience around a stylus, considering the Note 4 has the S-Pen built-in and there's a slew of additional features for it specifically. This can't be achieved on the HTC, so if content creation is something you're interested in, the Note 4 is worth a look.
While this isn't a major difference, it's something many buyers will want to consider if they'll be taking notes on the go, drawing with the Note 4, or want a stylus for added function or features. Would the Note 4 be just as popular without a stylus? Absolutely. But it's still something buyers see and want when making a purchase decision.
Samsung's TouchWiz is bloated full of what many call gimmicky software features, but HTC Sense 6 isn't one to talk either. They've changed the entire look and feel of Android, and while Sense 6 is my favorite version of Sense yet, it's still my least favorite skin for Android. However HTC Zoe does a lot of neat effects to photos and video, and they've integrated some screen tap gestures to wake the device, and other things we've seen from LG in the past.
The Galaxy Note 4 runs the latest Android 4.4.4 KitKat with Samsung's TouchWiz interface, and it's a bit bloated. It has tons of additional features worth using though. The fingerprint scanner, heart rate monitor, stylus, UV sensor, and more. HTC only has Android 4.4.3 KitKat, which just started arriving, and probably won't see an update until Android L is released later this year. You'll want to try both OS options in stores before making a choice. It's worth noting that Samsung has a better track record for timely (and good) software updates, so consider that too.
Price
Another key difference many will need to know about is the price. The HTC One M8 is $199 from most carriers with a new 2-year contract, but can be found for less from select online retailers. Most carriers have it for $599 outright, but others have it all the way to $649. The all-new Galaxy Note 4 price isn't available yet, but previous models all ran over $650 and were $299 with 2-year contracts from carriers. It's expensive.
While we can't be sure yet, given previous device launches the Galaxy Note 4 will most likely be $299 with a new 2-year contract, and upwards of $649 or $699 outright, off contract. You're paying for a huge screen, stunning features, and a top-tier device that will last for years to come. That, or choose a payment plan from any of the major US carriers.
Final Thoughts
This is a hard choice. The HTC One M8 is one of the best looking Android smartphones around, sounds the best, and is just an elegant piece of technology, but the Note 4 has a lot to offer too. If you simply want a big and beautiful display along with a pretty great camera experience, the Note 4 is the clear choice. It also allows for tons of additional functions with that S-Pen stylus, fingerprint scanner, heart rate monitor, and more.
At the same time, many of those features smartphone buyers don't actually use. I have a few friends with the Note 3, and none of them use the stylus, at all. I have the Galaxy S5 and don't use the fingerprint scanner either. So to each his own. If you don't need some of the additions provided by Samsung, but want a great all around smartphone, the HTC One M8 is one of many that won the Gotta Be Mobile Editors' Choice Award, so give it a try.
Everyone is different, has different needs, wants, and budget. In the end you'll probably want to try both in a carrier store before jumping at either device.