Galaxy Note 5 vs Microsoft Lumia 950 XL: What We Know
There are some smartphones launches that the technology press and users never see coming. They take us by surprise, with new features and common sense upgrades. With the Galaxy Note 5 that smartphone maker Samsung announced earlier today, only half of that is true. We knew that a Galaxy Note with big upgrades was one the way.
Samsung revealed that the Galaxy Note 5 release date as August 21st and set to work showcasing all the new features and reasons users might want to upgrade when their wireless contract allows them to. Here's how the Samsung Galaxy Note 5 compares to the rumored Lumia 950 XL, the other big-screened note-centric smartphone expected to arrive soon after the Galaxy Note 5 release date.
Galaxy Note 5 vs Microsoft Lumia 950 XL: Looks & Internals
A Quad High-Definition 5.7-inch AMOLED display dominates the Samsung Galaxy Note 5. By now Samsung, is an old pro at creating large smartphones that people want to buy for good looks and screen release estate. Mostly, the Galaxy Note 5's design is inspired by Samsung's Galaxy S6. The edges of the device are metal with colored glass backing and metal accents adding some sophistication and style. A front-facing 5 megapixel camera and a bulbous home button complete the experience. The left and right back sides of the Galaxy Note 5 curve slightly, providing an interesting balance to the heard edges on the top and bottom of the device. To get this premium design, Samsung did give up on some extras like waterproofing and removable batteries.
The Galaxy Note 5 comes with a nice, premium looking stylus that has some visual The S Pen still has its own slot. Removing it from that slot gets the Galaxy Note 5 ready for note-taking instantly.
Read: Samsung Galaxy Note 5 & Galaxy S6 Edge+: 11 Things You'll Love
Microsoft hasn't revealed the Lumia 950 XL's design yet, but rumored specifications and mock-ups are just about everywhere. Allegedly, the device is codenamed Cityman, and will have a 5.7-inch WQHD OLED display with a resolution of 1440 x 2560 pixels. That's the same screen size as the Galaxy Note 5. Rather than use metal, Microsoft is sticking to a polycarbonate plastic body with metal side buttons, according to Windows Central. A 5 megapixel front-facing camera seems like a definite too.
Read: iPhone 6 Plus vs Microsoft Lumia 950: What We Know
Reportedly, Microsoft will copy Samsung's note-taking idea for the Lumia 950 XL, adding Surface Pen support for jotting things down and navigating the interface.
Internals
Octa-core Snapdragon 810 processor, 3GB of RAM, 32GB of storage, a MicroSD card slot, wireless charging and a 20 megapixel camera are said to complete the Lumia 950 XL. If that's true than Microsoft has the Samsung Galaxy Note 5 beat on paper, theoretically. The Note 5 comes with a 16-megapixel rear-facing camera and optical image stabilization. OIS as it's sometimes called, is key for taking pictures when you don't have a steady hand. We'll have to wait and see how the sensors compare side-by-side.
Samsung Galaxy Note 5 users get some important extras though. The Note 5 also has an octa-core processor, but comes with 4GB of RAM, beating out the rumored Lumia 950 XL. There's also wireless charging, just like the Samsung Galaxy Note 6 has.
Galaxy Note 5 vs Microsoft Lumia 950 XL: Experience & Software
The Galaxy Note 5's built-in wireless charging is a hint at Samsung's new strategy. The company knows that fast processors aren't the gadget sellers they used to be. Samsung has to create an experience for users in the same way Apple does. In fact, if there's one company in the smartphone game doing this correctly besides Apple it is Samsung.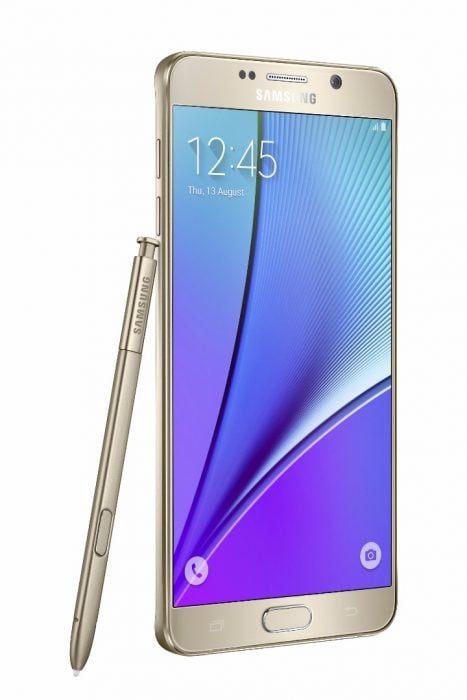 Apple is adding on-screen multitasking to its iOS operating system this fall. Beating it and Microsoft there is the Multi Window features of the Samsung Galaxy Note 5. Users can read in one app and watch movies in another at the same time. Windows 10 Mobile will run on the Microsoft Lumia 950 XL, and there's no feature like it there yet.
If you're really looking to multitask Microsoft is hoping that you'll love Continuum in the Lumia 950 XL. Allegedly, the device will let users connect it to a keyboard and monitor. When that happens users will get almost a full version of Windows.
Microsoft showed off the feature in a video earlier this year.
Read: Microsoft Reveals Stunning Windows 10 for Phones Feature
The Samsung Galaxy Note 5 also has a fingerprint reader as a home button, whereas the Lumia 950 XL is rumored to have an Iris scanner for unlocking the device. We'll have to wait and see how well Microsoft's system performs before there's an overall judgement call on that.
Samsung has its own alternative to Apple Pay coming called Samsung Pay and it's pretty robust. Using the fingerprint scanner and NFC chip inside, users can pay for everyday items without pulling out their wallet. Microsoft has nothing in that respect. It's a huge gaping hole that the company will need to do something about if it hopes to be successful
Galaxy Note 5 vs Microsoft Lumia 950 XL: Should You Wait to Buy
Wait to buy the Galaxy Note 5? Absolutely not. Samsung says that carriers around the world will announced their pre-order plans today. The Microsoft Lumia 950 XL could be interesting, but Samsung has good build quality and a huge ecosystem of apps and accessories at its disposal. It's also better positioned for the future of mobile payments and multitasking.
Read: Samsung Galaxy Note 5 Release Details
There are 32GB and 64GB versions of the Galaxy Note 5 coming.

This article may contain affiliate links. Click here for more details.