Galaxy Note 6 Video Teases Exciting Design
The upcoming Samsung Galaxy Note 6 has been getting a lot of attention lately thanks to a slew of leaks, rumors, release details and more. Not to mention reports of it being called the Galaxy Note 7 instead. This week though, a set of photo and video renders appeared giving us our first look at what could be the exciting design.
First reports of the Galaxy Note 6 started to appear back in February, right along the time we were gearing up for the Galaxy S7 and S7 Edge release date. Since then, lots of information has arrived from the specs, screen size, release date predictions and much more. Here's the latest info and first look based on leaked blueprints and schematics.
Read: Galaxy Note 6 Release: 6 Things You Need to Know
Our link above goes over absolutely everything we've seen and heard so far, and further down are the photos and video of what's reportedly being called the Galaxy Note 6, or maybe even the Galaxy Note 7. We won't know for sure until likely sometime in early August, but eager buyers will want to take a look either way.
The Galaxy Note 5 was announced on August 13th of 2015, and was released only two weeks later. Making it one of the fastest releases ever from Samsung, not to mention it was nearly two months earlier than any other model. Then a new and improved Galaxy S7 arrived ahead of schedule earlier this year, with multiple key features and additions notoriously missing from the Galaxy S6.
Now, with just under two months to go before Samsung's newest phablet will most likely be announced, we're starting to get tons of information. It looks like the company could take an approach similar to the Galaxy S7, and offer nearly the same look, feel and design as last year, but improve it across the board. Below is the latest leaked video and a set of photos from uSwitch and OnLeaks, two sources that have accurately leaked upcoming devices like the Nexus 5X, Nexus 6P and countless others.
The leaked video render above gives us our first look at the exciting new yet similar design of the Galaxy Note 6, or Galaxy Note 7. Showing a phone that's extremely similar to last years Galaxy Note 5, but with curved edges on the screen similar to the new Galaxy S7 Edge. This has been rumored time and time again, and this could be our first concrete evidence that Samsung's sticking to the fancy curved display.
According to the source this render comes from leaked blueprints and schematics of the actual device, potentially leaked from Samsung, and represents a near-final version of the device. Of course finish, textures, glass and other things aren't visible in this.
However, most likely the Galaxy Note 6 will have a very similar overall feel to both the Galaxy S7 Edge and the Note 5. Complete with a bigger 5.8-inch 2560 x 1440 Quad-HD display with curves on both sides (potentially a second flat-screen model) and made entirely out of aluminum and glass, just like earlier models. This has been rumored multiple times, and for now it's only a matter of waiting for the announcement from Samsung.
Their source goes on the mention the Galaxy Note 6 will have the new USB Type-C port for faster charging and universal (reversible) plugs, and five sensors above the display on the front. As a comparison, the Note 5 and most Samsung's only have three. Lending credence to rumors of an Iris Eye scanner for improved security beyond a fingerprint sensor.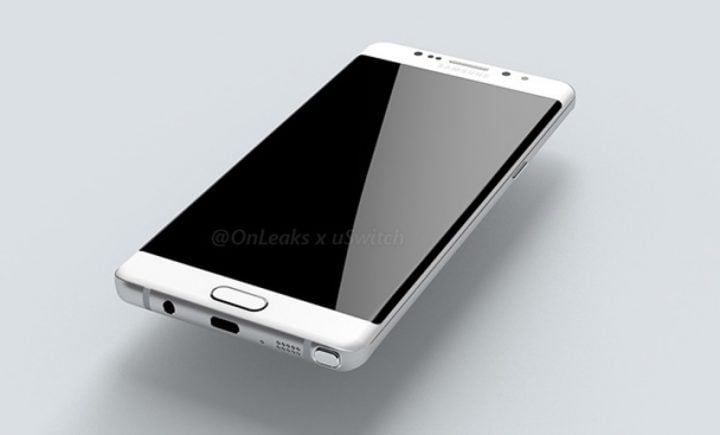 uSwitch also states we could see a regular Galaxy Note 6, and the curved glass model will simply be named the Galaxy Note 7, or possibly the Galaxy Note 7 Edge. It's anyone's guess at this point.
Read: What the Galaxy S7 Tells Us About the Note 6
Other details from various sources suggest a 5.8-inch 2k resolution AMOLED display, a powerful Quad or 8-core processor from Qualcomm or Samsung, 6GB of RAM, 32GB of internal storage with a micro-SD slot, a similar 12 Dual Pixel camera as the S7, IP67 or IP68 dust and water resistance, Android 7.0 "N" and a launch date within the first few days of August, followed by a release date around August 15th. So roughly two months away.
On a related note, famed leakster Evan @evleaks Blass posted to Twitter that the release date would be the week of August 15th, and in early June stated the launch date is almost exactly two months away. Giving excited buyers a rough idea of when to expect Samsung's new smartphone to arrive.
Galaxy Note 6/7 launch event is almost exactly two months away.

— Evan Blass (@evleaks) June 2, 2016
His tweet also mentions both names, suggesting a name has yet to be finalized, or there will in fact be two models come early August. For now it's still just a waiting game, and we'll keep an eye out for more details or leaked photos. Stay tuned for the latest news.