Galaxy Note 7 Hot While Charging: What to Know
If your Samsung Galaxy Note 7 gets hot while in use or charging, don't be concerned. We're hearing more and more reports regarding exactly that, and now Samsung has released an official statement. Here's what owners need to know about a hot Galaxy Note 7, and what you can do to fix it.
Samsung issued a global recall on the Galaxy Note 7 for overheating problems due to a faulty battery. Select devices were even catching fire and exploding. It's a scary situation, but one that most don't need to worry about.
Read: 35 Galaxy Note 7 Tips & Tricks
On September 2nd Samsung stopped selling the device and replaced over 2.5 million units around the globe. Since then they've released new, improved, safe and certified by the government models for users. However, we're still seeing reports of the phone getting hot, and it's a question we're getting asked more and more lately.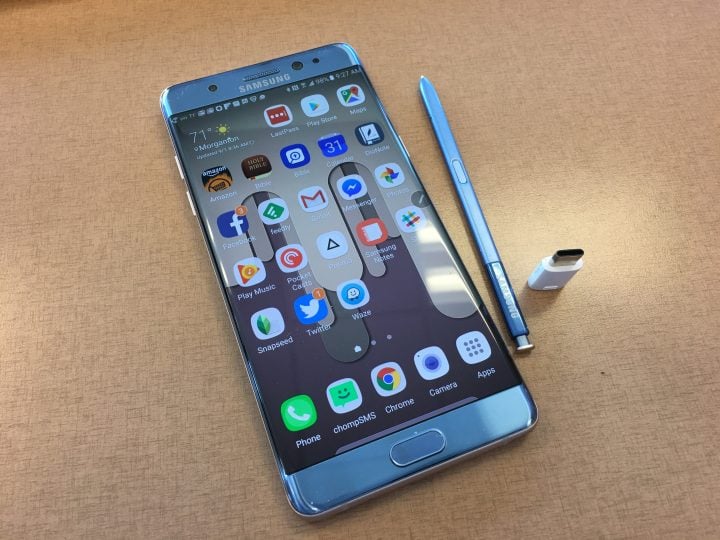 All smartphones and tablets get hot at times. The iPhone gets hot while charging or playing intensive games. The HTC One M9 had "overheating problems" that were widely reported. Anyone who has owned a Galaxy S5, S6, Moto X, LG and more have likely felt this. In all of those cases the devices are completely safe to use. Yes, smartphones can get hot while gaming, using navigation, or while sitting on the charger. It doesn't mean they will explode, are dangerous, or anything to worry about.
It's nothing to be concerned about, and Samsung has said exactly that in a comment to the Wall Street Journal this week.
Reportedly several cases in the U.S. and South Korea claim the new replacement devices are getting hot. Whether that be while charging or general usage like making calls. One even claimed it was so hot the owner couldn't use the phone and didn't dare put it near their face. Samsung is investigating those select cases, but want to reassure owners their new Note 7 is safe.
"There have been a few reports about the battery charging levels and we would like to reassure everyone that the issue does not pose a safety concern. In normal conditions, all smartphones may experience temperature fluctuations." – Samsung Mobile

The key words here being that in normal conditions "all smartphones may experience temperature fluctuations". It's nothing new, something we've seen for years and years, and nothing to worry about.
If you have a new Galaxy Note 7, an old Galaxy Note 4 or 5, or even a Galaxy S7, it will probably get warm while in use. Play a game for hours on end, charge it while using Google Maps. It happens.
Following the Note 7 recall we've seen an influx in reports about overheating from users that don't even have a Galaxy Note 7. That problem was isolated to only the Note 7, and has since been resolved.
How to Fix a Hot Galaxy Note 7
However, if for some reason Samsung's new replacement Galaxy Note 7 has another problem, we'll surely hear about it. For now, there is nothing to be concerned about. That being said, if you're experiencing a warm or hot Note 7 and are worried about it, we have some tips and fixes.
Buy a Case
All phones get hot, it's just the nature of the beast. I've always been amazed at how warm every phone I review gets while doing the initial setup. There's a lot going on, and the phone is working extremely hard. I've always used a case, so don't notice it as often as others.
If your Note 7 is getting hot and it's making you uncomfortable, buy a case. Samsung sells some excellent cases and tons of accessories. Not to mention our extensive roundup of the best cases linked to below.
Read: 17 Best Galaxy Note 7 Cases
Put your Galaxy Note 7 in a case and you won't feel it getting warm to the touch while in use or sitting on the charger. If it's getting so hot you can't touch it, that may be worth emailing Samsung about. However, there are no confirmations of that happening anywhere.
Disable Fast Charging
The Galaxy Note 7 features Adaptive Fast Charging just like every Samsung flagship smartphone over the past couple of years. This allows it to recharge from 0-50% in nearly 30 minutes, and fully recharge to 100% in under 90 minutes. It's a great technology that virtually every high-end smartphone released in the past 2-3 years uses.
However, if your phone is always getting hot while charging we can disable fast charging in settings. Once done the device won't get warm but recharging will take upwards of 2-3 hours, if not longer.
Head into Settings > Device Maintenance > Battery > Tap the Three Dots at the top and select Advanced Settings. The second option in the list will disable "Fast cable charging". It states this feature may cause the device to get hot while charging, which is perfectly natural. Disable this for a slower charge speed, and cooler temperatures.
Alternatively owners can also disable fast wireless charging, as that's the only time my Note 7 seems to get warm to the touch.
Other Options
Last but not least owners can head into that same battery settings menu and see what apps are using the most battery. If one is extremely high it could be keeping the phone away, killing battery life, and potentially making your device run hotter than it needs to. If so, close the app, reinstall or, or long-press and select Force Close to manually shut down that application.
Other options are to download a battery meter application like CPU-Z that will check the temperature if you'd like to keep an eye on it. Most likely the hot temperature you'll see is perfectly safe.
In closing, if your Samsung Galaxy Note 7 (or any smartphone) is getting warm while in use, don't worry about it. This is normal, safe, and not a problem at all. Enjoy your Samsung Galaxy Note 7.

As an Amazon Associate I earn from qualifying purchases.