Galaxy Note 7 Leaks and Rumors Disappoint
For months on end we've been seeing reports and rumors about the all-new Samsung Galaxy Note 7, suggesting how impressive it will be when it's released in early August. However, with the release date quickly approaching more information has started to surface and some new details could disappoint potential buyers.
If all the leaks and rumors are accurate Samsung could announce the new flagship smartphone on August 2nd. Like previous years it should be similar to the Galaxy S7 lineup but with some noteworthy differences and improvements.
Read: Galaxy Note 7 Leaks as Release Nears
Some of the most exciting bits of information was the new Snapdragon 823 or 821 processor and 6GB of RAM to make it one of the most powerful smartphones on the market, but that might not happen. New benchmarks suggest something very similar to the Galaxy S7.
In March the Galaxy S7 and Galaxy S7 Edge debuted with a Quad-core Snapdragon 820 processor and 4GB of RAM. It's one of the best phones available right now, and will still be a great option once the Note 7 arrives.
We've been hearing the 5.7-inch curved Galaxy Note 7 would be improved across the board, have a similar design, a new micro-SD slot to expand storage, be IP68 dust and water resistant and more. That's on top of a new Iris eye scanner as a security measure along with the fingerprint scanner. It was stacking up to be the best Galaxy Note ever released, a powerhouse phone to be reckoned with.
And while Samsung's new phablet will still be a great phone, we're not sure exactly what will complete the picture when it's announced in August. Rather than having both a flat and curved model, a new processor for blazing fast performance and 6GB of RAM, it could end up being nearly identical to the Galaxy S7 Edge, just bigger and with some small differences. The latest benchmarks that have leaked suggest the same quad-core Snapdragon 820 as the Galaxy S7, 4GB of RAM, and a smaller battery than earlier rumors. It's worth noting that the Galaxy S6 and Galaxy Note 5 last year were rather similar, so it makes sense, it just isn't what many were expecting.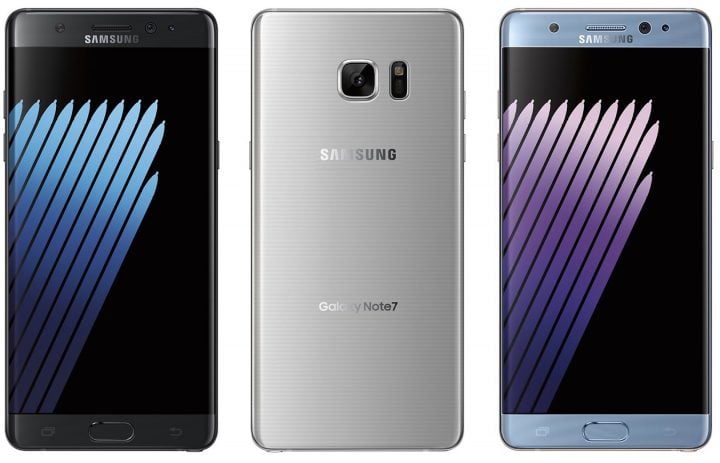 Those benchmarks could just be early demo units too, and not the real product. It's hard to say. Back in June the popular and famous leakster @evleaks shared some "confirmed specs" for the Note 7, but it's missing many of the key details in question here today.
Couple confirmed specs: 5.7" QHD SAMOLED, 64GB + microSD, 12MP DualP / 5MP, IP68, black/silver/blue

— Evan Blass (@evleaks) June 25, 2016
He mentions the screen size, an increase to 64GB of internal storage and a micro-SD slot, water-resistance, a new blue color option and the Iris Eye Scanner. He doesn't get into all the other details, and right now they're completely up in the air.
For months on end we've been hearing Samsung's Note 7 will be extremely impressive, but if these new leaks are accurate it may be a good idea for potential buyers to temper their expectations, or at least lower their hopes. That's not to say the Note 7 won't be a great phone, as it certainly will be, but it might not be as great as early rumors suggested.
This wouldn't be the first time something like this has happened. Often leaks tease something that's almost unrealistic, and then it's released with a more pedestrian set of specs and features. That being said, we're already seeing smartphones with 6GB of RAM, and Samsung typically leads the pack in innovation and delivers key upgrades to the Note series later in the year.
At the end of the day it's safe to say we don't really know what Samsung has planned for the Galaxy Note 7 release, but we'll find out soon enough come early August. It's still highly possible that the new phone will have 6GB of RAM and a new processor, or it could be more in-line with the Galaxy S7 with some small changes here and there like past years. Either way, it will still have tons of features to make it a worthy upgrade. Adding IP68 dust and water resistance, a better camera, 64GB of storage with a micro-SD slot, a new USB Type-C port and a large battery all make it better than the Galaxy Note 5 from 2015. Stay tuned for more details.

As an Amazon Associate I earn from qualifying purchases.