Galaxy Note 7 Recall Imminent Due to Exploding Phones
Since being released on August 19th Samsung's new Galaxy Note 7 has been one of the most popular smartphones on the market. However, after several reports of the Galaxy Note 7 exploding and catching fire while charging, the company may be forced to do a massive recall and replace their flagship smartphone around the globe.
Only a week after being released a report out of China surfaced that one owners device lit on fire and the battery exploded while sitting on the charger. This happened using a micro-USB to USB Type-C adapter which Samsung includes in the box. The report doesn't state whether this was an official Samsung adapter, or a 3rd party charger. Then, a similar incident happened a few days later.
Read: 19 Exciting Official Galaxy Note 7 Accessories
Earlier this week The Korean Herald claimed Samsung may halt sales or slow down the shipping process until further investigation, and even carriers in the U.S. are running out of inventory with only online orders being fulfilled. However, new information suggests the situation may be even worse, but that Samsung has a plan in place to fix the problem as fast and seamless as possible. Read on for more details, especially if you own a Galaxy Note 7.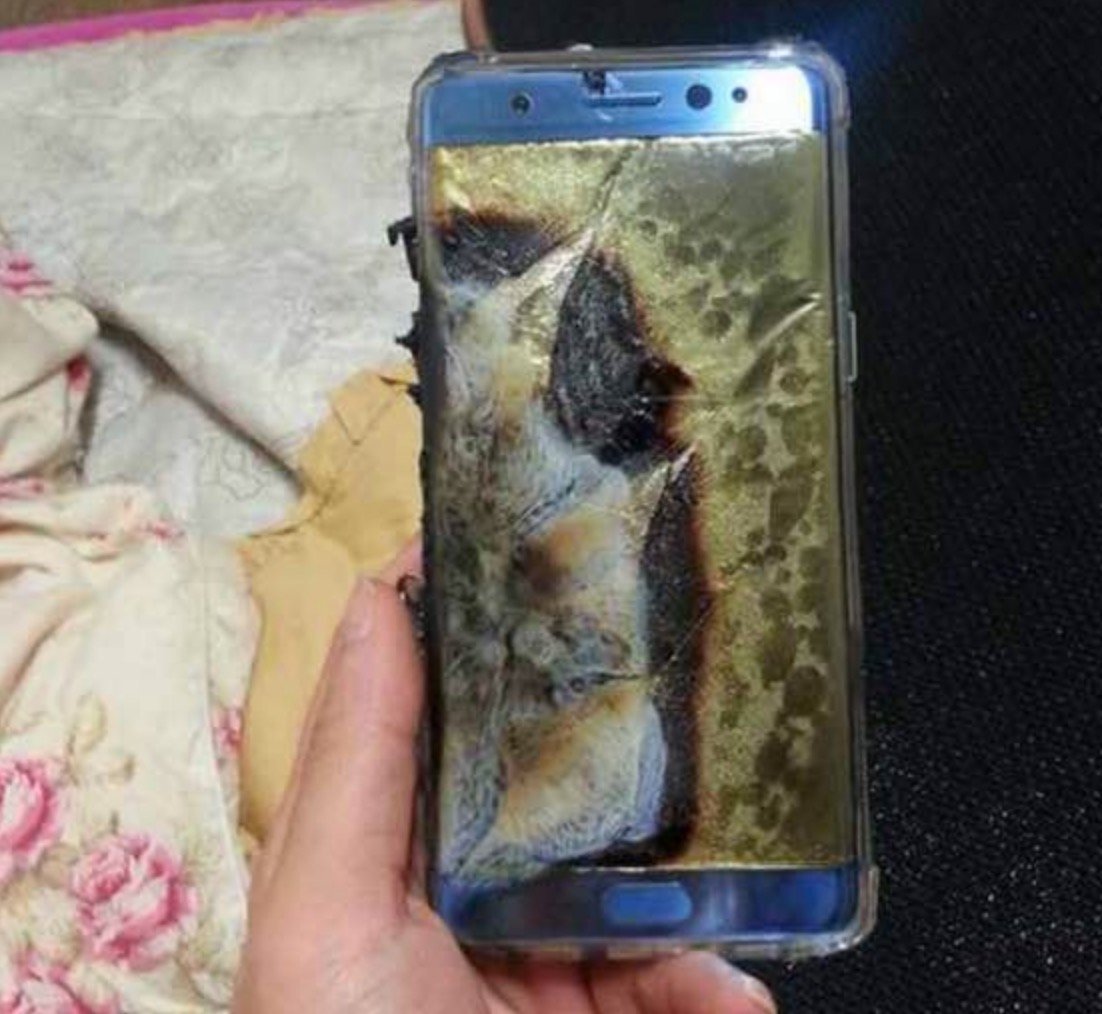 Stories like this are nothing new, but when they happen so close together it's a cause for concern. We've seen smartphones, iPhone's, iPod and many Android devices bulge from a bad battery, and seen similar reports about exploding devices in the past from a wide range of manufacturers. As in, this isn't an isolated incident that's only happening to Samsung.
That being said, the Galaxy Note 7 may be a different situation, one that calls for immediate action. According to the Yonhap News Agency, who spoke with a Samsung representative, the company may do a global recall on the Galaxy Note 7 and replace all units as a precautionary measure.
The report states that less than 0.1% of Galaxy Note 7 devices sold may be affected, and that the problem was sourced back to the bigger 3,500 mAh battery that powers the new phablet. With millions of them being sold, that's a real problem. Samsung is expected to report their findings on the investigation later this week, or early next week, then announce a plan to replace users smartphones.
"The most important thing is the safety of our customers and we don't want to disappoint our loyal customers." — Samsung official who spoke on the condition of anonymity.
Considering the Galaxy Note 7 does not have a removable battery, the devices will need to be replaced completely. According to Yonhap News Agency the Samsung official's remarks suggest Samsung could announce a global recall of the Galaxy Note 7 sold at home and abroad.
Pictured above, is another Galaxy Note 7 that reportedly exploded while simply sitting on a charger. This is something we've seen before, but issuing a global recall less than three weeks after the launch date is certainly new, and would be a big blow to the Galaxy Note 7 release.
If this information is accurate Samsung should detail a plan within the next week, as they work with carriers like Verizon Wireless and others to get new unaffected units into the hands of users, and replace all currently sold Galaxy Note 7 smartphones. It is one of the most hotly anticipated phones available in 2016, literally, so we'll be keeping a close eye as this story develops.
Samsung reportedly has no plans to delay or hide the results of the investigation, and will offer a swift replacement to correct the problem and put owners at ease. Hopefully some free accessories or other incentives will be given out to make up for any inconvenience, but we don't have any other details at this point. As soon as we know more about the Galaxy Note 7 and what could be an imminent global recall, we'll update with all the details. For now be sure to use the official Samsung charger that came in the box, and stay tuned for more information.