Galaxy Note 7 Recall & Replacements: What You Need to Know
On October 11th less than two months after the release of the flagship Galaxy Note 7, Samsung has permanently terminated the product. Following a recall procedure over fire hazards and exploding devices. After replacement models were found to potentially be just as dangerous, the product is no longer available. Samsung has started disabling service to handsets in select regions. Here's what owners need to know and do.
The company issued a statement last month that even replacement models are no longer available from carriers or around the globe. They have halted all recalls and production, and now it appears that the Galaxy Note 7 is dead. Gone forever and will never be available again.
Read: Galaxy Note 7 Warranty: What You Need to Know
Samsung quickly made over 500,000 safe new phones and replaced devices for customers in September. It looked as if the problem was fixed, but in less than two weeks over a dozen fires were reportedly started in the US from the device. Read on for more details.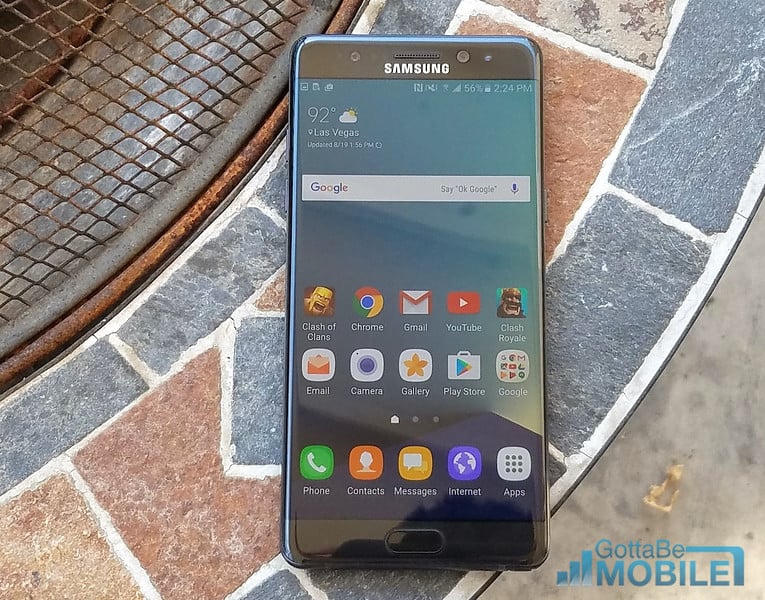 Now, as of November 4th Samsung is still dealing with the Note 7 recall disaster. The company recently confirmed models in select regions will soon stop working. In fact, in New Zealand all Galaxy Note 7 smartphones will no longer be able to connect to networks or fully function starting November 18th. Calls won't work, users can't send messages, the phone will have no network connectivity. This is one of many attempts to get stubborn owners to return the device. If this process expands to the US or other regions we'll update with additional details. Read on for what to do, and how to get it exchanged for another phone.
At the same time, starting November 5th T-Mobile will start sending updates that lowers battery life to 60%. Users will get an over the air notification, the battery icon will turn grey, and phones will no longer charge to full. Return those phones. (end of update)
After the recall was initiated on September 2nd, Samsung quickly launched a "Product Exchange Program" for the Galaxy Note 7. The link above goes over all of the details. Users could trade it in for a different device, get a temporary loaner phone or a full refund. Here's an exert from their official statement.
Fast forward to October and the situation is only getting worse. One caught fire on a Southwest flight, causing an evacuation of the plane. Another caught fire overnight, and one "safe" replacement Note 7 burned a young girls hands.
Owners can head to the retail outlet or carrier where it was purchased, or call 1-800-SAMSUNG to initiate a product exchange and to resolve any other questions or concerns. Samsung and all carriers or retail stores are accepting full returns. Owners can get their money back, return any accessories and more.
"We are working with the U.S. Consumer Product Safety Commission (CPSC) to investigate the recently reported cases involving the Galaxy Note7. Because consumers' safety remains our top priority, Samsung will ask all carrier and retail partners globally to stop sales and exchanges of the Galaxy Note7 while the investigation is taking place."
On October 10th Samsung issued the statement above, but now one day later it looks as if they've decided to simply cancel the smartphone altogether. The Wall Street Journal reported Samsung will cut their losses and terminate the device. And the official Samsung Blog said the same although that page is no longer available.
Has My Galaxy Note 7 Been Recalled?
Short answer, Yes!
After a recall process allowed owners to replace their original Galaxy Note 7 for a new safe model, many users received new phones. However, now it has been confirmed the new models aren't safe either.
All Galaxy Note 7 smartphones need to be turned off, do not plug them in to charge, and return them to the place of purchase. Samsung will likely start a voluntary recall and service to acquire all units, but that's yet to be determined. Of course the company can't make you return it, but at this point it's better safe than sorry.
Return the Galaxy Note 7 and get something else. The Galaxy S7 Edge is a great phone, a safe phone, and is nearly identical in specs aside from the screen size and a few other small differences.
How to Check If Your Note 7 is Safe
Update: This no longer applies. Even the new modes are unsafe, potential fire hazards, and have also been recalled. Do not use any Galaxy Note 7 smartphone.
Samsung announced three different ways users can check to ensure their device is safe to use. New replacement models will have a sticker on the box with a big white square and a blue "S" inside, which is a new phone. A software update even changed the battery status indicator in the notification bar from white to green. New phones will have a green battery in the top corner. As shown below.
If the battery logo is white on your new phone you have two options. One, use the IMEI checker tool in our link above to make sure you have a safe new phone, or wait for the software update from Samsung.
When Will the Recall Start?
Samsung's official recall started around September 2nd and new phones were available on September 21st. However, per the statements above, that replacement program has been terminated.
As of right now there is no second recall for the Samsung Galaxy Note 7. Owners with an original or a new Galaxy Note 7 need to return it. The company will most likely not offer another replacement program. Instead, return it for a different device or a full refund. Regardless of the condition of the device.
What Can You Do Right Now?
Obviously something that could potentially explode and catch fire, or worse, burn down your house, is a big deal. Which is why it's completely understandable that many owners are concerned.
Thankfully you have a few different options. For one, we'd recommend owners stop using the Galaxy Note 7 and go back to an older device, or head into a carrier store for more help. Below is information from all major carriers in the United States. If you have an old Galaxy Note 4, Galaxy S5, iPhone or some other device, switch to that for now.
It isn't the biggest and best phone, but it's the safest bet. Personally I'd recommend users return it to their carrier store and get the Galaxy S7 Edge. It's almost the exact same phone with a slightly smaller 5.5-inch screen, the same water-resistant features, and actually has better battery life. Oh, and it won't explode. Here's a comparison between the two.
Read: Galaxy S7 Edge Review: Samsung's Best Yet
Samsung recommends owners do not use the Note 7. Do not charge it, especially overnight. Power the smartphone down and return it. In fact, some carriers won't even turn it on to do a transfer to allow owners to backup and save their content. It's a mess.
For now we'd recommend all owners backup their Galaxy Note 7, and use SmartSwitch to transfer everything to a Galaxy Note 5 or Galaxy S7 Edge until further notice.
Plugging the phone in and starting a long transfer process could heat it up, and potentially cause a fire hazard. Instead, head into settings > security > backup & reset and use Samsung Backup. It uploads everything on the phone to the cloud. Then owners can restore it to a new and different Samsung Galaxy smartphone.
Should I Keep Using My Note 7?
Once Samsung and the United States Consumer Product Safety Commission confirmed the "new" Galaxy Note 7 models were safe to use, we said sure, go get one. However, now that there have been over 10 reports of replacement Galaxy Note 7 smartphones catching on fire and all replacements stopped, do not use it.
As we said above, no, do not use the Galaxy Note 7. It's simply not worth the risk to yourself or property.
Are Other Samsung Devices Affected?
No, there is no evidence to suggest any other Samsung devices are affected. We've seen similar reports about exploding smartphones or a battery issue from most companies. It happens from time to time. This is something we've seen on iPhone's, Motorola, LG, Samsung, and even my iPod Touch exploded a few weeks ago. So it's something that could happen, but no, no other Samsung devices are at risk. This situation is only for the Galaxy Note 7.
It looks like the Samsung Galaxy Note 7 is officially done for. The product will never be available again, replacements are unavailable and refunds are being given out. Some regulators and analysts are even calling on Samsung to cancel the entire Note brand. However, expect a fresh new very capable and impressive Galaxy S8 and Galaxy S8 Edge in February of 2017. Samsung recently confirmed there will be a Galaxy Note 8 next year too.