Galaxy Note 7 Release: 7 Things to Know Right Now
Samsung Galaxy Note 7 rumors have continued to arrive at a fast pace, and now we know it will be announced on August 2nd. With the release date approaching potential buyers will want to know all the details, and take a peek at the countless leaked photos below. Here's everything we know about Samsung's big curved phablet.
The Galaxy Note 5 was one of Samsung's best in 2015. With plenty to offer, a great design, and lots of features. However, the new Galaxy S7 lineup is even better, and returned all those missing features. Many of which will likely accompany the new Galaxy Note later this year.
Read: Galaxy Note 7 vs Galaxy S7 Edge: What We Know So Far
In August of 2015 the Galaxy Note 5 was announced and released, which was nearly two months earlier than prior models. Then, earlier this year Samsung unveiled the Galaxy S7 in February, and released it in March. A full month ahead of expectations. Below is what we know as of now, and what the Galaxy S7 release tells us about the Note 7.
Given what we've seen from Samsung over the past couple of years combined with the new Galaxy S7, we have a pretty clear idea of what to expect. And while things are subject to be different once announced, it's safe to assume most of what is detailed below to be close if not accurate. Countless new leaks have appeared recently stating many of the details we've mentioned below, as well as leaked photos of the actual device.
On July 22nd a huge leak shared 12 photos of the upcoming Galaxy Note 7 in three colors — Silver, Gold and Blue. We've also seen an all black model in earlier leaks. Those who want to see every angle of the Note 7 in new color choices can see them at the bottom of the page.
Many Samsung users have already started assuming what will complete the Galaxy Note 7. Key features that returned with the Galaxy S7 like the micro-SD slot, IP68 dust and water resistance, a bigger battery, and a similar overall design as last year. It's highly plausible that this is exactly what will happen, and lately more and more rumors are surfacing suggesting exactly that, and more. Here's what buyers need to know.
Similar Design & IP68 Water Resistant
The same approach Samsung took to the Galaxy S7 design will probably roll over to the Galaxy Note 7. There could be subtle changes to how it looks, a different S-Pen stylus like earlier reports, or other things, but overall the new Note should be very similar to the Note 5.
That being an all aluminum and glass design, although we're hoping it's only aluminum on the back for added durability. Not the glass back that's more fragile like the Galaxy S7. A thinner design with less of a camera bulge, and more. Samsung could again stick to a familiar design, which will allow for improvements to the software, stylus, camera, battery, add IP68 dust and water resistance, and possible other things.
Multiple leaks have "confirmed" the Galaxy Note 7 will be IP68 dust and water resistant up to 5ft for over 30 minutes, similar to the Galaxy S7. It makes a lot of sense that Samsung would move all the key changes that's seeing success with the S7 to the new Note. The image above is a new photos giving us our first look at the phone, showing the similar design and thin profile around back.
The popular leaksters at uSwitch received reliable information and schematics for the phone months ago, and put together the render below. It was spot on now that we're getting live photos.
According to their report, sources and photo/video the new Galaxy Note will be a find blend between the Galaxy S7 Edge and last years Note 5. Adding in the curved edges, refined and polished design, USB Type-C and a bigger display. Then of course showing the Note 7 will in fact have a curved display, not flat.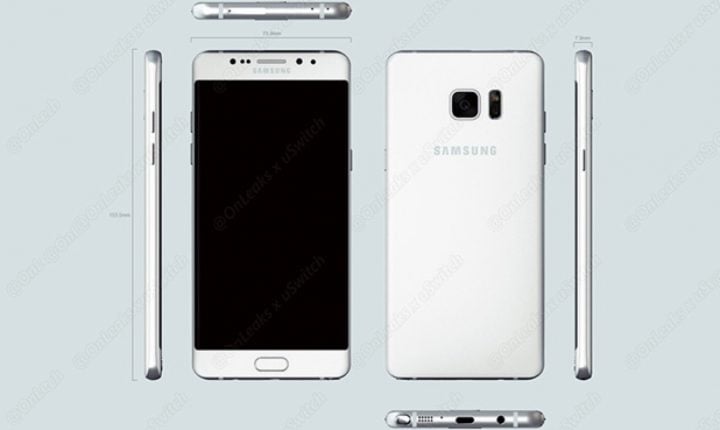 For now we don't know too much, but it's safe to say the Galaxy Note 7 will look extremely similar to last years Note 5, with cues from the Galaxy S7 Edge and be better in every way. Just as the company did with the S6 and S7 release.
However that does mean there won't be a flat model. Instead just a curved Galaxy Note 7, even though we have seen leaks suggesting a flat model is coming too. We'll have to wait until August 2nd to know for sure.
Curved Quad-HD Display
Initially rumors were all over the map in terms of the screen size, mainly because the 5.5-inch Galaxy S7 edge was so close in size to a Note. Many suggested it would be slightly different than previous years, but now we can almost confirm the Galaxy Note 7 will be the same at 5.7-inches, and have a curved display. Below is the cleared and best photo we've seen yet. It confirms the curved display, iris eye scanner on top near the front camera, and the new all-black color.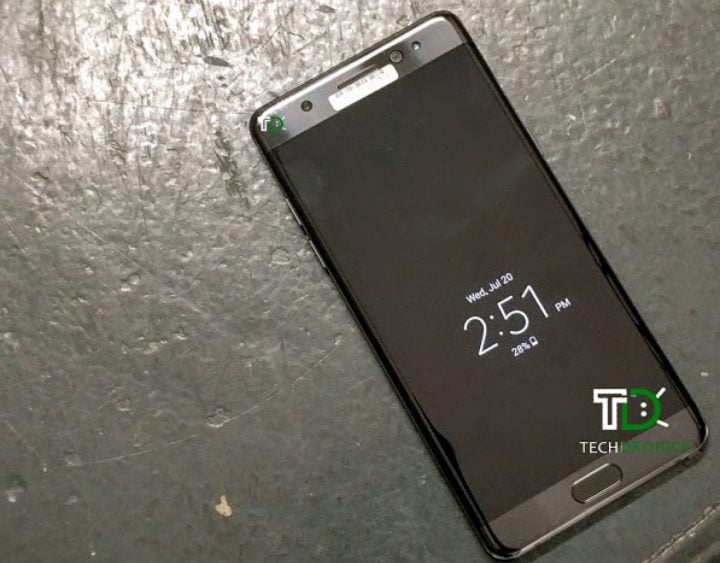 It won't be dark blue (almost black) like previous years, and instead be completely black similar to the Galaxy S7 Edge. This actually shows a very sleek all black phone, with the metal on the sides being black too. If accurate, it's one beautiful device. Buyers can also expect Titanium Silver and Coral Blue color choices.
At the end of the day buyers need to know the screen size will stay the same and be curved, so it could actually feel slightly smaller than the Galaxy Note 5. That should be an issue, but it's worth stating.
Note 7 Iris (Eye) Scanner
Over the course of the past few years we've heard multiple reports, leaks and rumors that Samsung is working on a brand new technology for smartphones. A Retina or Iris scanner to replace or be an alternate to fingerprint technology. Simply looking at the phone will unlock it, once it scans and confirms a users Retina or Iris.
It sounds like something out of a James Bond or Mission Impossible movie, but it could finally be coming. We heard it would debut on the Galaxy S7, but obviously didn't. On May 25th Samsung released its first device with an Iris Eye Scanner for improved security, a business or government tablet for India, which could be a soft-launch before integrating the technology into its upcoming phablet.

Above is an image reported by SamMobile, which reportedly confirms the Iris Eye Scanner is in the works. It shows that Samsung has ordered "Iris Cam" parts for an upcoming device. There's no specific mention of the Note 6, and now we know it's being used in a tablet. That device has it located on the back, which could be a sign that it's another year or so away from being in smaller smartphones like a Galaxy Note or Galaxy S.
The sensor is capable of instantly reading and recognizing over 260 traits in each users eye, compared to barely 40 in a fingerprint. If accurate, the new Note could be a very secure smartphone. New photos like the one above show 5 sensors on the front top of the phone, compared to three on the Note 5, which basically tells us that yes an iris scanner will be included. Some screenshots of the software confirmed it as well.
Micro-SD Slot & Storage
Just like the Galaxy S6 the Galaxy Note 5 didn't have a micro-SD slot to expand storage, or a removable battery. Two features everyone loved from the S5 and Galaxy Note 4. Samsung quickly learned that buyers want expandable storage, and returned it on the Galaxy S7 and S7 Edge earlier this year. It's inside the SIM card tray.
It's fair to assume the Note 7 will have a micro-SD card for storage expansion, not to mention more storage as a whole. Multiple sources indicate it will have 64GB of storage by default, not 32GB, plus accept 256GB micro-SD and new UFS cards. So storage won't be an issue. A new report on July 19th confirms the base model will have 64GB of storage, which is a welcomed change. Meaning owners can have 264GB of storage by adding a micro-SD card.
Galaxy Note 7 Specs
The Galaxy Note lineup is know for being the best of Samsung. Big screens, powerful processors, and it's released further in the year with the latest cutting edge technology. Even if it arrives early this year, the Note 7 will be very powerful. With that in mind, below is what we could see from based on previous phones and upgrade cycles, what's available now, rumors, and what rumors suggest.
Also, latest reports suggest the new Note will in fact arrive with Android 6.0 Marshmallow, not Android Nougat, as Google's yet to release it. Both are coming this summer, but most likely Samsung won't have enough time to launch with Android 7.0 N, unless something big changes between now and the launch.
Galaxy Note 7 Specs (Speculation & Rumors)
5.7-inch 2560 x 1440 Quad-HD Display (Curved)
Samsung Exynos 8-core Processor & 6GB of RAM (US may have Snapdragon 821)
64GB Storage with micro-SD support to expand storage
Android 6.0 Marshmallow (possibly Android "N")
12-13 DualPixel Camera with IOS (improved software, features)
5 MP Front Camera with f/1.7 aperture
Premium all metal design
Fingerprint Scanner, Samsung Pay, USB Type-C
Iris Eye Scanner technology
Integrated S-Pen Stylus
4,000 mAh Battery with Fast Charge, Fast Wireless Charging (or 4,200 mAh)
IP68 dust and water resistant
more
It's quite the list, but everything mentioned above is highly possible for the Galaxy Note 7. Samsung typically uses its own processors, adds more RAM, the latest tech, and its slightly better than the Galaxy S in most areas. That said, we'll have to wait and see.
Near the end of May Samsung attended a mobile solutions forum event, in which they unveiled a smaller, more efficient 10nm LDPPR4 RAM module for smartphones with 6GB of RAM. Most likely this faster and better RAM along with the higher 6GB amount will debut in the Note 6, even if benchmarks only showed 4GB during testing. We doubt Samsung will stick to 4GB of RAM, but it's possible.
The Galaxy S7 has a new 12 "Dual Pixel" camera, and it was extremely impressive in our full review. Using a new Dual Pixel technology for fast auto-focus, improved low light, and a fast f/1.7 aperture. A big leak from GSMHelpDesk claims it will be 12 DualPixels again, but better than the S7 with more features, options and advanced controls.
For now nothing is "confirmed" but the list above could be close to accurate. The GSM leak states that there will indeed be a 4,000 mAh battery, which is nice but newer leaks are saying 4,200 mAh. Samsung increased the Galaxy S7 from 2,550 (on S6) to 3,000 mAh and 3,600 mAh in the Galaxy S7 Edge. Comparing that to the 3,000 mAh in the Note 5, we could see something much bigger later this year in the new Note. SamMobile recently confirmed the Note 7 will have USB Type-C and possibly launch with a new Samsung Gear VR2.
Galaxy Note 7 Release Date
The Galaxy Note 5 was released two months earlier than the model before it, and now in 2016 the Galaxy S7 arrived a month faster than last year. If that track record tells us anything, Samsung will deliver the Galaxy Note 7 earlier this year than ever before. The rumors were right, and below is the official invite for the Galaxy Note 7 to be unveiled on August 2nd. Get ready.
The most exciting aspect of the August 2nd launch date is that we're hearing it will be the release date as well. Samsung won't wait 2-3 weeks to release the phone, and carriers could have it readily available come August 2nd in the United States.
Recently the highly accurate and popular leakster Evan Blass claims to know the release date for the US market. According to him it will be released around August 15th. So it should be August 2nd, or the week of the 15th.
Samsung Galaxy Note 6 US release scheduled for week of August 15th.

— Evan Blass (@evleaks) May 11, 2016
Again, nothing is remotely official yet aside from the August 2nd date, but given everything we've seen from Samsung over the past few years suggests the above information is rather accurate. An improved yet similar design, big display, water resistance, micro-SD slot, a bigger battery, and running the latest version of Android. Add in all the leaked photos and this launch is coming together rather nicely.
Google's already confirmed Android 7.0 Nougat will be released this summer, and the Samsung Galaxy Note 7 could run it, but that's doubtful. We'll have to wait and see how it all lines up. The wait is almost over so stay tuned for more details. We'll be live in New York City for coverage as the phone is unveiled. Take a peek at all the new photos below.