Samsung Galaxy Note 7 Release Date Resumes
Samsung issued a global recall on the Galaxy Note 7 smartphone over a faulty battery that could catch fire and possibly explode. The company has worked quickly to fix the problem. New replacement models are available in the US as of September 20th, and now Verizon and Sprint are both officially selling the Note 7 again. Here's what you need to know.
Just a week after the release date multiple reports surfaced that devices were catching on fire, exploding, and more. One Note 7 allegedly burned down a Jeep. It's a dangerous situation, but Samsung has been upfront about it from the beginning.
Read: Galaxy Note 7 Recall & Replacements: What We Know
Our link above goes over all the details about the Galaxy Note 7 recall, warranty, replacements, and what to do about it. New safe phones can be switched out as we speak from carrier and retail stores, and it looks like select carriers are actually selling the Note 7 to regular consumers right now too.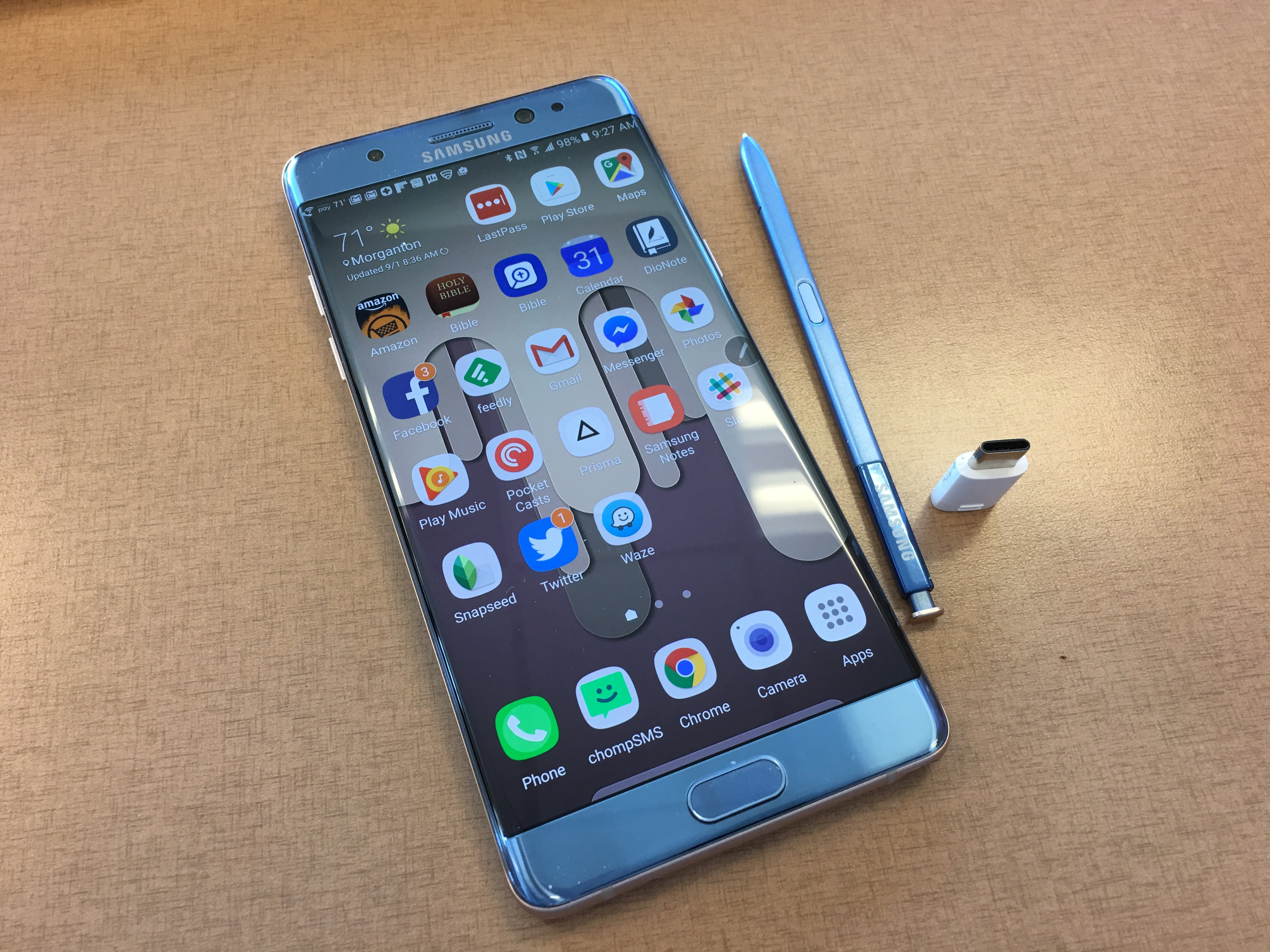 On September 15th Samsung officially launched a new website with all the details. This page has Galaxy Note 7 recall replacement information, a tool to check the IMEI for faulty products, help, phone numbers to call and more.
New and safe Galaxy Note 7 smartphones will be available from all major carriers and retail stores in the US from September 21st. Samsung officially announced this date, and recommends all owners swap their phone out.
We originally heard the new Galaxy Note 7 release date is over a month away set for October 21st, but that isn't the case. Verizon will sell anyone the Note 7 as we speak both online and in stores, and Sprint is taking orders online as well. Initially only replacements were available, but the Note 7 is readily available to all again. Buy it without worry, as it has been approved by the appropriate channels for use.
Apparently out of the 2.5 million devices manufactured, about 400,000 were sold in the first few weeks. Meaning the number of new devices needed to replace phones already sold isn't as high as we all thought. Samsung already shipped new models to carriers, are giving out $25 gift cards or credit on users bill, and are trying to accommodate all problems.
Read: How to Backup & Reset Your Galaxy Note 7 for Recall
This is good news and a great start by Samsung. Yes it has been a few weeks since the recall, but this is a fast turn-around. Being able to get situated, fix manufacturing and make 500,000 new models and ship them to carriers is impressive. Samsung has handled this well from the start, even if there has been nearly 100 reported incidents of fires or devices exploding in the US alone.
How to Tell If Your Device Is Defective?
Once new models are released on the 21st users will want to make sure its safe. If it comes from a retail store, it should be good. Follow the steps below to check, and be aware that this will let you know the new model is safe.
First up, Samsung's website has a tool to check the device IMEI to make sure it's faulty, or to double check new units and make sure they're safe. More details can be found here regarding the three different ways to check your Galaxy Note 7.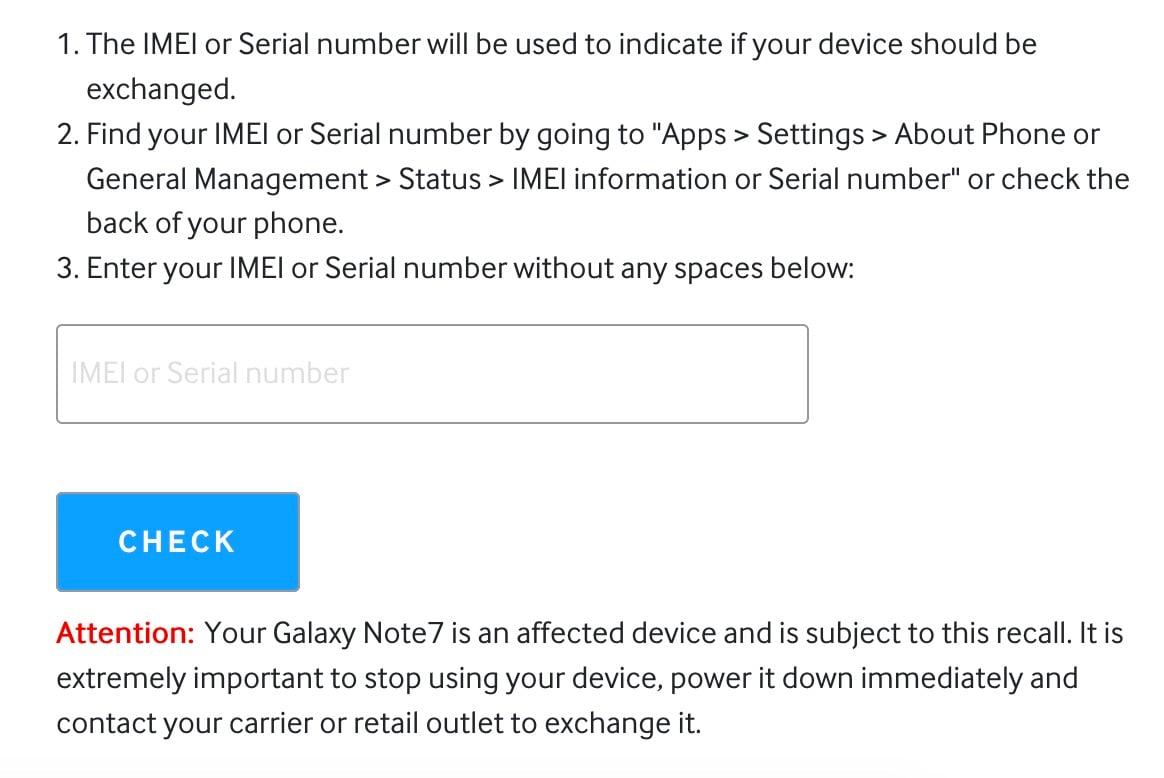 Users can enter a device-unique IMEI code which will check the data base. Find this on the box label, or head into Settings > General Management > Status > IMEI to find the number. Then, we're hearing multiple different visual differences can be seen on the box. Below is the new label on all new Note 7 devices, new safe phones will have a big black square on them as shown below.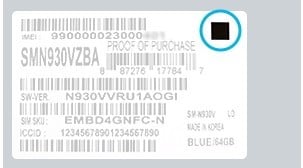 Then, software update will change the battery status indicator in the notification bar and other locations from white, to green. This will show that the phone is new, safe, and approved for use. This update hit Verizon phones yesterday, so there should now be no problems with the new version of the Note 7. We're assuming you can take it on planes, but some may still be cautions.
This entire situation is still very fluid and changing by the day, so we'll update as we learn more information. Samsung still recommends all owners shut off their phone until it can be replaced. Head to a store today and get a brand new safe Galaxy Note 7, whether that's a trade-in or buying new.