Galaxy Note 7 Release Rumors Arrive With a Twist
Samsung could be preparing to release an all-new Galaxy Note 7 with a huge 6-inch display if the latest leaks and rumors are accurate. For months on end we've been hearing Samsung will continue with the same 5.7-inch screen as past years, but new details are adding a twist to the upcoming Galaxy Note 7 release.
Over the course of the past two months a lot of information has surfaced surrounding Samsung's plan for the popular phablet, and now we have even more details to consider. After official press renders leaked this weekend giving us a good look at the handset, new rumors are starting to spring up.
Read: Galaxy Note 7 vs Galaxy S7 Edge: What We Know So Far
According to everything we've seen so far the new Samsung Galaxy Note 7 will have a 5.7-inch Quad-HD 2560 x 1440 resolution display with curved edges, like the Galaxy S7 Edge. This matches all previous models, but with a 5.5-inch curved device already available the company could surprise everyone and release a bigger Galaxy Note in 2016.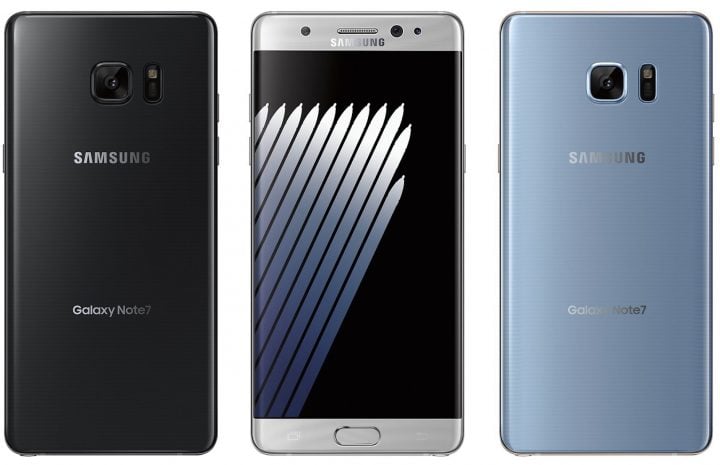 Earlier this year Samsung released the Galaxy S7 and Galaxy S7 Edge. Surprisingly enough the Galaxy S7 Edge had a bigger 5.5-inch Quad-HD display, one that's not much smaller than the Note lineup. As a result a lot of leaksters believe Samsung will increase the size of the Note 7, to differentiate it from the popular Galaxy S7 Edge.
Update: New leaks have surfaced that reportedly confirm a bigger fingerprint scanner as well as the Iris Eye scanner, as images of the front panel surfaced. Followed by some benchmarks that suggest only 4GB of RAM and a new 13 megapixel camera. Details are starting to get muddy, but we'll find out for sure in early August.
The first reports and rumors for the Galaxy Note 7 (Note 6 at the time) were all over the map. Talking about a bigger 5.8-inch display and being a regular flat phone, but slowly our expectations have changed. Popular leakster Evan Blass @evleaks revealed some specs in June, stating it will be the typical 5.7-inch size and have curved edges. This means it could only be slightly bigger, and the focus will be more on the S-Pen stylus and software rather than the design.
However, as the rumored August 2nd release date gets closer we're starting to hear conflicting reports, and the release rumors are taking a twist. New documents attained by SamMobile show that Samsung imported some devices into India for testing, and the listing suggests the Note 7 will have a 6-inch display. To be accurate, it states 5.5-6 inches for the screen size, so nothing is confirmed yet and we'll have to wait and see.
It's possible that Samsung is testing multiple versions of the device and have yet to decide 100% on the screen size, or this is just a device that will be market-specific and might not even be a part of the Note series. It could even just be a mistake listed by the import site Zauba.
At this point it's still to early to tell, but with countless leaked specs and photos from popular leasters like @evleaks, most likely potential buyers can expect the typical 5.7-inch screen size, with curved edges. We've also seen evidence of both a flat and a curved model, but anything is possible and we'll have to wait until August 2nd to know for sure. As a reminder, rumors suggest the Note 7 will be announced on August 2nd in New York City at Samsung Unpacked 2016.
While we continue waiting and searching for more details regarding what's coming soon, here's the latest specs and features based on everything we've gathered so far.
Galaxy Note 7 Specs (Rumored)
5.7-inch 2560 x 1440 Quad-HD Display (or 6-inch, Curved Edge screen)
Snapdragon 823 or Samsung Exynos Processor
6GB RAM & 64GB of internal storage (micro-SD expansion up to 256GB)
Android 6.0 Marshmallow (possibly Android 7.0 Nougat)
12 DualPixel Camera with IOS, f/1.7 aperture, more
5 MP Front Camera with f/1.7 aperture
Premium all metal design
Fingerprint Scanner, Samsung Pay, USB Type-C port
Iris Eye Scanner technology
Integrated S-Pen Stylus
4,000 mAh Battery with Fast Charge, Fast Wireless Charging (or 4,200 mAh)
IP68 dust and water resistant
more
Again everything above is subject to change until it's officially announced by Samsung themselves. That said we can almost guarantee it will have 64GB of storage, a micro-SD slot, the S-Pen stylus, feature an IP68 dust and water resistant rating and come in three colors.
To add even more rumors to the fire PhoneArena suggests Samsung has redesigned the S-Pen stylus and some of its companion apps. Talking of translation tools, voice dictation, improved bluetooth connections with the S-Pen and maybe even a different eject method with the clicker at the top of the stylus as we saw in 2015. The report goes as far as to say the new Iris eye scanner will be able to lock apps, files and folders, on top of doubling as a new security method along with the fingerprint scanner.
All said and done it looks like the Samsung Galaxy Note 7 will be one of the best smartphones released in 2106. Even if we only get a 5.7-inch curved screen this phone still has plenty to offer for potential buyers, and we'll know more soon enough. If August 2nd truly is the launch date, expect announcements and invitations to go out in the next two weeks. Stay tuned for more details.

As an Amazon Associate I earn from qualifying purchases.