Samsung Galaxy Note 7 Leaked as Release Nears
With the Samsung Galaxy Note 7 release rumored for early August, leaks and reports are at an all time high. Just a few days ago we got a peek at the specs and features, but now we have actual images revealing Samsung's Galaxy Note 5 successor well ahead of the launch date.
Over the past few months we've heard a lot about Samsung's new flagship phablet, and now we know exactly what to expect courtesy of popular leakster Evan Blass on Twitter. At this point it has been all but confirmed Samsung will call it the Note 7, and not the Galaxy Note 6.
Read: Samsung Galaxy Note 7 Release: 7 Things You Need to Know
In August of 2015 the Galaxy Note 5 was announced and released two months earlier than expected. Then, earlier this year Samsung unveiled the Galaxy S7 in February, and released it in March. A full month ahead of previous models. We're expecting the same thing this year with a new, better, water-resistant Galaxy Note 7. Read on for more details and a slew of pictures including a fresh new Blue Coral color option.
Recently more and more information has slowly surfaced about Samsung's new phone, but nothing is official until the company announces it themselves. That being said, we've seen the same reports enough to feel confident about the information below, not to mention the photos come from the highly accurate and famed leakster @evleaks.
As previously reported and linked to above, Samsung's new Galaxy Note 7 has a lot going for it. With a similar overall design as last years Note 5, but with all the key upgrades Samsung added to the award-winning Galaxy S7 earlier this year.
Update: Following the leaked press photos we're seeing here today, on July 11th actual photos of the Galaxy Note 7 leaked giving us our first look at the hardware. Nothing was confirmed aside from the curved screen, as specs weren't mentioned along with the photos.
And a few more… #Samsung #Note7 pic.twitter.com/Ve47o6M1CC

— Steve Hemmerstoffer (@stagueve) July 11, 2016
This is one of many leaks we've received well ahead of the release date. And while we're now hearing it may not have a new processor or 6GB of RAM, and could be more similar to the Galaxy S7 Edge, the Note 7 should still have plenty to offer.
Things like an IP68 dust and water resistant design, micro-SD slot for storage expansion, bigger battery with faster charging, a curved "Edge" display and even a new Iris eye scanner technology for improved security. Here's what it looks like and everything we know right now.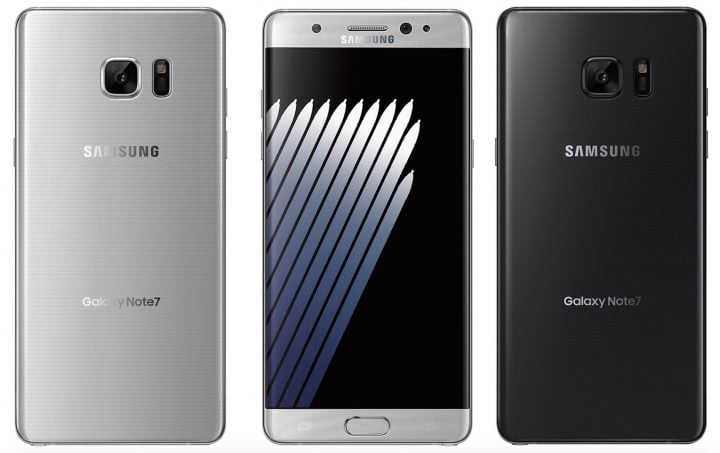 According to Blass the Galaxy Note 7 will have a curved 5.7-inch display and come in three colors. Those being Black Onyx, Titanium Silver and a brand new light Blue Coral. It looks like Samsung could go with a single model with a curved display and ditch the popular gold color option we've seen as of late.
Here's the latest specs and features according to countless rumors.
Galaxy Note 7 Specs (Rumored)
5.7-inch 2560 x 1440 Quad-HD Super AMOLED Display
Quad-Core Snapdragon 821 Processor
6GB of RAM (new rumor claims only 4GB)
64GB of internal storage (micro-SD up to 256GB)
Android 6.0.1 Marshmallow or Android 7.0 Nougat
12 Megapixel (Dual Pixel) camera with OIS, f/1.7 aperture
5 or 8MP f/1.7 aperture wide angle front camera
Fingerprint Scanner, Iris Eye Scanner, Samsung Pay
Integrated S-Pen Stylus
4,000 mAh battery with Fast Charging, Wireless Charging
New USB Type-C Port
IP68 Certified Dust and Water Resistant
More
It's quite the list, but everything mentioned above has been rumored on more than one occasion, confirmed by @evleaks, or makes sense given what we've seen from Samsung in the recent past.
Read: Galaxy Note 7 vs Galaxy Note 5: Early Comparison for Buyers
The display will likely be 5.7-inches with a curved design like the Galaxy S7 Edge. We've heard reports of a 5.8-inch model and a regular flat screen, but will have to wait and see. Hopefully Samsung releases both a Galaxy Note 7, and a bigger Galaxy Note 7 Edge.
It should pack a powerhouse Quad or 8-core processor depending on the region, have 6GB of RAM for improved performance and multitasking, more storage than past models and the option for an SD card to expand that storage. The same award-winning camera as the Galaxy S7 Edge will accompany the back, and it could even be better. Then a similar overall design as the Note 5 from 2015 but it will be IP68 dust and water-resistant up to 30 minutes in over 5ft of water. Sadly we are hearing it might only have 4GB of RAM, but at the same time we don't really need 6GB either.
We've also seen rumors stating the battery will be a big 4,200 mAh battery and others claiming as small as 3,600 mAh. It's worth noting the Galaxy Note 5 was only 3,000 mAh, but the smaller Galaxy S7 Edge from March has a large 3,600 mAh battery. So it makes sense we'd see 4,000 mAh or bigger for the phablet and not the same size as the Galaxy S7 Edge. On bottom is a USB Type-C port that's universal and reversible, can be plugged in any way, and will support Quick Charge 3.0 technology. Meaning owners can recharge the Note 7 from 0-80% in just 35 minutes.
Last but not least rumor has it Samsung will debut a brand new Iris eye scanner for a secondary layer of security, or an alternative to the fingerprint reader. We're hearing the sensor is capable of instantly reading and recognizing over 260 traits in each users eye, compared to just 40 in a fingerprint. Meaning the Note 7 will instantly unlock but be more secure than ever.
Galaxy Note 7 Release Date
There is concrete evidence surrounding the Galaxy Note 7 release date, but we do have a pretty good idea of what to expect not to mention the launch date. Most likely Samsung will follow their recent trend of a slightly early arrival, ahead of the late August launch last year.
Below is a leaked photo that reportedly confirms the Galaxy Note 7 will be unveiled on August 2nd in New York City. It suggests the "7" in the name and teases the curved display by stating "the next Edge is just around the corner".
The August launch and release date has been mentioned time and time again. First by @evleaks, then from reports out of the Korean Herald followed by the image above.
If everything we're hearing is accurate the new and improved Galaxy Note 7 will be announced on August 2nd and released either the same day, or two weeks later on or around August 15th. Evan Blass claimed the release is the "week of the 15th". We'll know everything and more in just about a month, so stay tuned right here for any and all details.

As an Amazon Associate I earn from qualifying purchases.