Galaxy Note 7 Update Arrives with Recall Warning
Samsung's Galaxy Note 7 release and recall has been somewhat of a disaster, but things are starting to clear up. This week the company pushed out a software update warning users about its flagship Galaxy Note 7 smartphone. The update is rolling out starting today on Verizon Wireless.
Earlier this month Samsung recalled nearly 2.5 million devices due to a faulty battery that may explode or catch fire. As many owners may already know, new and safe units will be available starting September 21st.
Read: Galaxy Note 7 Recall & Replacements: What to Know
We heard an update would be rolling out limiting charging to only 60%. The goal was to prevent overheating, which is causing the phone to explode or catch fire. However, with updates arriving today we're seeing something completely different. An alert reminding owners of the recall.
A formal Galaxy Note 7 recall began on September 2nd. It has been reported online and in the news. Samsung and all partner carriers and retail stores have alerted customers about the problem. That isn't enough though, and further steps are required. Most users who bought the Galaxy Note 7 are still using it, when they shouldn't be. It's a fire-hazard which is why the latest update adds a warning to all devices.
Galaxy Note 7 Software Update
Shown below is the Verizon Galaxy Note 7 update that started rolling out today. It alerts owners of the recall, and suggests all users turn off and power down their phone. After every reboot or while charging this notification will appear.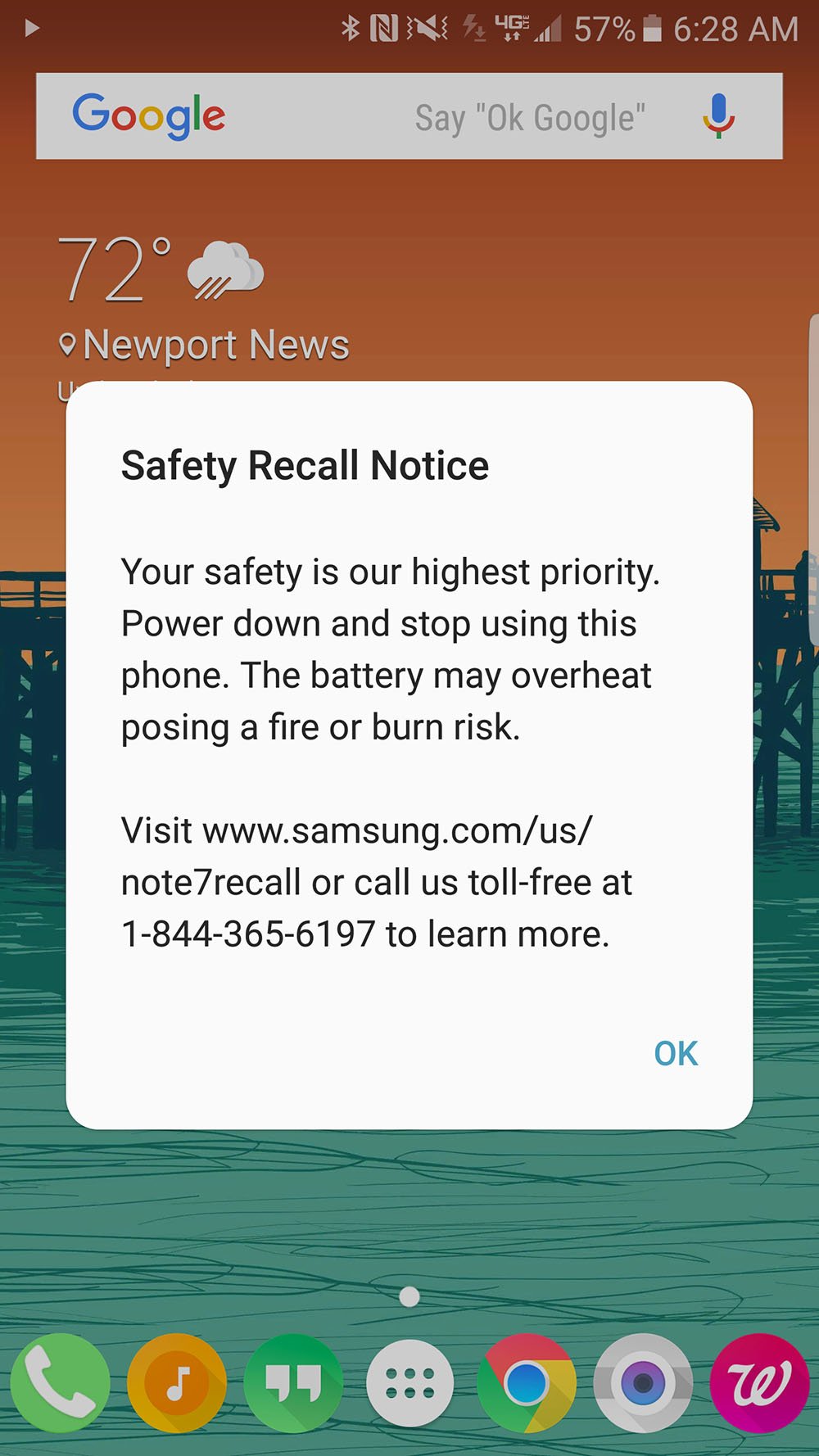 This serves as a reminder that the device may cause personal harm or damage to property. According to Samsung and Verizon this update will serve two important purposes.
Those with an original Galaxy Note 7 will see the notification above after the update. If you have a new device, it will have a software change that confirms it's new and safe. Like we heard earlier this week, the battery status indicator will be changed from white to green. A preview of how safe models should look is provided below. This is reportedly included in the Verizon update rolling out this week.
Essentially this update from Verizon and Samsung changes the software so that all new devices can be identified as safe. It also puts a notification on older Note 7's that are a potential fire hazard that may explode.
Customers can take the Galaxy Note 7 to any retail store or carrier "no later than September 21st" to get a safe new replacement model. All new Galaxy Note 7 devices have been approved by the Government as safe to use.
Reports confirm this Verizon update does not limit charging to 60%, and buyers will still be able to fully recharge the device. If you have a Verizon Galaxy Note 7 head into Settings and check for an update. A similar update should arrive for all other Galaxy Note 7 devices sold in the United States. More details on the Galaxy Note 7 recall and replacements can be found here.

As an Amazon Associate I earn from qualifying purchases.