Galaxy Note 7 vs Galaxy S7: What We Know Right Now
Samsung will officially announce and unveil the new Galaxy Note 7 early next month and potential buyers are getting excited. We've seen a lot of reports and rumors detail specs and features, and here we'll be comparing what it has to offer with the current Galaxy S7. Whether you want to upgrade to a bigger screen are considering a new phone, we have all the details below.
In March a new Galaxy S7 and bigger Galaxy S7 Edge arrived with plenty to offer, a great camera, water-resistant features and more. And while the bigger Galaxy S7 Edge is only a hair smaller than the upcoming Note 7, the regular Galaxy S7 is very different. If you waited to see what was coming next, the Galaxy Note 7 won't disappoint.
Read: 7 Reasons to Wait for the Galaxy Note 7
For months on end we've been hearing about the new Galaxy Note, and Samsung will call it the Note 7 instead of the Note 6. It will be similar to the Galaxy Note 5, just like the new S7 is nearly identical to the Galaxy S6. However, there are some major changes that all potential buyers need to know about before making a decision.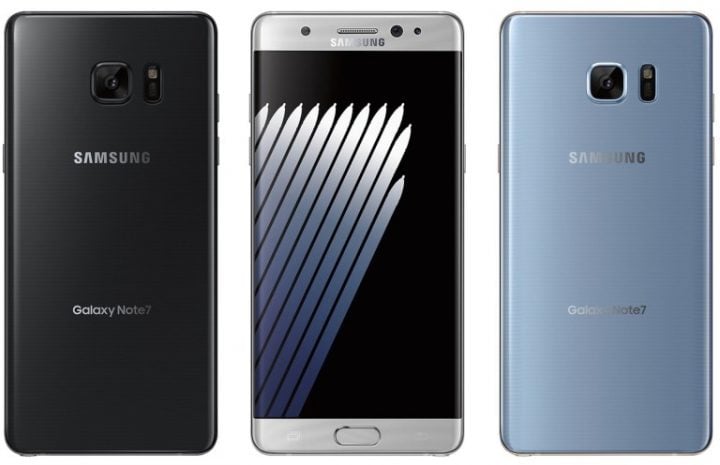 Many potential buyers passed on the Galaxy S6 or Galaxy Note 5 from 2015 due to small battery options and the lack of a micro-SD slot, but that was all fixed with models this year. Samsung learned from their mistakes, and everything that made the Galaxy S7 successful will be combined with new technology to make the Note 7 one of their best smartphones yet.
As a result most users with the Galaxy S6 either kept the phone a little longer, upgraded to the Galaxy S7 (or S7 Edge) or are now waiting for the slightly bigger and better Galaxy Note 7. This will help buyers decide if the Galaxy S7 is worth getting now, waiting a little longer for the new Note, or even upgrading from the S7 to the Note 7.
Read: LG V11 Release Rumored to Take on Note 7
The Galaxy S7 is an excellent and well-rounded smartphone. It has a great screen, powerful technology inside, fast charging, an excellent camera, micro-SD card and it's even IP68 dust and water resistant. It's been a big selling point. But then again, that and more will complete the Note 7 when it's released in August.
While we have a good idea of what to expect from Samsung's next phone, rumors and leaks always have the potential to be wrong. Everything below is based on those rumors, but we feel confident in most of them. Many have come from reliable sources, not to mention make sense given what we saw from the S7 Edge, and the natural progression of the Note and Galaxy S series.
The Galaxy Note 7 has everything the Galaxy S7 offers and more, expandable storage, a good camera, longer battery life, the latest software and will be water resistant. Those are the important things, and we'll cover that and more in our slideshow below. Lets gets started.
Note 7 vs Galaxy S7: Design
Everything we've seen so far suggests these two phones will be almost identical in terms of the overall design, look and feel. Just like the S6 and S7 looking the same, the Galaxy Note 5 and Note 7 will look the same. The only difference is the physical size of the device, and the screen size.
Meaning, if you like the Galaxy S7 and how it looks, you'll love the Galaxy Note 7 as well. We can expect an all metal and glass phone, curves on the back, and a curved display as well. Overall a phone that looks extremely similar in every aspect to the Galaxy Note 5, and the new Galaxy S7 Edge. Which isn't a bad thing.
It will also have an S-Pen stylus, a new USB Type-C port for charging and syncing, and reportedly an Iris Eye scanner for improved security on top of the fingerprint scanner.
The new fingerprint scanner, new USB Type-C port, new Iris Eye scanner and the bigger size are what will be important. The only big area of concern is whether or not Samsung releases two, one with a curved screen, or only one.