Galaxy Note 7 Warranty: What You Need to Know
Users can buy a Samsung Galaxy Note 7 warranty directly from Samsung and get extra protection for another year on top of the existing coverage. Yes the Galaxy Note 7 is water-resistant, but Samsung's warranty still protects against water damage, not to mention broken screens and device failures. Their warranty covers almost any situation. Here's what users need to know.
Many smartphone buyers will likely pay $10 a month or so from their carrier, but this is a better route and an actual warranty specifically for the Note 7, right from Samsung. It's similar to AppleCare+ for the iPhone, for those familiar. This means you work with Samsung for support and replacements, not a carrier or insurance group that will send out a refurbished model.
Read: 13 Exciting Galaxy Note 7 Cases
We're talking about Samsung Protection Plus, and it has actually been around for more than a few years but most don't know about it, although you should. This is a additional purchase on top of the Note 7, and needs to be added shortly after getting your new phone. Read on for more information.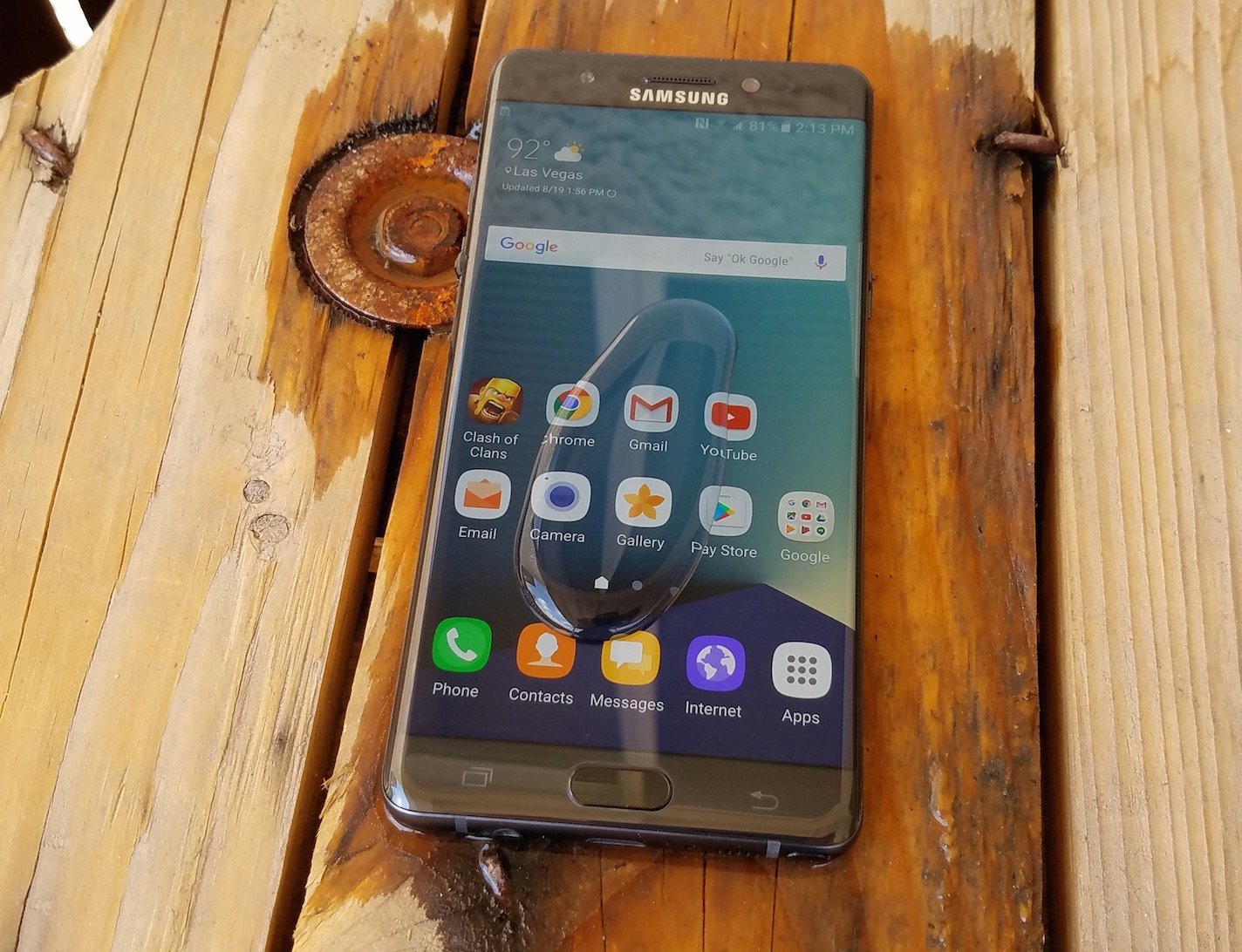 Of course Samsung's Galaxy Note 7 has a warranty out of the box for certain scenarios or device failure, but it doesn't cover damage from broken screens if dropped and other things. It's also only good for a year. This is one of many reasons we recommend the stand-alone Samsung Protection Plus plan.
What is Samsung Protection Plus?
Previously known as Samsung Protection Plus Mobile Elite, this improved service is very straightforward and easy to understand. Owners can get this Galaxy Note 7 warranty for pretty cheap, and it's available for other Samsung devices like the Gear Fit 2, Gear VR, Galaxy S7, Galaxy S6 and more.
Read: How to Reset a Frozen Galaxy Note 7
Those looking to get a Note 7 warranty can buy Samsung Protection Plus for $129, which combines to give you a full two-year warranty against damage, failure, and other incidents. Previously this was priced at $99 and is still available at that price for select older devices.
It's advertised as a two-year Note 7 warranty, and sounds like it is while reading their webpage, but all it actually does is adds an additional 1-year of coverage to the already 1-year warranty the phone has out of the box right from Samsung. It covers users from a few more situations too, so keep that in mind.
What Does the Galaxy Note 7 Warranty Cover?
One important aspect of Samsung Protection Plus has always been replacing a device that was damaged by water, but that shouldn't be a problem this year. That's because the Note 7 is IP68-certified dust and water resistant. Meaning it can be submerged in over 5ft of water for nearly 30 minutes. We've tested this, and it works fine. It's waterproof even with the S-Pen removed, and it can write on the screen underwater. It's pretty impressive.
However, water damage can still happen in select scenarios or extended time or deep depths, not to mention damage from soap in a washing machine. Or similar accidents that can happen on occasion.
As a result, many owners will still want to know everything this Galaxy Note 7 warranty covers. Here's what we've learned from skimming over the Samsung website.
Covers accidental damage from handling – drops, spills, and/or cracked screens
Covers electrical and mechanical failures after the initial manufacturer's warranty expires
Next business day replacement shipping, Monday-Friday, once a claim is approved
Customer support open 7 days a week (9AM – 9PM EST) by calling 1-866-553-3239
Up to 2 replacements in a 12 month period for accidental damage claims
As you can see this covers a lot of different situations, and replacements arrive fast, but there is nothing for a lost or stolen smartphone. So keep an eye on it, and be sure to use Samsung's tracker or install the Android Device Manager to find a lost or stolen phone. It needs to be installed before it happens.
Owners can call Samsung support 7-days a week at the time and number listed above, file a claim, and often get a replacement coming the same day. It even ships overnight, for a quick arrival and almost no down-time. However, the warranty replacement program isn't always fast, so make sure you select the fastest shipping method available.
Samsung offers two replacements in a 12-month period, which may come in handy if that screen cracks or the glass on front or back is shattered from a drop. The Note 7 has strong Gorilla Glass 5 that's very shatter resistant, but it can still get scratched fairly easy. We'd recommend one of these Note 7 screen protectors.
How to Buy a Galaxy Note 7 Warranty?
The warranty for devices like the Galaxy S6 or older smartphones is only $99, but those who have the latest and greatest Note 7 or a curved screen like the Galaxy S7 Edge will be paying a little bit more. The more expensive devices have a warranty for $129 directly from Samsung. Their website doesn't mention the Note 7 yet, but we've reached out to Samsung and have confirmed Protection Plus will cover the Galaxy Note 7.
This is a good option right from Samsung, and it ensures fast service. Another route for now is the SquareTrade Galaxy Note 7 warranty that is only $5 a month or $89 for a year and $149 for two-years. SquareTrade actually has three different options to choose from.
We'd recommend users read the fine print to know exactly what to expect for their money, or just go with Samsung. Many warranty sites still don't have the Note 7 listed, so use caution or call first. Some of the smaller details are in replacements, as mentioned below. There is also mention of a "deductible, if applicable" for repairs, so keep that in mind. Squaretrade may not be a free replacement, or even a new one.
Samsung replacements can come in three different forms: a new, repaired, or refurbished product. Or issue a cash credit equal to the value of the replacement product, and last but not least provide a settlement equal to the value of the replacement product, not to exceed the maximum replacement value of the original product less any applicable deductible.
Overall the Samsung Protection Plus plan is a great option for those seeking a Galaxy Note 7 warranty. It gives the device 2-years of coverage, isn't too expensive, and is the best route considering it comes from Samsung themselves.
Of course the best thing to do is use caution at all times, have a screen protector and buy a case. If the unfortunate happens or a screen defect surfaces, you'll wish you had an extended warranty like these ones.

As an Amazon Associate I earn from qualifying purchases.