Galaxy Note 8.0 LTE Is AT&T Exclusive
AT&T will bring Samsung's latest tablet, the Samsung Galaxy Note 8.0 to users of its wireless network sometime soon for an as yet undisclosed price.
According to the company, which released a statement on the new device today, its version will come with support for its 4G LTE data network so that users will be able load videos and look at pictures that much faster, without having to be near a Wi-Fi network.
AT&T will have the device exclusively, shutting down any hope that users on T-Mobile might be able to get their hands on the device for use on the "Un-Carrier".
The same software features that users have become accustomed to on the Samsung Galaxy S4 will make their appearance on the Samsung Galaxy Note 8.0 as well, including SAFE –Samsung's answer to enterprises looking to have their worker's personal data separated from their mission critical work information. The device will also include Polaris Office, a suite of applications that will allow users to "view, create and edit documents, spreadsheets and presentations", which is also notable since Microsoft's suite or productivity applications still aren't available to Android users.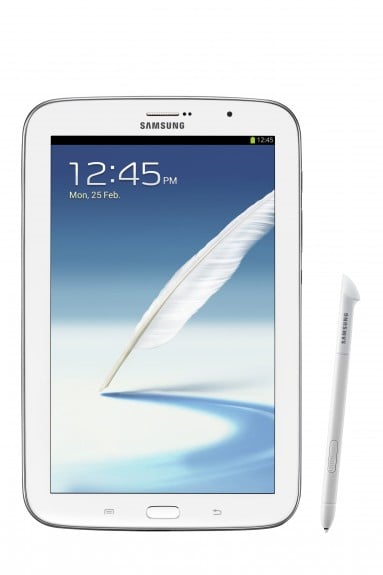 Read: Samsung Galaxy Note 8.0 Set to Challenge iPad mini in U.S.
Users can also expect some of the same exclusive utilities that have made the Galaxy S4 the talk of hands-free users. Air View will be included on the Galaxy Note 8.0 so that users can glance at incoming emails and look at videos without actually having to physically touch their device.
The Samsung Galaxy Note 8.0 will run Android 4.1 Jelly Bean and feature a 1.6 GHz quad-core processor and an 8-inch screen capable of playing back 1080p videos. Picture takers will also appreciate the 5 megapixel rear-facing camera along with 1.3 megapixel front-facing camera for users who like to video chat with friends and family. Onboard storage will be limited to just 16GB but users will be able to bump that up with the microSD card slot on the device. AT&T says it will also gift users 50GB of online storage on its AT&T Locker service.