Galaxy S III Becomes All-Access Pass to UK Holiday Inn for London Olympics
While many luxury and boutique hotels are outfitting their rooms and making their guests' stays as pleasant as possible with furnishings that include loaner iPad and iPhone hardware, one Holiday Inn in the UK is giving its guests a Galaxy S III as part of their stay for the London Olympics. The Galaxy S III will be used to not only showcase the technological capabilities of the phone, but will also help guests access all the amenities of their stay.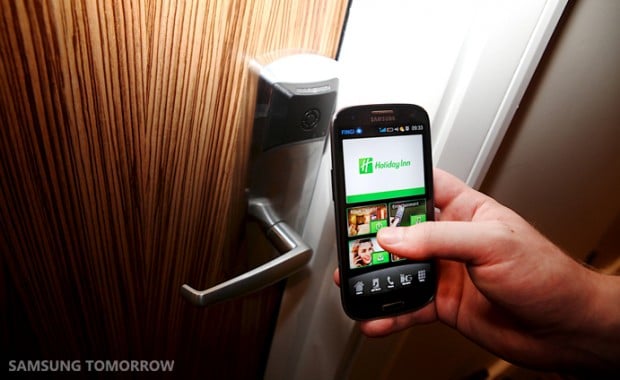 Hotel visitors as part of the 40-room VIP program will be able to check in and out of the hotel with their Galaxy S III smartphones as well as change the AC, control the TV, and unlock their rooms with the phone–no more fumbling around for key cards. The NFC capabilities will definitely be used throughout the hotel.
The joint solution combines the GALAXY S III with a fully customizable app to provide a complete connectivity and room control solution. The mobile solution provides a flexible, scalable and easy-to-install solution through a downloadable Holiday Inn for Android app. Following phase two of the installation, the customized app will enable the hotel to extend services such as express check-in/out, hotel services including room service, laundry services and hotel facility booking, and the ability to use the GALAXY S III as an in-room phone extension. The solution also provides localized content and Olympic Games information, results and updates, and is capable of providing location based offers. The mobile solution provides complete integrated control of TVs, lighting, AC and many other audio-visual and in-room functions as well as serving as the room key. The service will initially be available to VIPs staying at the Holiday Inn London Stratford City and see 40 rooms at the hotel equipped with the hospitality solution.
Samsung says this is the first time that a solution as such has been rolled out outside of Asia.