Galaxy S4 on AT&T, Verizon & Sprint Now Free at Best Buy
While most the attention lately has been on Black Friday, and with good reason, there's still plenty of deals to be found without waiting in crazy lines or getting up early on Friday morning. If you're in the market for a new Samsung smartphone, we have the perfect place to get it.
Best Buy recently confirmed the impressive Samsung Galaxy S4 is now absolutely free in stores and online from AT&T, Verizon, and Sprint, making it one of the best deals for the smartphone we've seen around. You can't beat getting it for free, even if you'll have to sign a new 2-year contract with your carrier of choice. What's even better is they'll be offering the exclusive Arctic Blue color option too.
The Samsung Galaxy S4 is the company's flagship device for 2013, has sold millions, and continues to be one of the best options available today. Recently updated to Android 4.3 Jelly Bean and a promise to 4.4 KitKat, now's a great time to get the device and beat the usual holiday rush and Black Friday shoppers.
A lot of reports and news has been surfacing around the Samsung Galaxy S5, which is set to arrive sometime in February or March of next year, but in the meantime the Galaxy S4 should hold you over. If you don't need the absolute latest and greatest getting this from those three major carriers completely free is worth taking a look at. We'll be seeing plenty of deals this holiday season, but Best Buy is beating them all by offering this right now.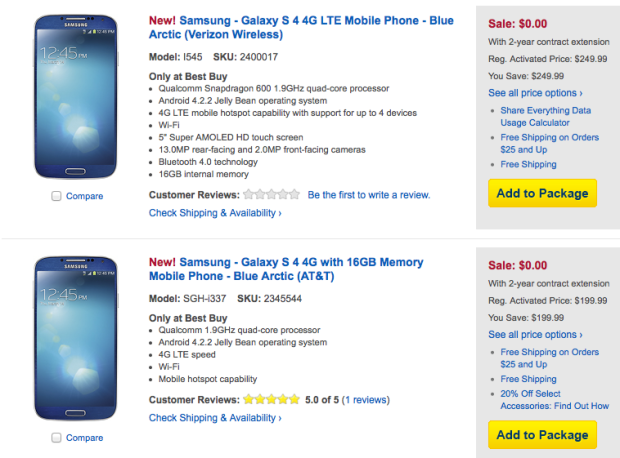 From now to the end of November, the Galaxy S4 will be completely free at Best Buy. Simply sign a new 2-year contract with Verizon, AT&T, or Sprint (even for existing customers) and you'll be set. Which surely beats the $199 and occasional $99 price we've seen a few times as of late.
Read: Samsung Galaxy S4 Review
You'll get the same 5-inch 1080p HD display being powered by a 1.9 GHz quad-core Snapdragon 600 processor and 2GB of RAM, 16GB of internal storage to hold photos taken by the 13 megapixel camera on the rear. All running on Android 4.3 Jelly Bean. Get one now while supplies last, as they won't make it through the Black Friday shopping spree.

This article may contain affiliate links. Click here for more details.