Galaxy S4 Google Play Edition Removed from Play Store
In 2013 Google and Samsung shocked many Android smartphone buyers when the two partnered up and released the first Google Play Edition device. A flagship Samsung Galaxy S4 running stock Android, vs the TouchWiz interface designed by Samsung on all other versions of the device. Today, it's been removed from the Google Play Store.
Google Play edition smartphones have a lot to offer, including quick and timely updates, but it appears that the program may be dead and no new Google Play Edition smartphones will be released. After multiple rumors of a Galaxy S5 Google Play Edition emerged, the device was never released, and now the Galaxy S4 has been discontinued.
Read: Galaxy S5 Google Play Edition Rumors Reignite
Over the past few years we've seen many flagship phones released as stock Google Play Edition devices, but in 2014 only the HTC One M8 was released as a GPe device, no other manufacturers released one, even though multiple rumors suggested a Galaxy S5 variant was coming. Now we've seen most disappear from the Play Store, and the one that started it all is gone too.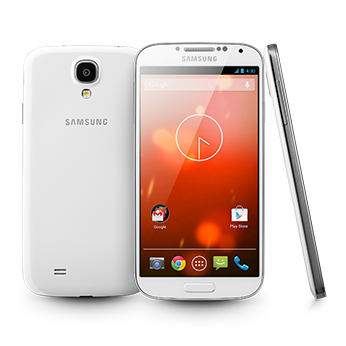 Many expected Google to remove the Galaxy S4 Google Play Edition from the Play Store in order to make room for a new Galaxy S5 GPe, but that never happened. Instead, over the past few months we've seen almost every single Google Play Edition smartphone or tablet be completely removed from the Play Store.
Meaning Google is no longer selling them, and from the lack of new options, it appears that Google won't be offering any new ones either.
With this exit the HTC One M8 is the last remaining Google Play Edition device being sold and offered from Google, which is a short list compared to the more than five devices being sold in 2014. For months we waited for a Galaxy S5 to appear, but it never came, and now with the Galaxy S4 we're hopeful for a Galaxy S5, but it doesn't seem likely. The device is nearly a year old, and rumors of the Galaxy S6 are already in full swing.
Read: HTC One M8 Google Play Edition Hands-on
Those with the HTC One, HTC One M8, Moto G, or even the Galaxy S5 Google Play Edition have all been enjoying the latest Android 5.0 Lollipop or Android 5.0.1 Lollipop well ahead of most other smartphone owners, which was in thanks to them being Google Play Edition devices. With the Galaxy S4 exiting from the storefront, many are questioning if the program is dead completely.
Last year rumors of a new Android Silver program started floating around. Promising to replace the Google Play Edition experience with stock flagship devices being sold through carrier stores in the United States. For now we're uncertain of the Google Play Edition and Android Silver programs future, but things aren't looking good.
Instead, it's likely that Google will continue to focus its efforts on the Nexus 6 smartphone, and the entire Nexus lineup rather than Google Edition devices.
As it stands today Google is offering the Nexus 5, Nexus 6, Nexus 9 and the HTC One M8 Google Play Edition devices on the Google Play Store, and everything else has been removed. The Galaxy S4 is the latest to fall victim to the removal, and we have a feeling the HTC One M8 may be the last device in this lineup. We'll keep an eye out for more details, but things aren't looking good for the Google Play Edition lineup.

This article may contain affiliate links. Click here for more details.