HTC Going After Galaxy S4 Seekers on Twitter
Those searching for the Galaxy S4 on micro-blogging site Twitter will find the HTC One. HTC is aggressively marketing against Samsung by promoting its own Tweets when people search Twitter for information on the Galaxy S4.
The HTC One is the Android smartphone manufacturer's one and only flagship device for the year. The company is promoting features like its metal and glass design, Beats by Dre audio and Ultrapixel camera technology.
Read: Galaxy S4: Samsung's iPhone Slayer is Here
Smartphone shoppers and technology enthusiasts searching for the latest Galaxy S4 information on Twitter are currently being greeted with screens like the above. Rather than finding Galaxy S4 details and opinion right up top as they might expect, they're greeted with an ad from HTC USA promoting its front-facing speakers and audio features.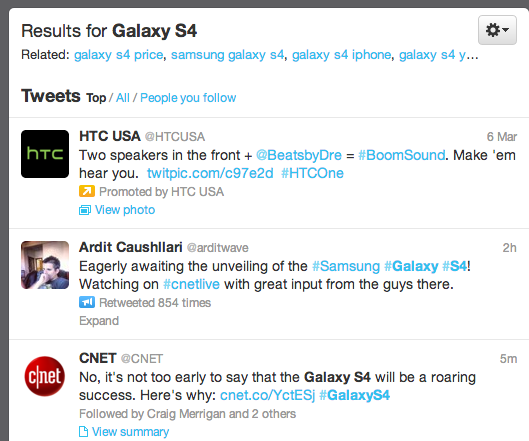 Samsung has taken the Android and smartphone markets by storm over the past two years at the expense of HTC and other competitors. While competitors like HTC are trying their best to fight back, Samsung is simply out-gunning them with massive marketing budgets. Samsung rented out Radio City Music hall to unveil the Galaxy S4 and streamed the event live to more than 400,000 viewers. By comparison,  HTC is passing out postcards outside Radio City Music Hall and promoting Tweets.
The Galaxy S4 and HTC One both look to be solid devices, sitting at the top of the current Android handset heap. Today's antics are just the beginning of what will be a year-long battle for Android shoppers' attention.
The Galaxy S4 will be available starting at the end of April. It features a 5-inch display with 441 pixels per inch, 13 Megapixel camera and significant software upgrades.
Many expect the Galaxy S4 to dominate the Android smartphone market and sway some longtime iPhone users. The next-generation iPhone is expected to launch in late summer or early fall. Current rumors are pointing to an iPhone that is nearly identical to the current iPhone 5. If that's the case, the Galaxy S4 will almost definitely have several key advantages over the iPhone 5S. There is a chance Apple may unveil multiple iPhone models to compete against devices with larger screens and more affordable price tags.

This article may contain affiliate links. Click here for more details.