Galaxy S4's Exynos 5 Octa Will Pave the Way for Uber-High Resolution Galaxy Tablets
While Samsung had shown off a lot of sexy new software customization and previously unavailable hardware–like the 13-megapixel camera and wireless charging–for the new Galaxy S4 that was unveiled in New York yesterday, one of the unsung heroes of the Galaxy S4 is the processor that powers the whole unit. The Galaxy S4's Exynos 5 Octa CPU not only delivers the power to handle all the capabilities of the Galaxy S4, but may also hint at Samsung's tablet future.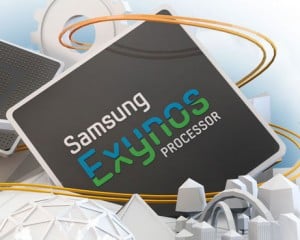 Samsung is using ARM Holdings' big.LITTLE architecture for the Exynos 5 Octa to deliver the 8-core computing power. There are four low power ARM Cortex A7 cores that mange more power efficient tasks and four performance ARM Cortex A15 cores that handle more intensive apps and games. This allows the device to handle more complex tasks while keeping battery consumption low when the extra power isn't needed.
The key thing about the Samsung Exynos 5 Octa as it relates to the future of Samsung's Galaxy Tab lineup is that it will support the WQXGA resolution. Exynos 5 Octa not only supports the 1080p full HD display of the Galaxy S4, but has enough power to push a display with 2560 X 1600 pixels.
2560 X 1600. Does that sound familiar? That's a screen resolution that's been used on the Samsung-made and Google-branded Nexus 10 tablet as well as the Google Chromebook Pixel, which actually has a 1560 X 1700 resolution.
So what does this all mean? Well, for starters, one of the complaints about the Nexus 10 is that it felt a little sluggish to some users despite having the amazingly high resolution display. And the chief complaint with the Google Chromebook Pixel is that the device costs a lot due to the extra Intel Core i5 CPU architecture that was used.
According to Samsung, the 3D rendering capabilities of the Exynos 5 Octa is enhanced by over two times from that of the Exynos 4 Quad. The Exynos 4 CPU has been used by Samsung on devices like the international edition of the Galaxy S3 (the U.S. variant uses a Qualcomm CPU) as well as the Galaxy Note 2.
If Samsung were to create a high resolution Galaxy Tab tablet, this means that it could smoothly power the extra pixels of that display. Moreover, it could create an updated Chromebook that could deliver the horsepower needed without increasing costs or battery life by switching to an Intel CPU.
And Samsung may already have a high resolution Galaxy Tab in the works. It's been rumored now that Samsung is working on a Galaxy Tab 3 Plus, a premium flagship tablet with the exact same resolution that's supported by the Exynos 5 Octa.