Galaxy S5 Camera to Get Low Light Boost with Samsung's New 13-Megapixel Sensor
Samsung is introducing a new 13-megapixel camera sensor for smartphones that will help the category achieve better low light and blur-free images. The sensor will have optical image stabilization, or OIS, which is something tha Samsung's rivals are pioneering, including Nokia, HTC, and LG, and the inclusion of this new sensor could give the Galaxy S5 flagship for 2014 a big boost.
This will promise huge results for the Galaxy S5 when compared to the Galaxy S4's camera. While both sensors will have the same 13-megapixel resolution–along with the Galaxy Note 3–the new OIS mechanism will allow the Galaxy S5 to let in more light to have a brighter image, something that we've been seeing on Nokia's flagship Lumia line of phones. According to Samsung, the new sensor could handle twice the shake of existing sensors.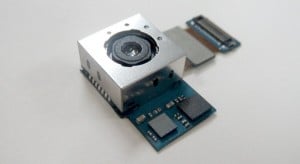 READ: Nokia Lumia 1020 Review–low light image samples with the Lumia's camera and the Galaxy S4's 13-megapixel camera are included in this review. 
According to Engadget, this means that the "camera reportedly takes low light shots that are eight times brighter than its predecessor."
Samsung will begin mass producing the sensor in early 2014, which means that we could very likely see this new camera tech in the Galaxy S5. Samsung usually introduces its Galaxy line of flagship phones in the spring, so the technology could allow the Galaxy flagship to produce better image results for mobile photographers.
In the past, we've heard that Samsung was considering implementing a similar OIS camera into the Galaxy Note 3, but it was rumored that Samsung was not able to get the OIS components in large enough quantities for mass production so the company scrapped the plans to include an OIS camera sensor on its phablet. It looks like the Galaxy S5 will become the first flagship Galaxy phone to ship with an OIS camera sensor.