Galaxy S5 Google Play Edition Teased by Google
Back in February the Samsung Galaxy S5 was officially announced, and later went on sale during the first few weeks of April. Since then consumers and Nexus fans have been waiting for a Google Play Edition variant to become available, and now Google is teasing the device themselves.
Last year at Google's annual developer event the company announced the first Google Play Edition smartphone. The Galaxy S4 without all of Samsung's software changes known as TouchWiz, and instead the same flagship phone arrived with stock Android Jelly Bean directly from Google, with a promise of instant software updates.
Read: HTC One M8 Google Play Edition Hands-On
Google Play edition smartphone have stock Android with no bloatware, are updated within two weeks of new new Android versions being announced, rather than months, and are sold right from Google on the Play Store. We've been waiting months for the Galaxy S5 GPe phone to arrive, and even saw a few leaked photos back in May, but the device is still missing in action. However, two recent appearances have rumors churning again.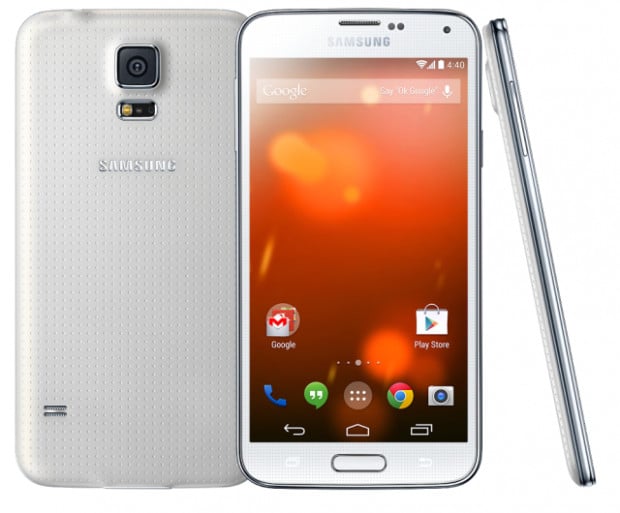 Initially many expected the Galaxy S5 Google Play Edition to arrive a month or so after the initial launch, but that never panned out. Since then we've been hearing small rumors, and even Google's own Play Store hinted the device was coming, but it's now July with no release date in sight.
Many expected Google and Samsung to come together again this year at Google I/O and announce a Galaxy S5 GPe, but last week the event came and passed without any details. That being said, Google's changed the entire Android.com site to showcase the next version of Android, the L Release, as well as Android Wear. A new image showing a pile of smartphones was included, and it reveals two potential upcoming releases. One being the Galaxy S5 Google Play Edition shown below, as well as a yellow Nexus 5.

The image is rather small, but Google is highlighting all its most popular devices. We see the HTC One M8 Google Play edition available today, the Nexus 5, Nexus 7, and in the middle you'll notice a white Google Play Edition Galaxy S5 and a Yellow Nexus 5 underneath it. Two devices that have been rumored in the past, but have yet to actually arrive.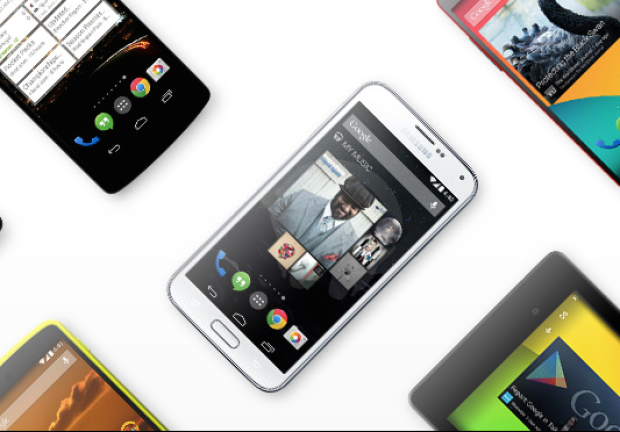 Now of course this could just be a small mistake, but given we've been expecting it for months and it's already accidentally appeared (and been removed) from the Google Play Store, it's safe to say a release is imminent.
To add even more fuel to the fire for potential buyers the popular leakster who's usually always accurate, evleaks, shared a photo of the device again today. Saying lets try this again (as if the release is finally incoming) and titled it "Samsung Galaxy S5 Google Play Edition". Obviously the Galaxy S5 shown above and below won't have the on-screen Android keys, and instead will use the dedicated hardware home button, so disregard this obvious photoshop mishap.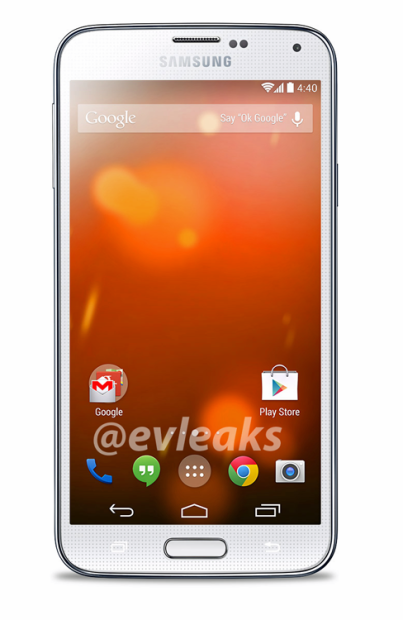 The importance of this press image leaking yet again by evleaks shows promise that the device could actually be coming soon. Previously it was just a rumor, but this leakster usually only shares images when they're a final product and coming to market sooner rather than later. He's usually spot on, but we'll have to wait and see.
Again what you see here is the same 5.1-inch 1080p full HD impressive Samsung Galaxy S5 that debuted earlier this year, only it will be running stock Android 4.4.4 KitKat. The current Galaxy S5 is on Android 4.4.2, and users are expecting an update to Android 4.4.3 or 4.4.4 from carriers in the coming months. This device however, will have the latest version out of the box whenever it arrives on the Google Play Store.
We're still expecting the fingerprint scanner and heart rate monitor on back to work with the Galaxy S5 Google Play Edition, but the rest of the software "enhancements" delivered with Samsung's own TouchWiz software won't be present when (and if) this device ever gets released.

As an Amazon Associate I earn from qualifying purchases.