Is the Galaxy S5 Still Worth Buying?
The Samsung Galaxy S5 is almost 9 months old and there is a lot of chatter about the Galaxy S6 release in early 2015, which leads to many shoppers asking, "Is the Galaxy S5 worth buying?"
After several months on sale, the Galaxy S5 is a cheap option for users looking for a flagship smartphone that works with many accessories and is on the list to get an update to Android 5.0 Lollipop.
To help you decide if the Galaxy S5 is worth buying, we'll take a look at the reasons you shouldn't buy the Galaxy S5 and the reasons you should buy the Galaxy S5 to help you figure out what matters most to you.
In March 2014 Samsung announced the Galaxy S5 and in April the Galaxy S5 release arrived for most of the carriers in the U.S. at $199 on a two-year contract. Samsung did not deliver a metal body like many rumors suggested, but did make the Galaxy S5 waterproof to some extent.
Read: Galaxy S5 Tips & Tricks
The Galaxy S5 isn't going anywhere, even after a Galaxy S6 release later this year. Samsung and carriers will certainly keep this phone on the shelf for another full year, just like the Galaxy S4 remains a cheap option for budget conscious smartphone buyers.
While it is hard to answer the question, "Should I buy the Galaxy S5 or wait for the Galaxy S6?", for each person and situation, this hard look at the Galaxy S5 will help you decide.
Why You Should Buy the Galaxy S5
At just 9 months old, there is still a lot of life left in the Galaxy S5. Here are the reasons you should buy the Galaxy S5, and why you don't need to wait for the Galaxy S6 release for a big price drop.
The Galaxy S5 is still $199 on contract direct from most carriers, but you can still find deals online at Amazon that cut the price to $49 on a two-year contract. That's $150 cheaper than the basic Galaxy S5 at AT&T or Verizon and $50 cheaper than most Galaxy S4 prices at carriers. There are still not many great unlocked and off contract deals on the Galaxy S5, so keep that in mind if you are shopping.
Read: Galaxy S5 Review
For users who don't need the latest and greatest smartphones, or who don't want to get caught in the waiting game that can come with new smartphones, this is still a great phone. The Galaxy S5 features long battery life, a great display, is water-resistant up to 30 minutes in three feet of water. Users can also add storage with a Micro SD card and there is a very capable camera with plenty of options on the back.
Thanks to the release last year, there are a lot of Galaxy S5 accessories and Galaxy S5 cases available. You won't need to wait for a great design or product, since they are already out on the market.
Another great thing to remember is that the Galaxy S5 Android 5.0 Lollipop update is on the way. The update should arrive early this year to bring the new Android Lollipop features and a new look. Check out more about what is new in Android 5.0 vs Android 4.4.
Why You Shouldn't Buy the Galaxy S5
As good as the Galaxy S5 is, there are some reasons you shouldn't buy the phone. While you can get the Galaxy S5 for as little as $49 on a contract, you will pass up on the upcoming Galaxy S6 that will certainly include a better screen, improved camera and a new design.
Although the Galaxy S6 will likely cost $199 on contract we saw several Galaxy S5 deals on release weekend, which means you could see the Galaxy S6 available buy one get one free or $30 to $40 off at Walmart and Sam's Club. Keep this in mind if the price isn't the biggest factor.
The Galaxy S6 release date is likely months away. Samsung traditionally announced the Galaxy S smartphones in early Spring and releases them about a month later. The Galaxy S5 announcement came in late February and arrived for sale in early April. It would not be a surprise to see the Galaxy S6 announcement in late February or early March with a fast Galaxy S6 release in April.
Samsung will not support the Galaxy S5 as long as it does the Galaxy S6. There is a very good chance that the Galaxy S5 will get the next major Android update, but after that it will likely be done, and you will still be on a contract for roughly a year. Keep that in mind before you buy.
Every year Samsung adds to the Galaxy S smartphone and the Galaxy S6 specs rumors point to a device with more power thanks to a new processor, a better camera on the front and the back of the device and an improved 2K display like on the Galaxy Note 4.
The Galaxy S5 is a plastic smartphone, but the Galaxy Note 4 delivers a premium metal design that we absolutely love. There is a good chance the Galaxy S6 will finally ditch the plastic and deliver a metal frame and a back that doesn't look like a band-aid.
Is the Galaxy S5 Still Worth Buying?
For most buyers, the Galaxy S5 is still worth buying. It is a great phone with wonderful features like a water-resistant design, capable camera and it is in line for an update to Android 5.0 Lollipop. Couple that with the Galaxy S5 deals that drop the price to just $%0 on a contract and you have an affordable and powerful smartphone. Check out the many Galaxy S5 features this phone offers in the videos below.
With at least one major Android update still possible in the future, the option to add more storage and good support from Samsung this is a phone that should last many users through a two-year contract without much problem. Some users will definitely feel the urge to upgrade to a new phone after the first year and a half, and if you think that is you, then you should consider holding out four months to see what the Galaxy S6 offers.
Best Samsung Galaxy S5 Cases
Spigen Galaxy S5 Case Neo Hybrid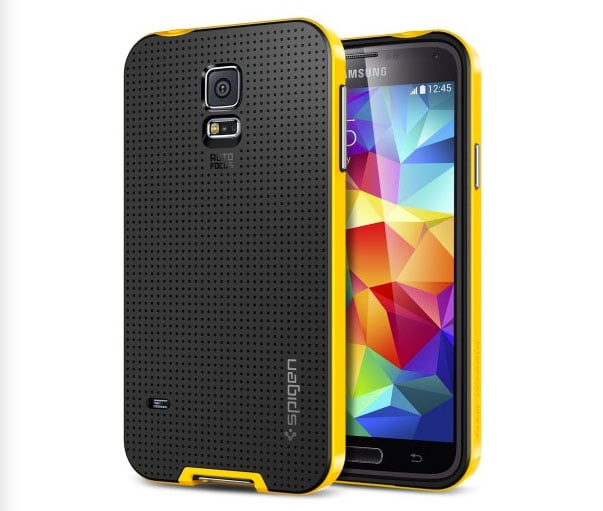 There are many Spigen Galaxy S5 case options, but the Neo is one of the most interesting cases thanks to a six color options. Users get a soft back that is grip-able thanks to dimples like the Galaxy S5's original design.
The back of this case is available in black only, but users can pick from six colors for the hard polycarbonate edges that accent the black finish of the back of this case. The red and yellow color options both look very sharp as accents.
This case offers protection for the edges of the device and while it will not add to the water-resistant properties of the Galaxy S5, it should stand up to water as well.
$29.99 at Spigen

This article may contain affiliate links. Click here for more details.