Galaxy S6 Carriers: Verizon vs AT&T vs T-Mobile vs Sprint
Smart shoppers should compare Galaxy S6 carriers to find the best deal, best coverage, best customer service and the best added features like data that doesn't expire at the end of the month. With increased coverage, important changes in features and new payment plans it is more important than ever to compare carriers.
If you are upgrading to the Galaxy S6 as your first new phone in two years things have changed a lot since you last looked at carriers. Most 4G LTE networks are built up substantially to deliver faster speeds and better coverage. You might be able to save a lot of cash by switching to a new carrier before you buy the Galaxy S6.
The four major Galaxy S6 carriers are Verizon, T-Mobile, Sprint and AT&T. U.S. Cellular also offers the Galaxy S6 and Galaxy S6 Edge, but this option doesn't include the 128GB model. Smaller carriers including Boost Mobile, Cricket and Metro PCS offer the Galaxy S6, but not the Galaxy S6 Edge.
Verizon is on point with the ability to use the Galaxy S6 for calls and web surfing at the same time, which is quickly becoming a common feature. T-Mobile keeps adding features like free music streaming, data stash to keep your data and WiFi calling to fill in coverage holes. AT&T follows suit with data rollover options, great coverage and attractive pricing. Sprint still struggles to deliver coverage in every location, but the carrier is making a play with a free Galaxy S6 offer.
Here's everything you need to know about picking the best Galaxy S6 carrier.
Galaxy S6 Prices
The Galaxy S6 price and Galaxy S6 Edge prices vary greatly from carrier to carrier and it's hard to tell at first glance because of the new plans and payment options. Here's a fast look at how the Galaxy S6 prices compare. In short the free Sprint Galaxy S6 offer is cheap, but Verizon offers a similar deal with larger data plans and the cheapest off contract Galaxy S6 price.
| Carrier | 2 Year Contract | Monthly Payments (24) | Plan Discounts / month | Off Contract |
| --- | --- | --- | --- | --- |
| AT&T | $199.99 | $28.55 | $15 -$25 | $684.99 |
| T-Mobile | N/A | $28.33 | N/A | $679.92 |
| Sprint | $249.99 + $50 MIR | $20.00 | $20.00 | $648.00 |
| Verizon | $249.99 + $50 MIR | $24.99 | $15 -$25 | $599.00 |
When it comes to Galaxy S6 Edge prices there are similar savings if you choose Sprint and Verizon is the cheapest Galaxy S6 Edge off contract price. All of these prices use a 24-month payment plan, which AT&T calls Next 18 because you can upgrade early at 18 months.
| Carrier | 2 Year Contract | Monthly Payments (24) | Plan Discounts / month | Off Contract |
| --- | --- | --- | --- | --- |
| AT&T | $299.99 | $33.96 | $15 -$25 | $814.99 |
| T-Mobile | N/A | $32.49 | N/A | $779.76 |
| Sprint | $349.99 + $50 MIR | $25.00 | $20.00 | $768.00 |
| Verizon | $349.99 + $50 MIR | $29.16 | $15 -$25 | $699.00 |
The Galaxy S6 and Galaxy S6 Edge prices vary depending on the length of the payment plan and other factors like early upgrade needs, so be sure to look at the dedicated comparisons below. If you choose to make monthly payments there is often a discount on your monthly bill or in the case of T-Mobile a lower starting price.
Galaxy S6 Carrier Comparison
Use the information listed here to quickly compare the Galaxy S6 carriers. If you are in the middle of a contract you will need to pay an ETF to switch, but some carriers are still offering an option where they will pay your ETF.
For more detailed plan breakdowns on each of these four major carriers check out the pricing breakdowns below that will help you make a choice on how to buy the phone when you pick the carrier you want.
Each of these Galaxy S6 carrier comparisons breaks down the specific pricing for multiple plans and ways to buy the phone.
Carrier Speed Test Comparison
The speed of your Galaxy S6 and Galaxy S6 Edge will vary greatly based on your location, but you can use the video below to see how the carriers compare in a major city like San Francisco. Watch the 4G LTE AT&T vs Sprint vs Verizon vs T-Mobile speed test video to see how speeds compare.
The video shows the iPhone 6, but the overall performance should be the same for the Galaxy S6 or Galaxy S6 Edge.
Galaxy S6 Carrier Coverage
You can look at the coverage maps to see what works best in your area and the new T-Mobile live coverage maps are incredibly accurate. It's also a great idea to ask friends, family and neighbors about their service and carriers before making a switch.
In Spring 2015 AT&T and Verizon are still at the top of the pack for coverage in most areas. T-Mobile and makes some inroads with WiFi calling in areas where coverage is sparse. Sprint continues to improve, but when we travel with users on Sprint in the midwest, there are still times where they cannot connect, but AT&T and Verizon work perfectly.
Download the Cell Phone Coverage Map app from RootMetrics to check coverage near you and in the places you travel.
9 Exciting Galaxy S6 Cases
OtterBox Galaxy S6 Cases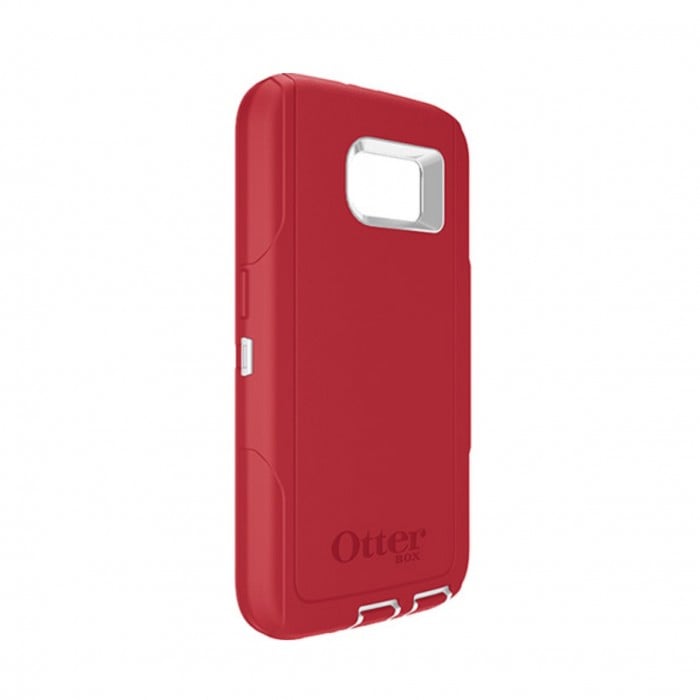 Users that need a lot of protection should check out the Galaxy S6 OtterBox cases including the Defender and Commuter series that offer a lot of protection for the device.
OtterBox Defender Galaxy S6 cases come in seven colors for the shell and seven for the cover, allowing users to combine to get the color scheme they want. The case is $49.95 and there are higher-priced options with RealTree camo and with sports teams on the back. This case includes a screen protector and port covers to keep dust out of the ports. OtterBox Defender Review.
The OtterBox Galaxy S6 Commuter case is slimmer with less protection, but a more pocketable size that appeals to many users. The dual-layer protection can absorb drops and it includes a stick on-screen protector. This case is $34.95 with the same variety of color options. OtterBox Commuter Review.

As an Amazon Associate I earn from qualifying purchases.