Galaxy S6 and Galaxy Note 4 Deals Deliver Huge Savings
Since first being released back in April we've seen some pretty great Samsung Galaxy S6 deals surface. Deals like double the storage from T-Mobile, to $100 savings and more. However, this week those interested can get the Galaxy S6 for the stunning low price of only $499.
That isn't all either. this week we actually have two amazing deals for both the Samsung Galaxy S6, and last years popular Galaxy Note 4. If you've been waiting for a good deal or passed up these devices to wait for the LG G4, now is a great time to get the Galaxy S6 or the Note 4.
Read: 3 Galaxy S6 Deals You Need to Know
For Memorial Day one of the best deals yet arrived when T-Mobile started giving out the 128GB Galaxy S6 for the price of the 64GB version, but today we have something even better. This is the best deal yet for the Galaxy S6 and Note 4, and we have all the details below.
This week over on eBay the Samsung Galaxy S6 is being sold for the crazy low price of only $499. This is factory unlocked, which means it isn't tied to any US carrier, but will work with AT&T, T-Mobile, MetroPCS and any other GSM carrier. This deal isn't good for Verizon customers, but it's worth considering for everyone else.
The device being sold is model SM-G920F, which is one of the two international versions of the Galaxy S6. It was available in four colors, including the awesome Bright Blue, but that has since sold out. However, the Ebay seller still has the 32GB Galaxy S6 in Black or White, factory unlocked (which gets updates faster than US carrier versions) for only $499.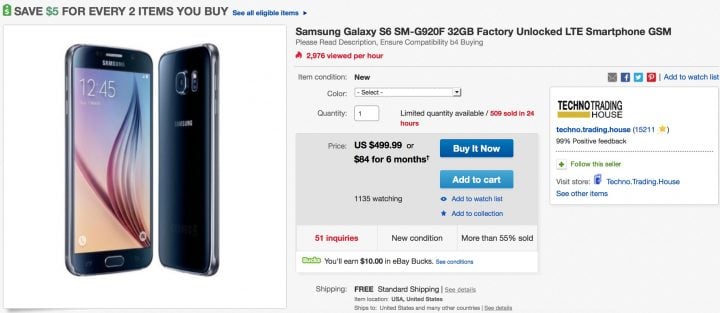 This exact smartphone is being sold in the United States by AT&T for $684, and a little less by T-Mobile. What that means is buyers will be saving nearly $200 on the Galaxy S6 if bought outright from eBay, rather than buying it from a carrier here in the United States. The device will work fine with 4G LTE, and shipping is free as an added bonus.
However, that isn't the only deal we have today. This morning Samsung announced a rather impressive $200 discount on the Galaxy Note 4 when bought outright, which is likely a move to clear some stock and inventory to make room for the upcoming Galaxy Note 5, which is expected to be announced and released in September.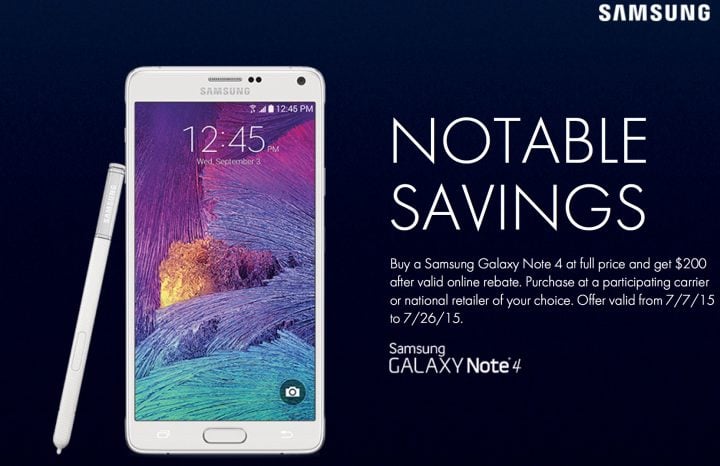 Samsung's new Galaxy Note 4 deal is actually extremely easy for buyers. This deal is only for those who buy the Note 4 outright, not on contract, but users will save $200 in the process. Simply buy the Samsung Galaxy Note 4 in the United States either online, or at a participated retailer or carrier (most should apply) and once you pay full price and get the Note 4, you'll be eligible to sign up for a $200 online rebate.
The Galaxy Note 4 $200 savings deal is valid from today until July 26th, so buyers better hurry and decide if the $499 Galaxy S6 is right for them, or if getting the Galaxy Note 4 at $200 less than retail is a better move. That all said, a new Galaxy S6 Edge Plus is reportedly in the works, and the new Note 5 is rumored for a release in September. Grab a Galaxy S6 before they're all sold out.

As an Amazon Associate I earn from qualifying purchases.