Galaxy S7 vs Galaxy Note 4: 5 Key Differences
The impressive new Samsung Galaxy S7 is coming soon, and potential buyers enjoying an older device like the Galaxy Note 4 are likely weighing their options and wondering what's new. Many skipped the Galaxy S6 or Note 5 after Samsung removed the micro-SD slot, but the new Galaxy S7 has it and much more.
On February 21st the new Galaxy S7 and Galaxy S7 Edge were both announced, which was quickly followed by pre-orders, and they'll be released on March 11th. Here's how Samsung's latest compares to the old and aging Galaxy Note 4, and what potentially makes it a better phone.
Read: Galaxy S7 Release Date, Specs & Videos
The Galaxy Note 4 is still one of the better phones available with a big display, removable battery, micro-SD slot and more. It had a great design, slim bezels around the screen, a powerful processor and a great camera for its time. Recently Samsung has made lots of changes though, improvements to the design and more. For 2016 the Galaxy S7 and S7 Edge has a little of everything for potential buyers seeking an upgrade.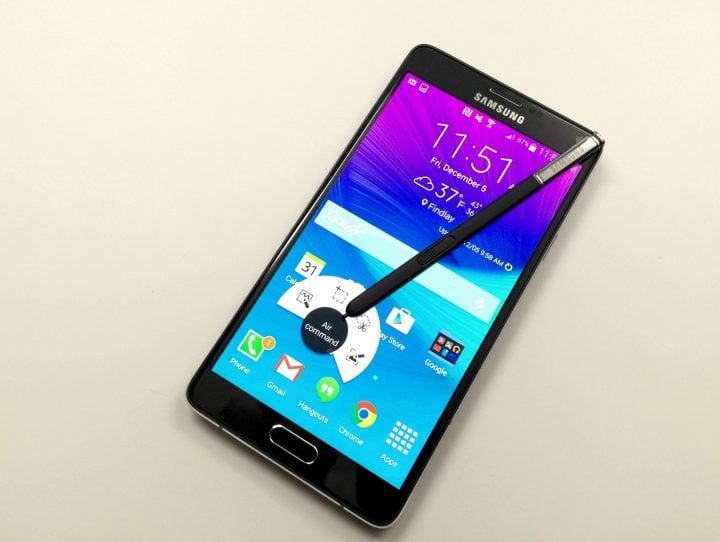 Being two years newer the Galaxy S7 obviously has a lot of improvements across the board, and many of them are key new features that buyers are interested in. With millions of Galaxy Note 4 owners coming up on 2-year contract renewals, now is the perfect time to get Samsung's latest and greatest.
The Galaxy S7 has a smaller screen, in both variants, but the bigger Galaxy S7 Edge is still a great alternative with a big 5.5-inch Quad-HD display. Buyers will get an improved premium metal design, IP68 dust and water resistant rating, a new camera, all-day battery life and more. Here's what the Galaxy S7 has to offer, and how it all compares to the Samsung Galaxy Note 4.
Read: Best Galaxy S7 Deals
Galaxy S7 Release Date
On Sunday February 21st Samsung confirmed all the Galaxy S7 rumors, the features, and a release date. Stating all carriers will have it on March 11th in the United States. Select carriers have started shipping early in the U.S., like T-Mobile, and others regions around the globe.
Pre-orders for the Galaxy S7 went live on February 23rd, in all regions, and Samsung's even giving out a free Gear VR headset to buyers, a $150 value.
Galaxy S7 vs Galaxy Note 4: Design
The Note 4 was a step in the right direction for Samsung. It has a brushed aluminum looking plastic edge around the large 5.7-inch screen, and a faux leather finish on back. Making it one of the most premium looking Samsung smartphones to date.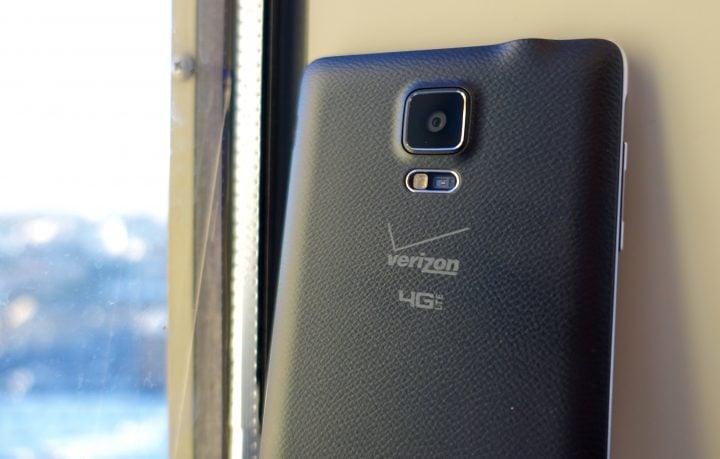 However, in 2015 with the Galaxy S6 and Note 5, Samsung actually made a premium phone, but that change came with compromises. The metal frame meant no micro-SD slot, and no removable battery. Both are reasons many passed on the Galaxy S6, but they're back in 2016.
This year Samsung kept the design nearly identical to last year. It was an award-winning all glass and metal phone, so there was no need to change it. Instead, it was refined and improved, which gave Samsung room to add more features and a huge battery. Anyone that saw or used the Galaxy S6 last year will know exactly what to expect from the S7 and S7 Edge. A beautiful smartphone made of glass and metal in Black, Gold or Silver.
The new Galaxy S7 lineup for 2016 retains the same excellent build quality, and a similar overall design. The buttons are similarly located on the side, and there's a dedicated home button with a built-in fingerprint scanner for security.
One big addition to the Galaxy S7 and S7 Edge is IP68 dust and water resistance. This is huge. Then, just like the original we have the 3.5 mm headphone jack, micro-USB charging port, and the speakers on bottom. It's worth noting though, the Galaxy S7 does not have the IR sensor on top for the remote control feature. Samsung removed it, which many Note 4 owners love. It also doesn't have a removable battery like the Note 4 either.
Samsung returned the micro-SD slot, added a bigger 3,000 mAh or 3,600 mAh battery to the Galaxy S7 and S7 Edge, added water resistance, as well as wireless charging, and fast wireless charging. Two things the Note 4 lacks.
Users will be getting a slightly smaller device from the Galaxy S7 Edge, and much smaller if you choose the regular Galaxy S7, but aside from the screen, it's a much improved device. The Note 4 has a 5.7-inch display, while the Galaxy S7 is 5.1-inches, and 5.5-inches with the Galaxy S7 Edge. All three have the same 2560 x 1440 Quad-HD resolution.
Galaxy S7: IP68 Rating
One key feature or upgrade that all Galaxy Note 4 owners can appreciate, aside from the improved screen, better camera, longer battery life and all that, is the IP68 dust and water resistant rating. Owners can drop the Galaxy S7 in over 5ft of water for nearly 30 minutes (and probably longer) with no problem.
This year the Galaxy S7 has an IP68 dust and water-resistant rating, higher than the Galaxy S5, and something no Galaxy Note has offered. They did this without covering ports with rubber flaps or gaskets too. It's all on the inside, leaving a beautiful phone on the outside that can handle the elements.
While making it a premium design, slimming the camera, and adding water-resistance, Samsung also added a bigger battery. The Galaxy Note 4 had the biggest to date, a large 3,220 mAh battery. Even the Note 5 went down to only 3,000 mAh. The Note 4 has been Samsung's battery life king, until now. The Galaxy S7 has a 3,000 mAh battery which should last plenty long with that small screen. Then the 5.5-inch Galaxy S7 Edge has a massive 3,600 mAh battery inside. Far bigger than the Note 4, on a more efficient and slightly smaller device. The Galaxy S7 Edge could be the perfect replacement for the Note 4. Here's more info on the specs for those curious.
Galaxy S7 vs Galaxy Note 4: Specs
Being two years newer you can expect a better experience across the board. Everything is faster, better, cleaner and improved. Including the camera and battery life. Here are the official numbers right from Samsung.
Galaxy S7 Specs

5.1-inch 2560 x 1440 Quad-HD Display (5.5-inch Galaxy S7 Edge)
8-Core Qualcomm 820 Processor with 4GB of RAM (Samsung Exynos outside the US)
32 GB of storage and Micro-SD for storage expansion.
New 12 "Dual Pixel" Rear Camera with f/1.7 aperture, OIS and more
3,000 mAh battery with Fast Charging, Wireless Fast Charging (3,600 on Galaxy S7 Edge)
Android 6.0.1 Marshmallow with TouchWiz
Fingerprint Scanner for security
IP68 Dust & Water Resistance (5 meters for over 30 minutes)
Flat Design (no camera bulge)
more
As you can see above, the Samsung Galaxy S7 sounds pretty good. It has an improved 5.1-inch Quad-HD display, and returns many of the features Samsung ditched on the Galaxy S6. Powered by a new 8-core processor with 4GB of RAM, tons of storage, and return the micro-SD slot that made so many pass on the Galaxy Note 5. If that's why you kept the Galaxy Note 4 last year, be prepared to get the Galaxy S7 on March 11th.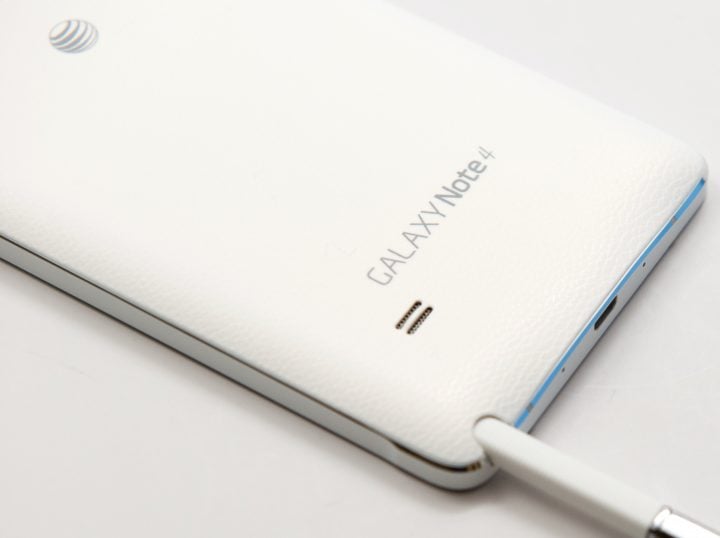 Galaxy Note 4 Specs
5.7-inch 2560 x 1440 Quad-HD Display
Quad-core Snapdragon 805 processor with 3GB of RAM
32GB of storage and a micro-SD slot for expansion
16 Megapixel Camera, 3.7 megapixel front camera
3,220 mAh battery with Quick Charging
Android 4.4 KitKat (Now on Android 5.1 Lollipop)
Swipe-based fingerprint scanner, IR sensor for remote control
more
The Galaxy Note 4 was great back in 2014. It had a swipe-based fingerprint scanner that didn't work very good, great battery life, a fast processor, and a pretty well-rounded camera too. However, everything is better with the Galaxy S7 and S7 Edge.
The new fingerprint scanner is one of the fastest and best on the market, the Galaxy S7 has a faster 8-core processor and 4GB of RAM for improved performance and multi-tasking. However, there's no S-Pen stylus.
Looking at those numbers the Galaxy S7 is better in every sense, although the camera sounds worse. Let's talk about that in more detail.
Galaxy S7 vs Galaxy Note 4: Camera
The only "lower" spec on a sheet while comparing the two is the 12 megapixel camera. However, the new camera in the Galaxy S7 will take amazing photos and video that works great indoors or outdoors, have optical image stabilization, a fast f/1.7 aperture for fast shutter speeds and auto focus. Megapixels aren't everything, and this 12 megapixel "Dual Pixel" camera will be better than the Galaxy S6, and certainly better than the 16 megapixel camera from the Galaxy Note 4. It was good, and had image stabilization, but things have come a long ways since then.
Samsung's using technology found in many DSLR cameras. The Dual Pixel sensor is a first for any smartphone. It uses all 12 million pixels to auto-focus, while most only use about 5% of the pixels to focus, which is why it's so slow. The Galaxy S7 focus is incredible fast. It also has a fast f/1.7 aperture and a sensor that's much bigger and captures over 95% more light in less time, than the Galaxy Note 4. Add improved image stabilization and photos or video will be incredible. Indoors, outdoors, at night, and more will all be impressive. Samsung's suggesting this could be the best smartphone camera of 2016.
The Galaxy S6 had a pretty good 16 megapixel camera that blew away the Galaxy Note 4, and the new Galaxy S7 will be even better. Expect a much improved front camera too. Samsung's Galaxy S7 has an excellent 5 megapixel f/1.7 wide-angle front camera that takes great selfies that are wide, bright, and it focuses really fast. Far better than the 3.7 megapixel camera on the Note 4.
Galaxy S7 Battery Life
The Galaxy Note 4 actually had a bigger battery than the Galaxy Note 5, which was an odd move. It had a large 3,220 mAh battery with quick charging. The Note 5 was only 3,000 mAh, and the Galaxy S6 was only 2,550 mAh. Which is why many stuck with the Note 4.  Things have changed in 2016 though, and everything is better. The screen, processor, and software are all more efficient.
As we said above, Samsung completely fixed any battery complaints people had about the Galaxy S6 or Note 5, which may have caused some Note 4 owners to keep their phone another year. With a huge 3,000 mAh battery in the S7 and 3,600 mAh in the Galaxy S7 Edge, these should last longer than any Samsung Galaxy S to date, including the Note 4.
The Galaxy S7 has Adaptive Fast Charging, which recharges the phone from 0-50% in less than 25 minutes, and fully recharges in about 70-80 minutes. Then it does Fast Wireless Charging too. The Galaxy S7 wireless charging is nearly the same speed as the Note 4 wired charging. Giving users as many options as possible.
What this means is battery life should never be an issue if you upgrade from the Galaxy Note 4 to the new Galaxy S7.
Carriers, Pricing and More
Sounds great, but how much will it cost you? Well, 2-year contracts are a thing of the past for most carriers, but buyers can make monthly payments. The Galaxy S7 and Galaxy S7 Edge will be released on all major carriers, at retail stores and throughout the United States and the globe on March 11th. Pre-orders opened on the 23rd of February, making it one of their fastest releases ever.
Carriers no longer offer the Galaxy Note 4, but it can be found for cheap used. While we could see deals surface for the Galaxy S6 and Note 5, jumping right to the Galaxy S7 is your best bet, and just pay $25 a month or so to your carrier to pay off the phone.
The Galaxy Note 4 was $299 with a new 2-year contract and nearly $700 new. Most who have the Galaxy Note 4 are eligible for an upgrade, or will be soon, so head into a carrier store and pre-order the Galaxy S7. You'll get a free Gear VR headset, then the phone on March 11th, and pay something similar to what's outlined below.
It looks like the Galaxy S7 will cost about $680 (vary by carrier) and the Galaxy S7 Edge is $760 or more. Sprint has the lowest price, while AT&T is cheaper on a month-to-month basis. It sounds expensive, but the Galaxy S4 was pretty expensive back then too.
AT&T: Galaxy S7 is $23.17 per month for 30 months = $695.10
Verizon: Galaxy S7 is $28 per month for 24 months = $672
T-Mobile: Galaxy S7 is $27.91 per month for 24 months = $669.84
Sprint: Galaxy S7 is $27.09 per month for 24 months = $650.16
US Cellular: Galaxy S7 is $28 per month for 24 months = $672
The Galaxy S7 Edge is only a few dollars more per month from each carrier, which ends up putting the total price a little over $750 for Samsung's new 5.5-inch flagship water-resistant smartphone.
All said and done, Galaxy Note 4 owners should know that the Galaxy S7 will be a worthy replacement. It's better in every way except the screen size, should have excellent battery life and super fast charging. Add in the better screen and premium IP68 rated design, stunning camera, micro-SD and a big battery, it will be more than a solid replacement, and likely one of the best phones of 2016.
Did you buy a Galaxy S6 or Note 5, or do you still have the old Galaxy Note 4 and plan on getting the new Galaxy S7 once it's released? Let us know in the comments below.

As an Amazon Associate I earn from qualifying purchases.