Galaxy S8 Rumors Take Aim at Virtual Reality
With an all-new Galaxy Note 7 set to be announced on August 2nd, reports and rumors are turning towards the upcoming Samsung Galaxy S8. The first rumors emerged in June, and now we're starting to learn more about what could be the Galaxy S8 with Google Daydream and virtual reality taking center stage.
Earlier this year Samsung released the impressive Galaxy S7 and Galaxy S7 Edge. One with a big 5.5-inch curved Quad-HD display, improved battery life, a great camera and even water resistance. A similar trend is expected to complete the Galaxy Note 7, but things could take a big turn in a different direction early next year.
Read: Galaxy S7 Edge Review: Samsung's Best Yet
Most of the Galaxy S8 rumors we've heard thus far have been regarding the display, and something similar has surfaced yet again out of China. However, it goes a little further to talk about how the Galaxy S8 will take aim at virtual reality, offer impressive specs to deliver the best VR experience and more.
In 2015 leaks suggested a new phone was coming in early 2016 with the codename Project Lucky, for lucky number seven, which of course came to be released as the Galaxy S7 and Galaxy S7 Edge. They've been two of Samsung's best phones released to date, but many have already started looking ahead to what's next in 2017.
That of course is the Samsung Galaxy S8 and or the Galaxy S8 Edge, which will likely debut in February and be released at Mobile World Congress in Spain, a little earlier than the Galaxy S7 arrived this year.
According to brand new reports out of China Samsung is already working on a device codenamed "Project Dream" which gives us a few hints as to the focus of the project and new phone. That of course being Google's recently announced Daydream virtual reality platform for mobile. Rather than take on the Oculus or HTC Vive which both need a huge powerful computer to push virtual reality, Google's Daydream will all be done by smartphones. At Google I/O the search giant talked about it briefly, and mentioned upcoming smartphones will need to be "Daydream ready" and pass certain requirements in order to participate. That's where Samsung's Project Dream and upcoming Galaxy S8 fit right in.
Rumors have suggested the Samsung Galaxy S8 will have a brand new 4k resolution display for virtual reality and the Samsung Gear VR 2, along with being Daydream ready. The name being Project Dream fits nicely, and hints at exactly that.
Back in May at a Display Technology Expo Samsung was showing off an all-new 4k AMOLED display coming in at 5.5-inches, which happens to be the same size as the current Galaxy S7 Edge. Suggesting their next-gen smartphones (Galaxy S8) could come equipped with a new 5.5-inch 4k display perfect for virtual reality. This could be the bigger of the two, or the regular Galaxy S8, it's too early to tell.
The report went on to state Samsung is working on an array of sensors which will be required for Daydream and virtual reality, a powerful new Snapdragon 821 or 823 processor with 4-6GB of RAM and more. The phone will of course run Google's new Android 7.0 Nougat software release, which has a new "Sustained Performance Mode for VR" built-in. The idea behind that being the phone will be kept in a high performance mode for the best VR experience, then drop down to a more efficient system and resolution during regular use.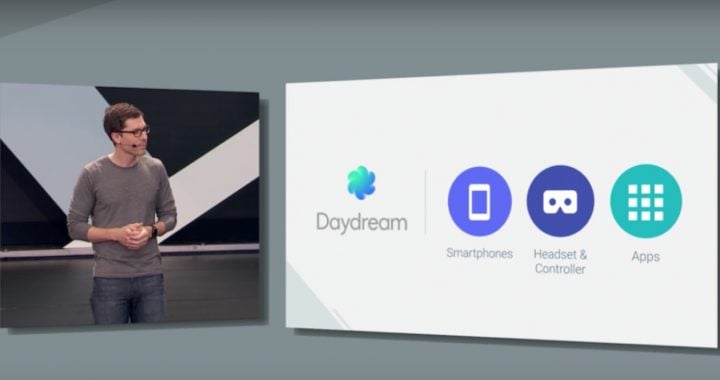 These are nothing but rumors for now, but it's possible Samsung's new Galaxy S8 could have a screen that's capable of a 4k resolution specifically for virtual reality, but one that will also run at a lower 2560 x 1440 Quad-HD resolution for regular use while keeping battery life in check. This would offer the best of both worlds without sacrificing battery life. That being said, running at full power with a 4k display, tons of sensors, and a big Quad or 8-core processor will need a big battery. This year the Galaxy S7 and Galaxy S7 Edge have excellent battery life, but Samsung will need to increase things even further to make a solid virtual reality experience.
If these reports and rumors are accurate Samsung could have a new Galaxy S8 coming in early 2017 with a beautiful new 5.5-inch UHD display packing a 3840 x 2160 resolution. It's unclear if this will be the regular size or the bigger Edge model, but we'll have to wait and see. Samsung has stuck to 5.1-inches for a long time, and only just now released the 5.5-inch Galaxy S7 Edge.
At the end of the day we're still a long ways away from a Galaxy S8, but that doesn't mean Samsung isn't hard at work testing new ideas and hardware. These rumors are just starting to get their legs, and we can expect to learn a lot more in the coming months and this holiday season.

As an Amazon Associate I earn from qualifying purchases.