Samsung Galaxy Tab 2 7.0 Review – $249 Android Tablet
Samsung's new Galaxy Tab represents a welcome shift in the company's attitude toward the tablet market. The Galaxy Tab 2 7.0 offers the full tablet experience with the newest Android operating system, Bluetooth, cameras, and a few other extras Amazon and Barnes & Noble's tablets don't offer. All for $249.
Samsung's new Galaxy Tab represents a welcome shift in the company's attitude toward the tablet market. Most of the Galaxy Tab line aims for premium designs and components, but they come at a premium price. The Nook Tablet and Kindle Fire prove that consumers are willing to settle when the price hits their kink.
Samsung is splitting the difference with the Galaxy Tab 2 7.0. This device offers the full tablet experience with the newest Android operating system, Bluetooth, cameras, and a few other extras Amazon and Barnes & Noble's tablets don't offer. All for $249.
No, you won't get a premium tablet for this price. Anyone looking for a Super AMOLED display, quad-core processor, or HD mirroring should ease on down the road. (Check out the Galaxy Tab 7.7, instead.)
At this price point, the Galaxy Tab 2 7.0 is one of the best tablets available right now. Read on to find out why.
Pros

Affordable price
Attractive, comfortable design
Access to multimedia content
Good performance

Cons

Screen gets dirty easily
Wi-Fi isn't very strong
Disappointing camera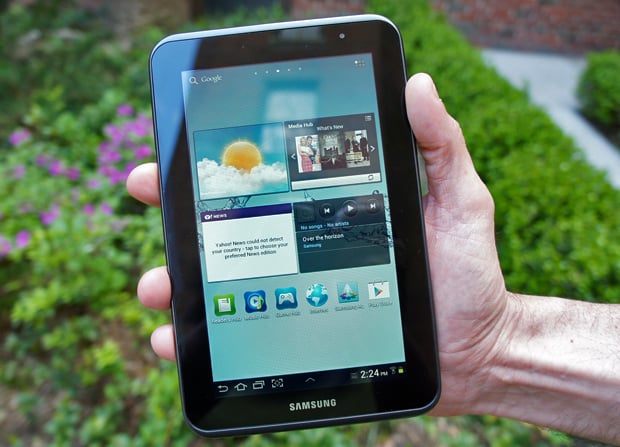 Samsung Galaxy Tab 2 7.0 | $249

Galaxy Tab 2 7.0 Review Guide

Related Galaxy Tab 2 7.0 Articles

Availability

Goes on sale April 22, 2012, [amazon_link id="B007P4VOWC" target="_blank" container="" container_class="" ]pre-order now[/amazon_link].

Design
Design-wise, the Galaxy Tab 2 7.0 isn't much of a departure from the Tab 7.0 Plus, which came out last year. At 7.6 x 4.8 x 0.41 inches it's almost exactly the same size and maintains the 12.2 ounce weight. This, combined with the comfortably curved edges, makes the tablet very holdable.
It doesn't feel cheap, but also doesn't feel like a premium product the same way the Galaxy Tab 7.7 does. Considering the price, the Tab 2 strikes a good balance.
This model includes a microSD card slot that takes cards up to 32GB. Media lovers will need this expansion option since the Tab 2 only comes with 8GB of internal memory.
Compared to the Kindle Fire, the Galaxy Tab 2 is more comfortable to hold and is 2 ounces lighter, which makes a difference during long gaming or reading sessions. The color scheme and curved edges are similar to the Nook Tablet, though that device is taller (8.1 x 5.0 x 0.48 inches) and 2 ounces heavier still.
Galaxy Tab 2 7.0 Display
The 7.0-inch, 1024 x 600 screen features nice color depth and wide viewing angles despite not being a top-of-the-line AMOLED display. With the brightness turned all the way up it's sunlight-readable, but not something I'd take to the beach.
The resolution is the same as the Fire and the Nook and will serve most basic consumers' needs. Users can play video up to 1080p, though they won't see that many pixels. For surfing the web, playing casual games and reading books, this pixel density is satisfactory.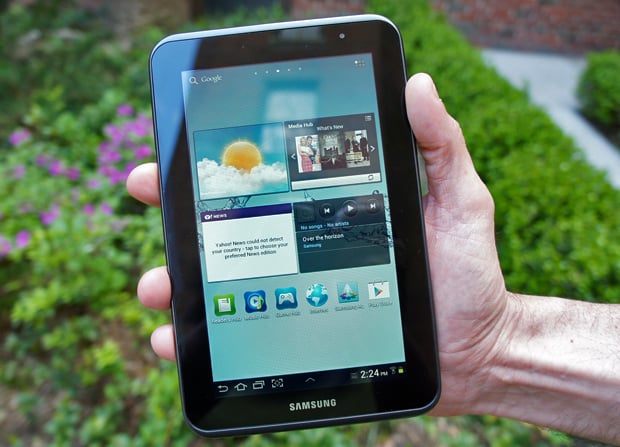 Unfortunately, the surface of the screen gets much dirtier faster than other Galaxy Tabs I've used. I ended up cleaning it at least two or three times a day since I used it so heavily. This exacerbated a problem I noticed with tap precision.
I made far more mistakes when typing on the Tab 2 than I normally do. Even when I switched to my preferred keyboard, Swiftkey Tablet X, I still experienced many mis-tapped keys. And every now and then I noted that taps didn't register right away. Keeping the screen clean helped.
Galaxy Tab 2 7.0 Performance and Hardware
Aside from the screen's issues, the Galaxy Tab 2 performs well thanks to the 1GHz dual-core processor inside. Apps open swiftly, I didn't notice any system-wide lag, games played smoothly with the framerates I expect, and video playback is good.
Audio output via the speakers on the bottom is surprisingly loud and has some depth to it. Quality through the headphone jack is pretty good — a little rounder than the iPad 3rd gen both on the bottom and top of the aural range. The tablet's Bluetooth 3.0 connectivity means that it can transmit good stereo sound without a huge drain on the battery.
The only sluggishness I noted came from the Wi-Fi connection. On each wireless router I connected it to I noticed that it didn't record as strong a signal as I expected. When connected to my router at home the Tab 2 didn't always show full bars even when sitting less than 10 feet from it.
When opening web pages or downloading apps the Tab 2 took a bit longer than my Android phone and Tab 7.7 on Wi-Fi.
The 4,000mAh battery lasted over 12 hours with on and off use with Wi-Fi connected for half of that time.
Software, Apps and Multimedia Content
The Galaxy Tab 2 7.0 runs Android 4.0 Ice Cream Sandwich with Samsung's TouchWiz user interface on top. This isn't a "pure" Android slate, though I like TouchWiz because it smooths some of operating system's rough edges. It also tweaks the theme somewhat so it doesn't look so Tron-esque.
Ice Cream Sandwich runs just fine with this hardware. The only minor issue is that the screen resolution makes some elements look cramped.
The Tab 2 has access to the full Google Play Store (formerly known as the Android Market) and will allow users to sideload apps, so you can add a third-party app store, like Amazon's, as well.
Samsung pre-loaded their branded apps, most notably the Samsung Hubs: Music, Media, Games and Reading. Between the offerings in the Media Hub and Google Movies users can find most new movies from major studios. Media Hub also includes TV episodes from shows like Glee, Ringer, Real Housewives and more.
Other media apps include Netflix, Amazon Kindle, the Smart Remote (which works with the IR blaster), Photo Editor and a Video Maker.
Read: Using The Galaxy Tab 2 With Your TV
The Tab 2 also has productivity chops and comes pre-loaded with Polaris Office plus Samsung's S Planner calendar app and a Memo app. The company partnered with DropBox to offer Galaxy Tab 2 owners 50GB of online storage for free for one year.
Galaxy Tab 2 7.0 Cameras
The 3MP camera on the rear is best for outside shots. There's no flash to back you up when light is low, and even when the light is good indoor pictures and video are plagued by noticeable noise.
The camera app is the same found on the Tab 7.7 and Galaxy Note, so you can fiddle around with settings to get a better picture. It offers scene mode, white balance, exposure, metering and more.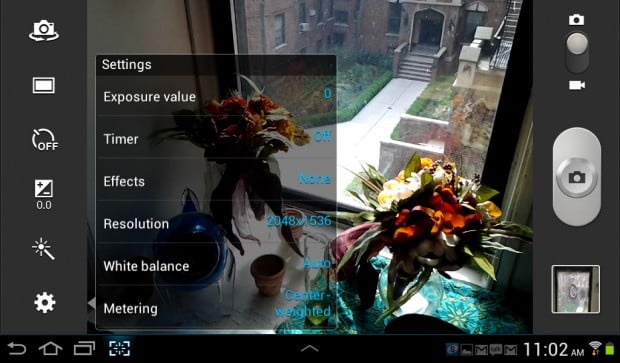 The front-facing camera is good enough for profile pictures and video chats, though the image is grainy and sometimes dark.
Is the Samsung Galaxy Tab 2 7.0 Worth It?
Like I sad in the intro, the Galaxy Tab 2 7.0 has most of the things tablet buyers are looking for at a very attractive price. The Kindle Fire and Nook tablet 8GB cost $50 less, but both of those tablets have far fewer features and a far more limitations.
The advantage the Nook and Kindle have is that the user interfaces are simpler and they are overall easier to understand for people uncomfortable with technology.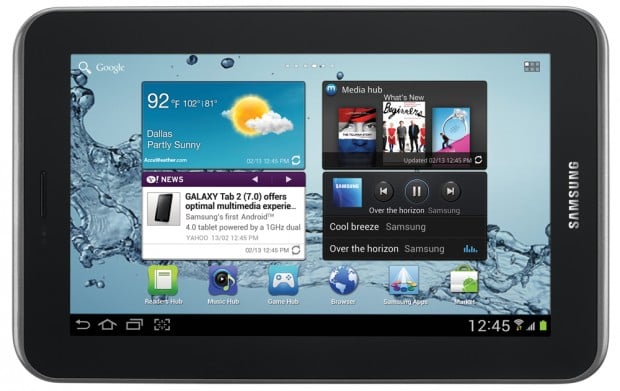 Samsung's offering is also a better choice than the $199 Lenovo IdeaPad A1 thanks to the dual-core processor, latest Android operating system and pre-loaded media repositories.
The bottom line is if you're looking for a 7-inch tablet under $300 and don't want to sacrifice the full Android experience, the Galaxy tab 2 7.0 is your best choice right now. We're sure to see more low-cost, full experience tablets on the market soon, but they'll have to work pretty hard to match what Samsung pulled off.
The Tab 2 7.0 goes on sale April 22nd at online and brick & mortar electronics retailers. Pre-orders begin tomorrow, April 12.
Gallery
Galaxy Tab 2 7.0 Specs
OS
Android 4.0 Ice Cream Sandwich
Display (size/res)
7.0 inches, 1024 x 600 pixels
CPU
1GHz dual-core
Internal Storage
8GB
Expansion
microSD slot (up to 32GB)
Ports
30-pin proprietary (USB 2.0 Host), headphone
Cameras
3MP (rear), VGA (front)
Wireless
Wi-Fi 802.11 b/g/n; Bluetooth 3.0; WiFi Direct;
DLNA (AllShare)
Battery
4,000mAh Li-Polymer
Size
7.6 x 4.8 x 0.41 inches
Weight
12.2 ounces

As an Amazon Associate I earn from qualifying purchases.