Gamefly Can Help Some Gamers Save $200 a Month
A few years ago my family subscribed to Gamefly, but the service failed to measure up to our expectations. When we bought the new Xbox One for Christmas, we decided to give it another try. This time we've enjoyed a better experience and we've saved almost $200/month when compared to buying games.
Gamefly won't please everyone, so see our recommendation below for who should and shouldn't subscribe to Gamefly.
How Gamefly Works
A user signs up for an account and then begins to fill the Gamefly GameQ with titles. Gamefly offers games for every major console and portable gaming system. That includes the Xbox One, Playstation 4, Nintendo WiiU and older consoles like the GameCube and original Xbox and more.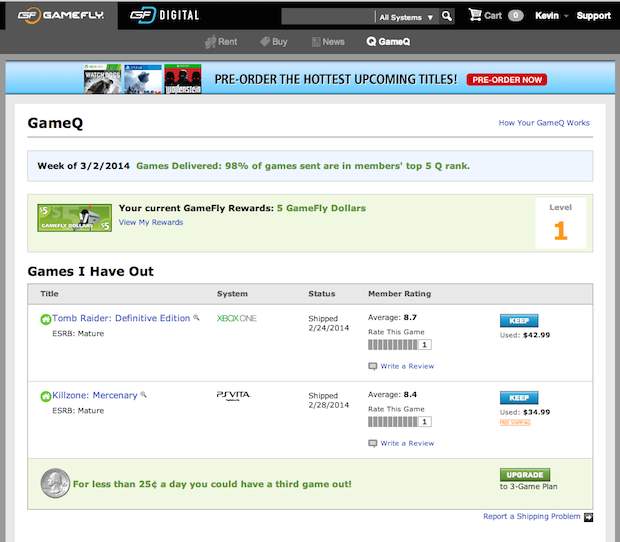 The site offers a nice layout that's easy to navigate. Add them to the GameQ with one click. Gamefly will send the games on the list, if they're available. Before, the most popular games weren't available, but that's not a significant problem now. People in North Carolina get their games from the company's Pittsburgh distribution center. We hope the service grows in popularity so they can open more centers like Netflix has.
The games arrive and we play them for as long as we like. When we get tired of a game, we put in the included return mailer (see below) and wait for the next one. Turnaround takes about a week.
Some players can play four to six games a month. That would cost $240-$360 to buy at retail. Even four cheap $20 games cost $80. For those who go through games quickly, Gamefly offers a great value. If a person plays four games a month and subscribes to the two games at a time plan for $22.95, they would save over $200.
Alternatives to Gamefly
People who buy physical copies of their games can sell them online at Craigslist, eBay, Amazon or some of the other smaller known sites and use the money to buy new games. This can get annoying since it means taking photos of the game, loading them up to create an online ad and then dealing with buyers who can try to cheat a seller or have annoying expectations. Sellers get more money on these sites than selling games at a store like Gamestop. Gamestop screws sellers by giving about half what they'd get selling the game themselves.
Gamers can rent games from local video and game rental shops, if they can find one. Redbox rents some games, but the selection is limited. We think Gamefly offers the best rental option.
Who Should Go with Gamefly and Who Shouldn't
We don't recommend Gamefly to the following:
People who keep games and never want to get rid of them.
Those who play a title for a long time before selling them.
Impatient people who want instant gratification of getting a new game the day it comes out and want to play it that night.
Families with small kids who might damage games will need to pay for ruining it, which could alleviate the benefit of the subscription model.
People who don't have time to play much and won't get the best value out of the monthly subscription fee if it takes three months or more to finish a title.
Obsessive gamers who enjoy one or two titles and don't want to play others.
We recommend Gamefly to the following:
Gamers who get bored quickly with a title – they beat it and want to replace it.
Subscribers of the 2-3 game a month plan can enjoy more than one game at a time for a low cost.
People who can't afford to pay $120/month for two games a month but can afford $23/month or even less.
Many of the titles become available to purchase so gamers can try a game first and then keep it for a lower cost than they would if they bought it new.
For people who want to test drive a game, take Tomb Raider: Definitive Edition as an example. Gamefly subscribers can keep the game after playing it for $42.99. Even a used copy at Gamestop will cost $55. That's a $12 savings off the used price and $17 off the retail price of $59.99. Not all prices get cut that much, but saving even $5-$10 on a game makes the $15-$23/month subscription a good value.

As an Amazon Associate I earn from qualifying purchases.