Gamers Club Unlocked: Is 20% off Xbox One, PS4 Games Worth It?
The new Best Buy Gamer's Club Unlocked offers 20% off any new game including those for the PS4 and Xbox One, which is a great deal for gamers who buy a lot of games and are loyal to Best Buy.
The Best Buy Gamers club itself is not new, but with the new My Best Buy reward program there is a new Gamers Club Unlocked membership which takes the savings even further, but you need to pay to play in the Gamers Club Unlocked program.
The standard Gamers Club is included with a My Best Buy account and includes several big discounts that can't be missed including $10 in bonus reward zone certificates on many Xbox One and PS4 pre-orders and double points on any video game purchase. This all adds up to faster rewards which can be used to buy games and accessories cheaper.
The Best Buy Gamers Club Unlocked is a premium service that you need to pay to be a part of. There is no way to earn your way in with enough purchases at Best Buy, like there is with the Elite and Elite Plus memberships. Gamers Club unlocked costs $120 for a two year membership. Best Buy is also selling a PS4 and Xbox One Unlocked Epic Package for $800 and $880 respectively. These PS4 and Xbox One bundles include an extra controller, two games, two years of Geek Squad protection, two years of PSN or Xbox Live and a two year Gamers Club Unlocked membership.
If you don't want to buy this bundle you can buy the Best Buy Gamers Club Unlocked in stores for $120. It is not available online at this time, but you can use it with purchases you make online after you sign up.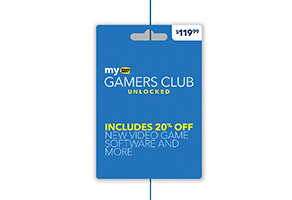 The bigger question is if Gamers Club Unlocked is worth the cost. For gamers who are upgrading to the PS4 and or the Xbox One this makes the most sense. According to a study from 2008, gamers will likely buy seven to eight games in the first two years of owning a new console. With this in mind if you buy an Xbox One and a PS4 it is very likely that you will end up with 14 to 16 games during the next two years. If you only buy one console and are the average game you may not buy more than eight games.
In order for the Gamers Club Unlocked membership to cover its cost in 20% discounts you will need to buy 12 games to break even. This can drop if you trade in games or buy pre-owned games with a Buy Two Get One free welcome promotion, but overall the 20% discount is where this deal lives or dies.
Of course this deal is good on Xbox 360, PS3 and Computer games as well, so there are additional opportunities to save with special editions which cost more than $60. If you frequently buy those this could get better. In short if you plan to buy a dozen games in the next two years you can break even. If not you'll end up paying for a benefit you won't get.
Read: Should You Buy Digital or Physical Games for the PS4 and Xbox One?
The hidden cost here is that if you buy this you will be more likely to make all of your game purchases at Best Buy. There's nothing wrong with doing just that, but you will need to think harder about PS4 and Xbox One game deals at other retailers and on digital stores.