GameStop Batman: Arkham Knight Pre-Order Details Arrive Early
It wasn't that long ago that Batman: Arkham Knight was the most talked about game coming later this fall. The game's controllable Bat Mobile alone seemed to be well worth the game's expected $60 price tag. Unfortunately, Batman: Arkham Knight was delayed until 2015. That isn't stopping news about the Red Hood being included with GameStop pre-orders from getting console owners excited about the game.
Reports of GameStop offering those who pre-order Batman: Arkham Knight exclusive content surfaced this week after a picture of a pre-order poster for the gaming retailer's windows surfaced. GameStop later confirmed that the posters were accurate with Polygon.
Xbox One and PS4 owners who pre-order Batman: Arkham Knight ahead of its release date will get access to an exclusive Red Hood story pack. Instead of just being just an extra character to play with against users in the game's challenge mode, players will inhabit the Red Hood in a series of story missions separate from the game's main campaign.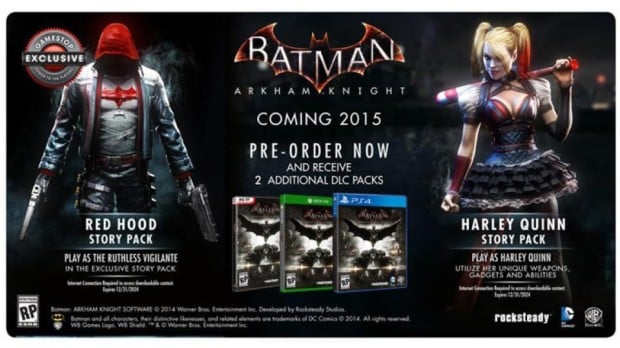 If that sounds familiar it's because Batman: Arkham Knight buyers will also get a Story Pack with another world-famous Batman villain as the central character, Harley Quinn. Xbox One and PS4 owners will get to use weapons, gadgets and abilities specific to Harley Quinn. The good news is that the Harley Quinn pack will be available to just about everyone who pre-orders.
Warner Brothers and other retailers actually used the same trick to boost pre-orders for Batman: Arkham City, the second game in the franchise. In that scheme, players got to play as Catwoman in a small series of missions, but they actually had to purchase a new copy of the game to do so. Buyers purchasing used copies of the game were forced to purchase the DLC for an extra $10. It appears that the same thing will happen with Batman: Arkham Knight.
Despite the delay, excitement is still pretty high for Batman: Arkham Knight. A video released earlier this year revealed that the Bat Mobile is less of a way for players to get around and more of an armory with wheels. The familiar jet engine is still in this version, but it's joined by an assortment of riot suppressors, missiles and more. Batman: Arkham Knight players will be able to drive the car through Gotham City and take on enemies directly. That's something that's never been attempted in previous games.
We don't yet know much about the game's story. That being said, we do know that the Arkham Knight isn't a reference to Batman at all. Instead, it refers to the Arkham Knight, a new villain that developer Rocksteady Studios created just for this game. He's described as sort of like the Red Hood. The Arkham Knight appears to be a vigilante, but he's on a mission to end Bruce Wayne's run as the Batman and plunge Gotham City into darkness.
The Arkham series of Batman games have always done well, but Batman: Arkham Knight was also important because it was a radical departure from older games in the series. Xbox One, PS4 and Windows PC users will be the only users who can play the game when it makes its debut. In short, the game was going to act as a catalyst for more next-generation console sales. Sales of the Xbox One and PS4 aren't expected to collapse or anything because Batman: Arkham Knight isn't launching on time, but it's one less reason for users to spend a lot of money upgrading from the Xbox 360 and the PS3 this holiday season.
Presumably, Warner Brothers will have more news to share about other pre-order deals as we get closer to Batman: Arkham Knight's release date.

This article may contain affiliate links. Click here for more details.