GameStop Boosts Black Friday 2015 Trade-Ins
Video game retailer GameStop has a temporary deal running for Black Friday 2015 shoppers looking to save a bit more on the latest video game consoles and accessories. The company is offering a significant boost in trade-in value for users that want to unload their old games and extras.
GameStop's Trade-In website includes details on what the retailer is describing as an opportunity for console owners to "trade more" and "save more." Black Friday is the biggest shopping day of the year for American retailers with physical stores. National chains try to lure a bigger crowd to their stores with deep discounts on anything and everything. GameStop revealed a huge slate of Black Friday 2015 deals lasting through next Monday, late last week. This new deal is an opportunity for shoppers to save even more.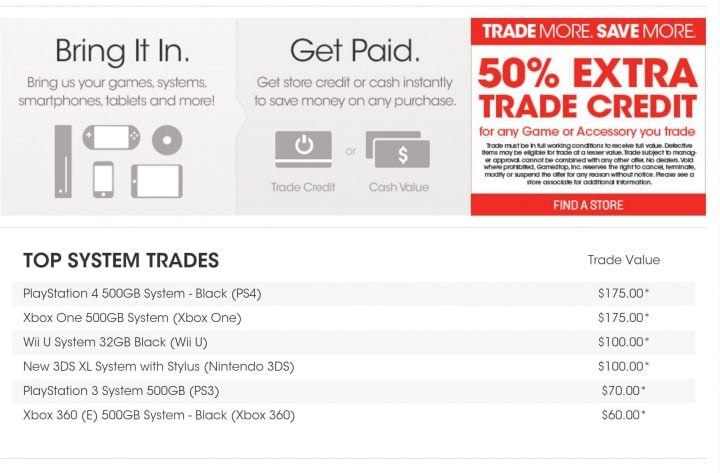 Read: GameStop Reveals Black Friday 2015 Deals
GameStop says that users who trade-in their video games or video game console accessories get a 50% boost in trade-in value. The retailer's Trade-In program allows users to sell their old stuff to GameStop in exchange for store credit or cash. Shoppers that choose cash get less value than those that choose in-store credit. Anyone that trades in something for store credit gets a GameStop gift card that they can apply to used a new purchases without issue.
It's no mistake that the retailer is introducing these deals now. It's doing everything that it can to position itself as the destination for game purchases this holiday season. Savvy shoppers can trade-in their extra games and accessories today to prepare for the retailers Black Friday 2015 store opening and sales.
The terms for the boost in trade-in credit are pretty clear. GameStop says that it'll accept games and accessories that are in working order. Its store managers might approve some things that aren't in perfect condition, but for less than what it offers for like-new items. That's the store's standard policy on item trades. Games with circular scratches on them are turned away from the GameStop Trade-In program. This boost in value doesn't effect video game consoles themselves. For that, GameStop is offering up to $100 in trade-in value guaranteed when users sell them their Xbox 360 with at least 250GB of storage or PS3 with 120GB of storage or more. The retailer confirms that this deal is back in its weekly advertisement here. This same deal applies for anyone picking up a PS4 console.
The Trade-In information page, which has all the details for this deal, doesn't say when the boost in trade-in value will go away. For anyone planning to unload their old console and games anyway, this is a terrific deal.
For Black Friday 2015, GameStop will offer some pretty hefty savings on new items. The Xbox One, successor to Microsoft's Xbox 360, will sell for $299 at GameStop later this week. Microsoft is cutting the price of all of its bundles by $50 until Cyber December 1st. Sony recently lowered the price of the PS4 to just $349, the same price as the Xbox One with 500GB of storage. Xbox One buyers also get a free game of their choice to go along with their new console purchase.
As with other sales, GameStop is encouraging users to check in with their local store before heading there to do a trade-in. This tool provides phone numbers and locations of GameStop store that accept trade-ins. It also has a breakdown of how much credit users can expect for each of their games before the bonus is applied. Right now, GameStop is offering at least $30 in trade-in credit when gamers sell back their Xbox One and PS4 copies of Star Wars Battlefront, Call of Duty: Black Ops 3, Halo 5: Guardians and Fallout 4.