GameStop Holiday 2015 Brings Savings for Xbox One
Retailer GameStop is ready to save users a fortune with a new Holiday 2015 deal on Microsoft's Xbox One entertainment console. Anyone who purchases an Xbox One bundle at GameStop – any new bundle at all – gets a free Xbox One Wireless Controller to complete their purchase.
GameStop unveiled its most attractive Holiday 2015 Xbox One deal yet just yesterday. The Xbox One is Microsoft's current-generation entertainment console. Users can play the latest games, watch live cable television and stream music and movies from a host of different content providers. Users can do all of this without pushing a button if they have Microsoft's Kinect sensor for gestures and voice commands.
GameStop's Xbox One deal is pretty simple. Anyone who purchases an Xbox One console from its retail stores gets a free Xbox One Wireless Controller with their purchase. The deal started yesterday and lasts until November 8th.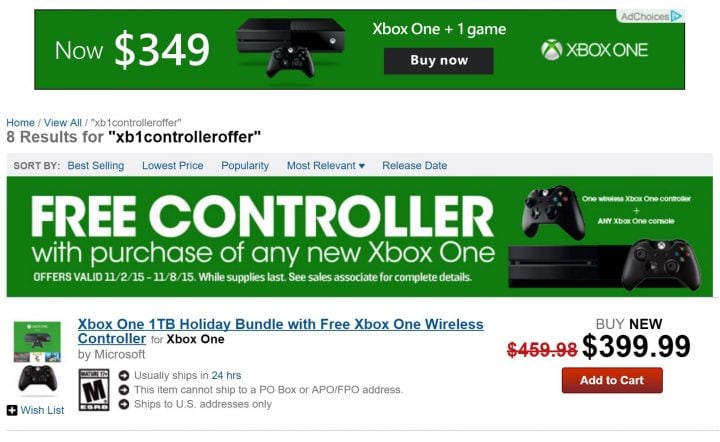 To appreciate the savings shoppers have to understand just how expensive a wireless controller is. Xbox One owners already get a wireless controller with their console purchase. Microsoft then sells each Xbox One Wireless Controller for $59.99. The idea is to pick up an Xbox One Wireless Controller so that more than just one person can enjoy the system at the same time. Many Xbox One games focus on just a single player, but there are others that enable to player co-op on a single screen and more.
GameStop already sells a pretty extensive line-up of used consoles and console bundles, designed to save users a bit of cash on buying into the ecosystem. Unfortunately, this Xbox One Deal doesn't cover those systems. Instead, it's aimed squarely at users who purchase new Xbox One bundles. Listed under the promotion are the $399  1TB Holiday Bundle, $499 1TB Elite Console, $349 500GB Gears of War Ultimate Edition Bundle and $349 The Lego Movie 500GB Bundle.
The store is also mixing the savings in with a few of its self-created Xbox One Bundles. The Xbox One 1TB Console with a $20 GameStop Gift Card and tow Minecraft toys for $399. The $364.98 Xbox One 500GB Gears of War Ultimate Edition Bundle with 3 Months of Xbox Live Gold is available too. For $414.98, shoppers can get the Xbox One 1TB Holiday Bundle with 3 months of Xbox Live Gold. Xbox Live Gold is the online service that lets users play multiplayer games online. The service is particularly useful for users that don't necessarily have someone around to play games with.
Now that we're on the other side of Halloween, Holiday 2015 sales are in full swing. The new shopping season has brought with it a ton of gaming discounts and deals.
Microsoft Store recently announced that anyone could purchase an console and Kinect sensor bundle for $399 this holiday. That's $100 cheaper than what that same bundle cost just a few months ago. Target is giving gamers a $50 Gift Card with the purchase of an Xbox One. Sony has finally responded to Microsoft's price cut from last year with a price cut of its own. The PS4, the Xbox One's arch rival in the living room gaming space, is now $349, the same as a low-end Xbox One. It's not a deal per se, but GameStop is selling used Xbox One systems with a controller for just $299.
Read: Which Xbox One Bundle Should You Buy?
Every new Xbox One entertainment console comes with a single HDMI cable, a power cable, an  Controller and a Chat Headset. Every new console also comes with a download code for a free game. Users who plan on purchasing a specific game are better off purchase an Xbox One bundle with that game if there's one available.
Presumably, we'll see even more Xbox One deals as Black Friday draws closer.

This article may contain affiliate links. Click here for more details.