GameStop PS4 Deal Gets Buyers Free Infamous & More
Used and new games retailer GameStop is giving away free copies of Infamous Second Son and 3 months of PlayStation Plus as part of a new PS4 deal running for this weekend only.
GameStop revealed the PS4 deal when it posted its flyer for the upcoming weekend this morning. From Friday, August 22nd to Sunday August 24th users can pick up the PS4 at GameStop and get that free three months of PlayStation Plus and a digtal copy Infamous Second Son. This is deals are just part of a larger roundup of PS4 deals that'll get users copies of PS4 games and individual PS4 accessories on the cheap.
As of right now, GameStop isn't slashing the price of the console itself. Purchasing the PS4 at GameStop with these extras will still cost $399.99. That being said users are saving a lot on the things they'll need to get going with the console. Infamous Second Son regularly costs $59.99. Buying three months of PlayStation Plus separately costs $17.99.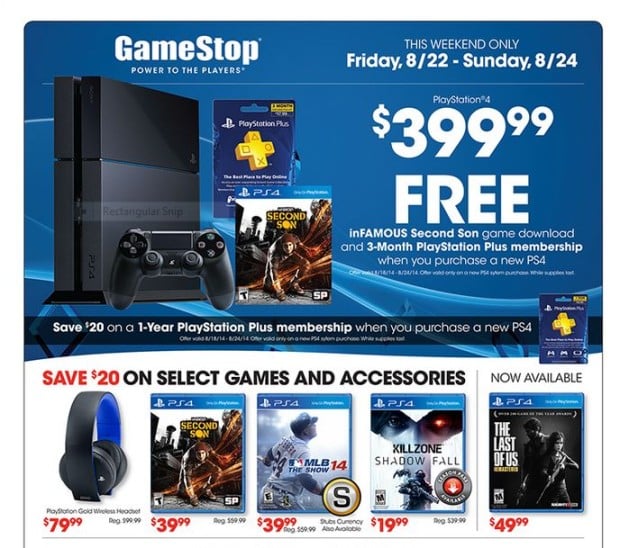 As part of the deal, slashed accessories and games include a disc based version of Infamous Second Son and MLB The Show for $39.99. Killzone Shadow Fall is available at just $19.99 as opposed to its $39.99 regular price tag. Game is slashing the price of the PS3's DualShock 3 wireless controller by $15 to just $39.99. GameStop is also giving away a Nav controller when users purchase the PlayStation Move controller for $19.99.
All told, this GameStop PS4 Deal is an incredible way to save some cash on Sony's latest consoles. Launched last year, the console costs $399 and only includes a controller. That free three months of PlayStation Plus is a ticket to tons of free games. Each month Sony gives PlayStation Plus users access to a free selection of games that they can download to their console and play as long as they want – provided that they continue paying for PlayStation Plus. That's a ton of free games that PS4 buyers get without much effort.
PS4 buyers will need a PlayStation Plus subscription for more than just free games. Having a PlayStation Plus account is the only way users can play against their friends and family over the PlayStation Network, the PS4's online gaming service. Normally, a year of PlayStation Plus costs $49.99. With this GameStop PS4 deal a year of PlayStation Plus is just $29.99 too.
Unfortunately, this GameStop sale is completely specific to the PS4, meaning users can't head to their local GameStop to pick up an Xbox One and get a free game and three months of Xbox Live. That being said, buyers of Microsoft's console hardly need the incentive, the company has been giving away free games with its base-level $399 console for some time. Just last week Microsoft announced a new bundle that gives users a digital version of Madden NFL 15 absolutely free.
Read: PS4 Review: From an Xbox 360 & Xbox One Owner
As with all deep deals, there's a catch or two. First, in order to get the three-month PlayStation Plus subscription buyers need to purchase a new version of the console, not the used and refurbished versions that GameStop sells. Those cheaper games and accessories are only discounted while supplies last. That means that once they're gone, they're really gone.
There is good news for users who don't live in urban areas though. This GameStop Sony Sale is available through the company's website as well as many of its stores. That should make redeeming this deal a lot easier. Still, users looking to take advantage of the cost savings are better off checking the company's website to see if their local store has units in stock. Even better, GameStop's website is showing the price changes as available immediately, even though they won't arrive in stores until this weekend. No deals or extra purchases are necessary.

As an Amazon Associate I earn from qualifying purchases.