Gaming Apple TV Controller, iCar Patents Fuel Rumors for New Apple Products
Newly discovered Apple patent filings further ignite rumors of Apple entering new product categories, spurring speculations that the company will enter the home console gaming market through its set-top Apple TV streaming box as well as further integration of its iPhone and iPad into cars serving as remotes. These patent filings were unearthed just a day after Apple CEO Tim Cook spoke on the company's quarterly earnings call promising that we'll see new product categories from Apple as well as "amazing new hardware, software, and services." Could a home gaming console, which has long been rumored for Apple TV, as well as an iPhone used to replace your keys and control your car be part of that vision? Will Apple be disrupting more product markets with these introductions?
New Game Controller Patent
A patent filing that was discovered by Patently Apple reveals that Apple is working on a pivoting button that will be coming to Apple's iDevice and can be paired onto an iPhone, iPod Touch, or iPad and iPad mini. There are two designs for the buttons, and the design doesn't actually show the actual look of a game controller, but there has been speculations that as Apple TV is already based on iOS the set-top media streaming box can be opened up to allow App Store downloads and play games in the living room on a larger HDTV set.
Apple's patent is for a pivoting button that "may be a four-way navigation device to navigate, for example, through menus or through a video game. The device 40 may be a remote control, a game controller, a personal electronic device, or any other device."
Still, while there are a lot of hints with this patent–and Apple has filed patents in the past related to gaming–there is no telling if Apple will commercialize its ideas.
An iCar Controlled by Your iPhone
A second patent was discovered by Patently Apple as well showing Apple maneuvering its way into the automotive space with a connected car concept. The patent is not about an entire Apple-built car, but about using the iPhone to control various settings inside a vehicle.
One such application would be to use the iPhone as a car controller that can unlock the car doors, start or stop the engine, and more. The idea of remote start and remote unlock of cars have been implemented before through third-party installations, and we'll have to see how Apple can redefine this experience and make it simpler.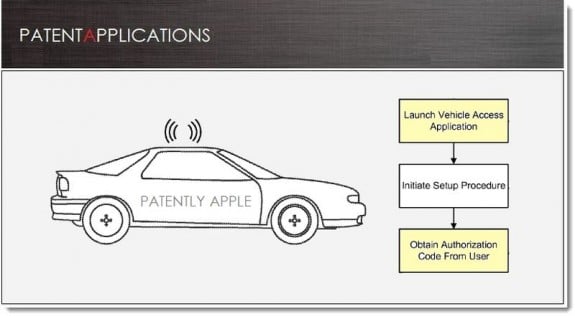 A second use would be to store a car's settings on the phone. If you have a single car in a multi-driver household, you can quickly tell your iPhone to reload your seat, mirror, and other comfort settings without having to manually adjust these settings. If you borrow a friend's car, potentially, you can take these settings with you, and the option may even work for rental cars as well so no matter what vehicle you're with, it's like being at home and driving your own car.
And yet a third option would be to use the phone to set-up something akin to the 'Do Not Disturb' option for your car where you can disable the car overnight so thieves cannot steal your vehicle.
In some embodiments, a vehicle can only be operated so long as an activating portable device is present. For example, a vehicle can be configured such that its engine cannot be started unless a portable device with an appropriate vehicle access credential is detected. In this way, an activating portable device can act as the security point for the vehicle.
The iCar would require deep integration of Apple products with car manufacturers, and it would also require wireless connectivity so there will be added monthly charges as well as the car may need its own mobile broadband modem.