Gateway EC18T Tablet PC leaked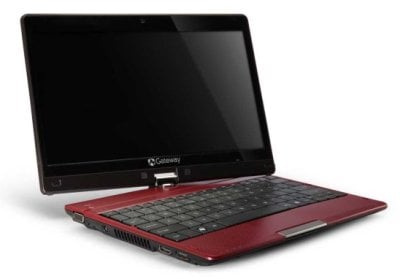 Given the absolute flood of photos received by Engadget, "leak" may seem too weak of a term here, but the deluge of images comes with few details, so I think "leak" is appropriate.
Anyway, the Tablet PC leaked to Engadget by an anonymous tipster supposedly sports an 11.6″ screen, Intel Core 2 Duo processor, up to 4GB of DDR3 SDRAM, and Mobile Intel GS45 Express graphics chipset. Both Windows 7 Home Premium and Basic are mentioned as options. The photos reveal a number of ports, including the usual USB and VGA ports, but also what I believe is an HDMI port.
One thing that caught my eye is the pen garage built into the bevel of the screen, rather than in the main chassis. It appears to be a slide lock system, rather than a spring-loaded one, but I can't say for certain based on the photos. There also appears to be a color option, though only for the top portion of the main chassis. Hope to see concrete details about this one soon.

As an Amazon Associate I earn from qualifying purchases.