Gateway Makes a Mark In Illinois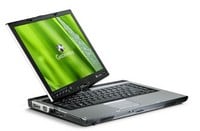 Tablet PCs and education are just a perfect match and this year has seen a number of school systems adopt Tablet PCs as a teaching tool. Today comes word that Gateway and the Illinois State Board of Education have inked a deal with $2.2 million that has Gateway providing their M285 Convertible Tablet PCs and support services to five Illinois districts as a part of the State's Technology Immersion Pilot Project. It looks like 6th graders will be the target for this program according to this press release.

As an Amazon Associate I earn from qualifying purchases.