Gateway's New Convertible Tablet PC: The E155C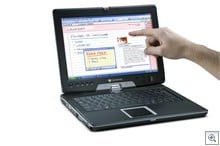 With a lot of the Tablet and UMPC world focused on the Intel Developers Conference, Gateway has jumped back into the Tablet PC game with news of the release of its newest Tablet PC, the E155C. We've been seeing hints of this for awhile here at GottaBeMobile.com, but now the news is out. The E155C is a Core 2 Duo convertible Tablet PC with an active digitizer and touchscreen capabilities. According to Gateway, "the E155C is designed to compliment Gateway's desktop-replacement M285 Convertible Notebook." Obviously aiming for those who need a more mobile solution than the rather large M285, Gateway is calling the E155C the Thin & Light Convertible. They also list the target markets as the education sector and the professional market. Initial info we received from Gateway listed Vista and XP as operating system choices and that the E155C was built from the ground up to run Vista. Currently the product tour on their website features Vista but the product page as of the moment of this posting only lists XP as an option. (I'm assuming all links we have in this article won't go live until Thursday morning and some changes will result. We'll update if we hear more from our contact or see new info on the site.)
The 4.5lb convertible comes with a 12–inch widescreen and an included optical drive, and for Wacom fans it includes a Wacom digitizer and a pen designed by Wacom.
UPDATE: According to our contact at Gateway, new Tablet PCs with Vista will be available in a few weeks. At the moment, Vista compatible machines are available.
Before we get to the rest of the specs here are a couple of other interesting highlights. They include an interesting sounding "reminder" feature for those who forget their stylus. The "reminder" will alert the user with an audio alarm and a flashing LED if you turn the system off without replacing the pen. The E155C also has an ambient light sensor and can be ordered with several battery options. It also has a dual-hinge option that allows the screen to be rotated 180 degrees in either direction.
And price you ask? It is listed as starting at $1849.99. Note also that in May, Gateway will offer a version of this convertible Tablet PC, labeled the Gateway C-120X that will start at $1499.
Gateway is sending us a review unit and I'm looking forward to giving it a spin. Of course we'll be producing an InkShow once we've got the E155C in hand.
Specs:
Performance
Intel Core 2 Duo U7500 Ultra Low Voltage Processor (U7600 available after launch)

Utilizes the Intel 945 chipset supporting PCI Express with a fast 667 MHz front side bus (system memory runs at 533MHz)

Supports up to 667MHz DDR2 memory; expandable up to 4GB with two SO- DIMMS (system memory runs at 533MHz)

SATA 5400RPM hard drive in 80GB or 120GB capacities; (Select models will include accelerometer technology that protects hard drives from damage due to drops; feature available by end of Q2)

Integrated multi-format double-layer DVD-R/RW with DVD-RAM. (A CD-RW/DVD combo drive will be available after launch)
Mobility
The new Gateway E-155C has three battery options that each deliver long battery life: 4-cell (three hours battery life), 6-cell (six hours battery life) or 8-cell (eight hours battery life)

Ambient light sensor for battery life savings

Dimensions: 11.9" (W) x 9.9" (D) x

1.17" (H)

Weight: Approximately 4.5 pounds with the 4-cell battery.

Weight will vary based on battery and configuration
Display and Graphics
Large 12.1-inch WXGA widescreen TFT Active Matrix Display (1280×800 maximum resolution) with 200 nit luminescence and CCFL Backlight

Pen- and ink-enabled along with touch-screen capabilities

Anti-reflection polarizer for usability in sunlight

Integrated Intel Graphics Media Accelerator 950 supporting up to 128MB of shared system memory (when less than 512MB memory present) or up to 224MB shared memory when 512MB or more system memory present

Microsoft DirectX 9.0 support
Communications/Networking
Optional Integrated Bluetooth 2.0

Integrated Wireless 802.11 a/b/g (802.11n will be available after launch)

Integrated V.92 56K Modem

Integrated Intel 10/100/1000 Gigabit Ethernet
Enterprise Management
Long life cycle to ensure platf

orm stability

RoHS and EPEAT compliant (See UPDATE Below)

CCX

Cisco Compatible Extensions
Gateway Security
The Gateway Shield Security Solution provides a comprehensive way of supporting the PC through hardware, data and Internet protection. Features include:
UPEK Biometric Fingerprint Reader

Trusted Platform Module (TPM) 1.2 hardware and Gateway Embassy Trust Suite software for professional customers;

Absolute Software's Computrace Complete tracking technology imbedded in firmware

Small businesses and home/home office customers have the option for Absolute Software LoJack for Laptops computer tracking software

All three models come with a standard Kensington Lock
Operating System Support
Microsoft Windows Vista Premium

Microsoft Windows XP Tablet Edition 2005
System I/O Ports
6-in-1 Media Card Reader: mini SD , SD , Memory Stick, Memory Stick Pro, MMC and RS-MMC (when used with adapter)

Two integrated microphone (array mic) mic Jack, Headphone Jack

Port Replicator docking connector (which is also compatible with Gateway M285, M280 and E-100M notebooks)
Cable Dock Port Replicator I/O Ports
Common with Gateway M250, M280, M285 and E-100M notebooks

Microphone/Headphone Jack

40-pin connection to notebook
UPDATE: According to our contact at Gateway, The E155C is currently RoHS Compliant and Gateway is working towards EPEAT compliance. Gateway was hoping to have completed that process prior to launch, but is still working towards that.

This article may contain affiliate links. Click here for more details.