Gazelle Testing iPhone and iPad Trade-In Price Alerts
Gadget buying company Gazelle.com is testing a new service that will alert users to the current trade in prices for the iPhone and iPad.
Gazelle invited past users to the Pricing Alerts Beta program via email today. The new service is only available to past users and only tracks a limited number of devices.
Anyone interested in upgrading to the iPhone 5 this fall should sign up for pricing alert on the current iPhone model to prepare for the coming trade-in price drops.
Gazelle offers some of the best prices for used iPhones and iPads, as well as other popular Android smartphones. Gazelle cut back on the number of products the company buys, and the new pricing alert beta program shows that the company is further catering to Apple owners.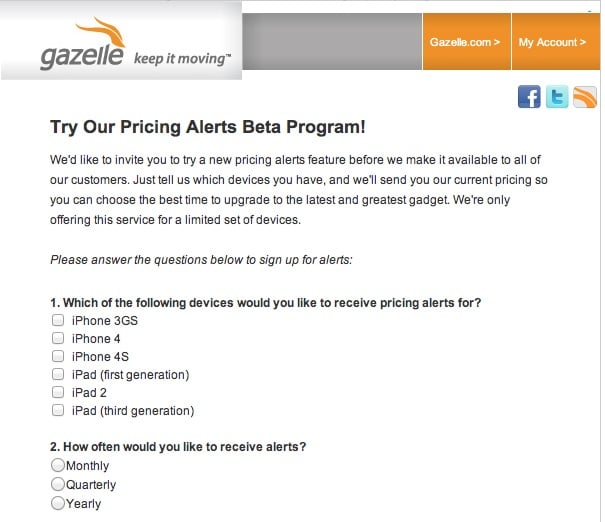 The Gazelle Pricing Alerts Beta program currently offers monthly, quarterly and yearly pricing alerts for current and recent iPhone and iPad devices.
Users can track the price of the following Apple products.
iPhone 3GS
iPhone 4
iPhone 4S
iPad
iPad 2
iPad 3rd Generation
I don't expect to see many Android price alert options anytime soon, there are simply too many devices available, many of which have a much lower resale value. For example, my HTC Thunderbolt is one year old and worth $60. A 16GB Verizon iPhone 4 is worth $132 in fair condition and $50 even if it wont turn on.
The service is in beta, so we hope it grows in the coming months. I would love to see an option for text alerts to make sure I don't miss alerts in my inbox or push alerts via an iPhone app. Gazelle should also add an option to provide an alert when prices drop as the iPhone 5 release date approaches.