GBM FrogPad Keyboard User Review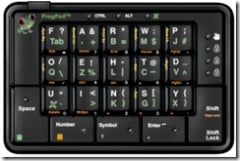 GottaBeMobile.com reader and forum member Steve S has been putting the FrogPad keyboard through some in-depth testing and has released a GBM User Review of the FrogPad keyboard.
As a Tablet PC user, Steve knows a thing or two about mobility, and he offers up just about everything you would want to know about this marvel of a keyboard. I've been evaluating it as well, and am astounded at the depths Steve has gone in this review.
If you are an Ultra-Mobile PC or slate Tablet PC user looking for an alternative keyboard, you should read Steve's review and determine if it could be for you.
Pricing at www.FrogPad.com:
Right & left white FrogPad – Bluetooth, $150

Right white FrogPad – USB, $120

Right & left black FrogPad (BlackFrog500) – USB, $130