GBM How-To Series #1 : Placing a voice memo or audio recording in OneNote 2007
Welcome to the first in a series of weekly briefs on tablet-pc and UMPC how-to's designed with the new and novice tablet/UMPC user in mind. Perhaps as we dive deeper into these, we will teach a few old dogs some new tricks as well. Our goal here at GottaBeMobile.com is to help make the tablet-pc and UMPC experience, the best they can be for users of all levels. Topics we intend to cover range from tablet and UMPC application tips, hacks, to hardware how-to's, etc. The list goes on. We may even poll our readership from time to time to let them help guide us along.
GBM How-To Series #1 : Placing a voice memo or audio recording in a OneNote 2007/2003 notebook.
Audio recordings in OneNote can be a useful addition to your inked notes in OneNote in a lot of different situations. If you have ever come out of a meeting or lecture and wished you could exactly recall how or the manner in which something was said, I bet you are not alone. What about being able to verify the accuracy of your notes? I think you will find that adding an audio recording to you notes may be just the solution you were looking for.
Getting Started: First, you obviously will need a microphone to record. Most current tablets and UMPC's have these already built in, but if not, plug in an inexpensive external microphone.
When you make recordings in OneNote, they are directly linked to notes you take when you make the recording. One of the great things about this is that OneNote allows you to later search your notes for keywords or specific text that is associated with a particular recording. For example, if you are in a meeting about the late night silliness at the 2007 CES in Vegas, 'Screaming Monkeys" comes up and the speaker goes on and on about "It has been reported that Warner Crocker started this nonsense at the 2007 CES, etc", click your record icon, you can sit back and record the laughter, sorry, make that lecture and then, in your notes, ink "Warner is a Nut" to indicate the topic of the recording. Whenever you play back the recording, OneNote shows you the accompanying notes that you took. Later do a search for "Warner", and you will be taken to the recording.
It's really easy. Simply…
1. Click the location on the page where you want to place the recording — for example, beside a key place in the lecture notes or paragraph.
2. On the Standard toolbar, click the pull-down arrow next to the Record button, and then click either Record Audio Only or Record Video. Note that a time stamp will be placed on the page next to the notes that you are taking.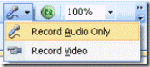 Start recording your audio notes and continue to take notes as needed.
3. To finish the recording, click
Stop Audio and Video Recording on the toolbar.

To listen, simply select the audio recording in the notes that you take that you want to hear and click the Play icon. That's it.
Tips and Notes:
When recording audio, you should always ask others for permission before you record your conversations with them.
Remember that OneNote audio recordings are designed to supplement you note taking, not provide a studio quality recording.
If you choose Record Audio Only, OneNote records the sound clip as a .wma file. If you choose Record Video, OneNote combines audio and video in a .wmv file, provided that a microphone is connected to your computer or is available as part of the camera. Once a video recording has been created in OneNote, you cannot separate the audio portion from the video portion in your notes.
If OneNote is not running, you can still initiate an audio recording by right-clicking the OneNote icon at the far right of the Windows taskbar, and then clicking Start Recording Audio.
You can share you OneNote recordings with others.
1. On the Tools menu, click Options.

2. In the Category list in the Options dialog box, click E-mail.

3. Select the Attach embedded files to the e-mail message as separate files option, and then click OK.

4. Click the tab of the page that contains the audio or video files you want to send.

5. On the File menu, point to Send Page To, and then click Mail Recipient (as Attachment).

6. Fill out the e-mail form, and then click Send.

>
If the quality of your recordings in OneNote does not meet with your expectations, try to adjust the default audio settings.
1. On the Tools menu, click Options.
2. In the Category list in the Options dialog box, click Audio and Video.
3. Select the options you want

>

Click Here for more information on Microsoft OneNote 2007

As an Amazon Associate I earn from qualifying purchases.