GBM How-To Series #10 : Inking in Excel 2007
Today's How-To is brought to you from the road. At this moment, I'm blogging from the parking lot of the Tampa Bay Land Rover dealership. Ah, the wonders of EVDO. (Thanks for the AirCard Dennis, you are not getting it back!) :) And no honey, I'm NOT shopping for a new vehicle here. I will be at the BMW dealership after I finish this post. That's a joke Beth. Ha-Ha. Get it, a joke. She has no since of humor.
Now, back to work. Inking in Excel; not as apparent as you might think. Let's take a closer look.
GBM How-To Series #10 : Inking in Excel 2007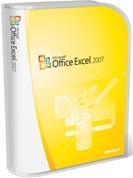 The inking experience in Excel is not limited to the tablet input panel, you can also ink comments and drawings in Excel freehand with your tablet. By the way, have you trained your TIP?
Inking in Excel 2007 is a bit tucked away in the review tab. To begin inking in Excel 2007, from your worksheet, click on the Review tab, then Start Inking.
You are then presented with the Ink Tools toolbar that contains all of your ink controls for Excel grouped by Select, Pens, Format, and Close. You can now add ink anywhere in you worksheet. Remember that these inked comments and annotations can be hidden or shown as needed.
To hide your inked comments, on the Review tab, in the Comments section, toggle display of ink on and off by clicking the Show Ink button.
Ink in Excel is a great way to illustrate ideas with sketches and handwritten notes that do not alter the original document.
Tips and Notes:
Digital Signatures can be added to any Word or Excel document to provide authenticity, integrity and non-repudiation (signer cannot deny signing) by utilizing Digital ID's or Certificates. For more on Digital Signatures,

click here

.

Make sure that any "personal" inked information that you do not want published is removed by clicking on the Review tab, in the Tracking group, point to the Display for Review arrow, and click Final Showing Markup. In the Tracking group, point to the arrow next to Show Markup, and make sure that all of the following are selected: Comments, Ink, Insertions and Deletions, Formatting, and Markup Area Highlight.

As an Amazon Associate I earn from qualifying purchases.