GBM How-To Series #11 : Inking in Outlook 2007

Today's How-To is another "short and sweet" that illustrates just how natural the ink experience can be. I mean, what could be more natural than written expression? I remember the wonder of getting ink' ed emails from Dennis Rice before I had become "Ink Smart". So, with those who may be new to the inking experience on their new tablet or UMPC purchase, this one's for you! Inking in Microsoft Outlook 2007 is a piece of cake.
Here's how…
GBM How-To Series #11 : Inking in Outlook 2007
Getting Started
To ink in Outlook 2007, assuming you are either in folder view and have an email folder selected, OR you are in email view, begin by clicking the New Mail Message button at the top left of the Outlook toolbar. Also, you MUST compose the email in HTML to include ink. If you are having trouble, check to see that you have HTML composition enabled by choosing Tools,Options then Mail Format tab and select HTML to compose email in the message format section.
Next, address you email using the TIP (Tablet Input Panel, come on; use it!) to enter the email address of your recipient. This takes a little getting used to, but is very powerful once you are "Ink Smart". Enter your CC's and subject using the same method.
Time to Ink!
OK, now comes the real ink fun. After you have your who-to's and such completed, you are ready to ink the body of your email. To do this, with your pen or stylus, select any area inside the body of the email. You will see a normal cursor. Then on the Outlook Message toolbar, notice that the Start Inking button becomes active. Go ahead and select it.

Once selected, an inkable region will be placed into the body of your email. Now, ink away! Notice that the Ink Tools toolbar comes up and gives you options for selecting the type of pen you wish to ink with, color and line weight control, eraser, and the ability to select inked objects and insert more inkable space. When you are done inking, click the Close Ink Tools button. The Select Objects tool can be used to resize, recolor, and move inked objects
Inking in Outlook is a great way to communicate ideas and provide a personal touch to your email. Hey, it's fun too!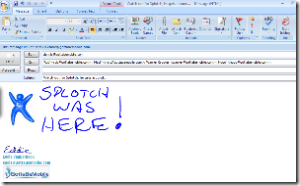 Happy Inking!
Tips and Notes:
Remember ONLY recipients that can read HTML will be able to see your ink.

As an Amazon Associate I earn from qualifying purchases.