GBM How-To Series #14 : Getting a handle on Vista Bells and Whistles
Hello again. Eddie here with another installment of the GBM How-To series. I am at an Intense School in Ft. Lauderdale for the next two weeks studying the MCSE/MCSA material. Whew! What a pace. There is a guy in my class that reminds me of one of the best co-workers I ever had. Pat. Pat was a freak about getting the most performance out of his system. He could not stand "Bells and Whistles" or "Curb Feelers" as he called them on his OS. I mean no desktop background, nothing! He was a purist. So today, Pat my friend, this how-to is for you.
GBM How-To Series #14 : Getting a handle on Vista Bells & Whistles
Hey, I love the bells and whistles. But there are some, like Pat, who want to get every bit of performance they can from a system; even if is is only a few nano-seconds here and there. (Yes Pat, that was for you.)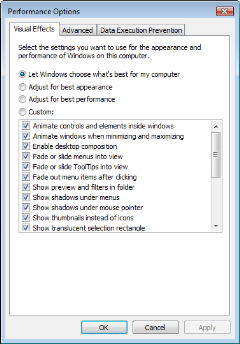 Here's how. Start by right-clicking Computer on the Start Menu. Then select Properties. Then on the left side of the System Control Panel, click the link to "Advanced system settings". If you have User Account Control turned on, you will have to authenticate. The System Properties window will appear. Click on the Advanced tab, then select the Performance Settings button. On the Visual Effects tab, you will be presented with all manner of effects customization. Have fun. If you prefer to do it the easy way, simply click "Adjust for best performance" and let Vista do all the work for you. Now you have a mean, lean computing machine, just like Pat would like.

As an Amazon Associate I earn from qualifying purchases.