GBM How-To Series #4 : Specify Screen Rotation options in Windows

Have you ever wished that the screen rotation button on your Tablet PC processed the rotations in a different order? It's called Orientation Sequence Settings and you can most certainly change it! Take a closer look at today's How-To and find out more.

GBM How-To Series #4 : Specify Screen Rotation options in Windows XP or Vista.
To specify the order (and current orientation) of you screen rotation button, begin by launching the Windows Control Panel from either Windows XP-Tablet PC Edition or Vista.
Once in the Control Panel, if in XP Category View, select Printers and Other Hardware, then Tablet and Pen Settings. If you are in Classic View, simply scroll down towards the bottom of the list of available icons and select Tablet and Pen Settings.
If you are using Vista in Control Panel Home view, select Hardware and Sound, then Tablet PC Settings. In C
lassic View, scroll down the list and select Tablet PC Settings.
Now with both XP and Vista, you click on the Display tab, then just right of the Sequence label, select Change.
You are now presented with a window that allows you to change the order your preferred orientation sequence settings.
Specify the order of Primary Landscape, Primary Portrait, Secondary Landscape and Secondary Portrait rotation options. Click OK to close the Sequence Settings window, then Apply, then OK to close the Tablet PC Settings window, and you are done.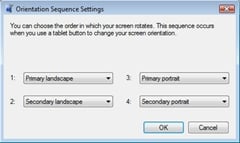 Now when you do a manual screen rotation, it will be in the order you choose.

As an Amazon Associate I earn from qualifying purchases.