GBM How-To Series #5 : Vista Power Plan Creation

You might remember the famous Mark Twain quote "Everybody talks about the weather, but nobody does anything about it". So it goes with Dennis and his battery woes in his recent post. I feel his pain. While we can't change battery technology, we can learn make the best of what we have. Having supported many users who worked allot in airports when traveling or standing in a supermarket, we refined getting the most out of a battery into an art. Today's How-To is about helping you get the most out of your battery for the way you use your tablet or UMPC.
GBM How-To Series #5 :Vista Power plan creation
Battery life is for the most part dependent on three things. Display size and brightness, hard drive , and wireless radio usage. Minimize your utilization of these, and you will see great improvements in battery life. If you want to really max out battery life, create a custom Power Plan. What's a Power Plan anyway?
From our friends at Microsoft…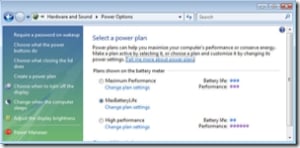 A power plan is a collection of hardware and system settings that manages how your computer uses power. Power plans can help you save energy, maximize system performance, or achieve a balance between the two.

You can change settings for any of your power plans, including the three default plans—Balanced, Power saver, and High performance. The default plans meet most people's computing needs. If these plans don't suit your needs, you can easily create your own plan by using one of the default plans as a starting point.
Here's how…
In Vista, open Control Panel, select Hardware and Sound, Power Options, Create a Power Plan. On the Create Power Plan page, select a plan that will be the closest to the one you will use as a starting point. Give the plan a name, then click Next.
On the Change settings for the plan page, choose the display and sleep settings that you want to use when your computer is running on battery and when it's plugged in, and then click Create. Note that the plan you just created, becomes the active plan. Your plan will now be available on the battery meter and the plan you based you plan on will be moved to Additional Plans.
Click on the Change Plan Settings then Change Advanced Power Settings to customize many more settings and get the most out of you battery.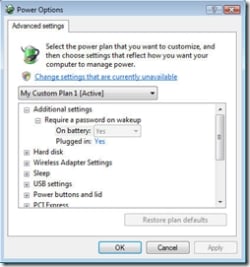 Turn off or customize as many power options as possible to extend the life of your battery. Some areas of opportunity are to disable Indexing, wireless, and USB while on battery. Customizable options are Hard Disk, Wireless, Sleep, USB, Power buttons, PCIExpress, Processor, Indexing Service, Display, Windows DreamScene, Multimedia and Battery.
Tips and Notes
Remember to choose a power plan that saves power.

Prepare for your power needs BEFORE you get in a tight spot.

Reduce Hard Disk utilization by turning on off the Indexing Service while on battery.

Reduce display brightness and timeout settings. LCD Displays utilize more power than any other component of your tablet PC or UMPC.

Shorten the length of time before Windows turns off the display.

Turn off or remove any devices that you aren't using. Flash Drives, Hard Disks, etc.

Remove any unnecessary PCMCIA devices.

If utilizing Cadmium based batteries (Ni-Cad), completely discharge before re-charging.

As an Amazon Associate I earn from qualifying purchases.