GBM How-To Series #8 : Training Vista for Handwriting Recognition

OK, I admit it. I have horribly funky handwriting. Well it's not all that bad, just a mix of cursive, block, all caps, you name it. I dash my seven's, zero's, just to name a couple of oddities. Old habits are hard to break. Go Vista! Finally, someone that actually knows what I'm writing! Handwriting recognition his has to be hands down one of my favorite Vista / tablet features. Wow, Vista handwriting recognition has come a long way since XP!
GBM How-To Series #8 : Training Vista for Handwriting Recognition
Start the recognition process by entering "Handwriting Recognition" into the Vista search bar. Hey, isn't the search bar great!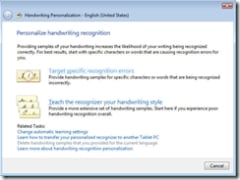 Select "Teach the recognizer your handwriting style" to get started.
Then select either "Sentences" or "Numbers, symbols, and letters". Numbers, etc is short an sweet. Eight entry pages. The sentences training is much longer. About 50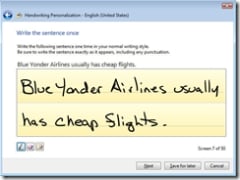 If you select "Sentences", read the instructions on how to get your best results then , select Next. You will be prompted to enter 50 different sentences. Be sure to write them once and in a normal (not your very, very best) handwriting. The goal here is to give the handwriting engine a chance to see your "normal" style. You can stop at any time, but remember the more you train the better our recognition will be. Simply click "Save for later" if you need to ditch the training.

Successful update of the handwriting recognizer is indicated by this info bubble.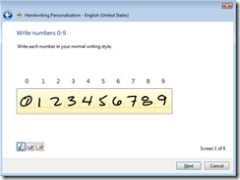 Select "Numbers, symbols, and letters", and you are immediately prompted to enter 8 screens of Numbers, common symbols, and Upper and Lower case letters.
Once you have Vista trained for your handwriting, your input panel experience will be much more accurate. However, it is not perfect. This is due in part to your handwriting not being exactly perfect. Don't take it personally. When mistakes are made, be sure to correct them as not only will your document be correct, but Vista will be less likely to make the same mistake in the future.
Tips and Notes:
To enable "Automatic Learning" click Start, Control Panel, Mobile PC, Tablet PC Settings, then the Handwriting Recognition Tab. Enable personalized recognizer and automatic learning.

Note that you can specify whether you are Right or Left handed by specifying your selection on the General Tab of the Tablet PC Settings as well calibrate the screen.

Take your time and try to complete the 50 sentences, practice makes perfect!

You can even train Vista for another language. Click Here.

As an Amazon Associate I earn from qualifying purchases.