GBM InkShow: ARMOR X10gx Rugged Tablet PC – "Tough yet Fun"
Can't say I have a particular need for a rugged Tablet PC capable of withstanding dust and debris, crashes against the pavement, a jog through the rain, or explosive environments. But if I did, I'd definitely keep the ARMOR X10gx from DRS Technologies on my list.
As I shared in my "first impressions", a rugged tablet is just a fun piece of equipment. There is something quite liberating about not having to worry about jostling the hard drive around or cracking the casing by bumping it around. On top of that, the ARMOR surprised me with its remarkable pen input prowess, brilliant display, and lightning responsiveness. I did find a small "crack in the ARMOR", but overall, the ARMOR X10gx felt like a great Tablet PC to me. I put together this all-outdoor InkShow for it with a text-based review below. Full specs on their website.
Display and pen + touch input
As demonstrated in the video, the 10.4″ display on the ARMOR cranks out the lumens. As long as I didn't angle the sun's reflection directly into my eyes (which is never a good idea), the screen was just fine in daylight. Even with the sun glaring directly on the screen, everything around the sun's reflection was readable at maximum brightness. Out of direct sun, I found the display was readable even at the lowest brightness setting. In shade, I found the maximum brightness setting to be too bright. Fortunately, the programmable bezel buttons made brightness control easy.
Pen input was very smooth, as one would expect from a Wacom Penabled digitizer. The screen has a bit of give to it due to the resistive touch. I found I had to apply more pressure on the pen than I normally would, but no more than if I was switching from a soft pencil to a harder one. And of course the tough screen can handle a hard press. The raised bezel created a bit of digitizer interference at the edges, which hindered my usual setup of auto-hiding the taskbar. Calling out the Windows 7 TIP was also a tad tricky, but this is easily avoided by using the back-forth gesture or the launch button on the (non-hidden) taskbar.
The pen itself was ruggedized with a thick shell and rubber-sealed right-click button. Handled a bit like a marker. Should be easy to manipulate in a gloved hand. A tether keeps it attached to the tablet and it stores in the handle.
Single-touch input required a firm finger. Resistive, not capacitive, to accommodate field workers who wear gloves. Not great for gestures and swipes, but they do work. On-screen typing was also a challenge. So-so for anything aside from tapping icons and big buttons, but the pen is available for any precision work.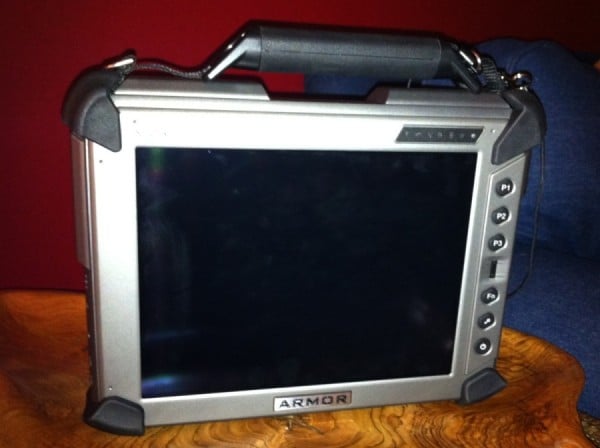 Performance and Battery Life
With Intel Core 2 Duo 1.2GHz processor and 2GB of ram, you won't be relying on this PC to process a lot of video, but the 80GB Intel SSD made it amazingly quick and responsive. Cold boot in under 30 seconds. Sleep or resume in a second. Applications launch instantly. It put my other PCs with faster processors and more memory to shame. If you care about getting to your work quickly, SSD is the only way to go.
The ARMOR X10gx is a sealed fanless computer, which allows it to operate in dusty and/or wet conditions. A ridged area on the back allows for heat dissipation. It can get quite warm, but I never suffered lap burn. Of course, I usually held the slate in hand anyway. Between this and the SSD, the system is completely silent.
The dual-battery system drains asymmetrically, drawing down one battery before the other. LED meters on the back above the batteries show the power level, in addition to the battery monitor software. It's hot-swappable, allowing the user to swap out a drained battery while the machine is still running (assuming the other battery still has a charge). Out of necessity, the batteries are on the small side. I found two hours to be a comfortable average run-time per battery, which will vary with usage. I did notice the batteries recharged quickly, presumably due to their small individual size, but did not get to measure that. Between the fast charging and hot-swapping, the system allows different ways to maintain all-day battery operation.
Also note, the ARMOR X10gx includes 802.11n, Bluetooth, WLAN, and GPS, all of which can and will sap your battery. I turned all on in my testing, but the latter three were not highly active (didn't use the WLAN at all but was turned on).
Size, weight, and feel
I expected the ARMOR to feel heavier than it did. It looks like it should be a brick, but it is lighter than it appears thanks to its magnesium alloy construction. Make no mistake, at 4.7lbs, it is a hefty machine, but I've worked with bigger and heavier. Despite its bulk, it was very easy to handle and control.
The ruggedness plays a factor here. Being able to manhandle the device and plop it down on a table make it feel more like a book you can toss around than a delicate piece of electronic equipment. Likewise, the handle and its ability to stand upright on its own contribute to the ARMOR's ease of use. They make it a really good slate to use with an external keyboard, which is good because…
Crack in the ARMOR
If the ARMOR X10gx has a weakness (nothing's perfect), it's that it lacks a built-in directional control and enter button. 9 times out of 10, these aren't necessary, but it's that 10th time that can bite you. If Windows encounters a problem when resuming from sleep and kicks to the error screen, it won't proceed without someone hitting the enter key.
I ran into this when I swapped the wrong battery and could not do anything until I plugged in a USB keyboard and hit enter. The best fix would be for DRS to set the programmable buttons in the BIOS as up, enter, and down, respectively. Until then, I recommend carrying a USB keyboard in case of emergency, if you don't already carry one for rapid text entry. Again, this is a very specific problem, but the point of a rugged computer is that you expect bad things to happen.
Software
Aside from the standard Windows 7 stuff, this eval unit shipped with a few applications to diagnose and evaluate the hardware. The ARMOR utilities suite offers several system controls, including battery monitor and access to the programmable buttons. As shipped, the suite only enabled brightness control in the buttons and only while the application was open. Two applications access the built-in camera, Webcam Barcode Scanner for barcodes and QuickMark for QR codes. The camera is designed for close-up shots, working well with these applications for recognizing codes. U-Center 6.01 allowed for testing of the built-in GPS, which returned my exact coordinates.
Conclusion
In my first impression of the ARMOR X10gx, I called the machine "fun" and I'm sticking to that. While a rugged tablet does not fit into my life, I found myself enjoying the experience of toting the ARMOR by its handle and heading on my way. No need for a protective case or pack. Just grab and go. The speedy SSD made a big impact on me, and I'm seriously looking into upgrading to one.
Pricing depends on your order requirements, but rugged computers do not come cheap. DRS offers many accessories and peripherals, such as mounting and docking stations. Full details on the DRS website. That one small flaw aside, the ARMOR X10gx performed solidly for me. Tough yet fun.

As an Amazon Associate I earn from qualifying purchases.