GBM Inkshow: EVO Tablet Arm by Innovative Office Products

As Andy Rooney once proclaimed "All men are Not created equal…"; unfortunately that holds true for LCD panel arms. We first saw this bad boy arm attached to a desk while at the Tablet PC/UMPC meetup at Cheeseburger in Paradise during CES 2007. Not until I gave this arm a try on my desk did I fully appreciate how useful and well manufactured it really is. For those times when you are not mobile, it really is a great solution for your deskbound Tablet PC.

EVO Tablet Arm by Innovative Office Products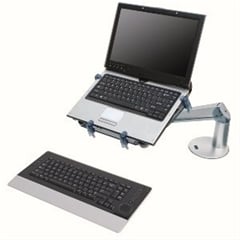 Discover a new way of interfacing with your tablet PC or notebook the EVOâ"¢ Tablet Arm suspends your portable above the desk where it can be instantly repositioned for comfortable viewing. Combine with a wireless keyboard and mouse to create an ergonomic docking station for your computer.

It's an ideal solution for workers on the move. Improve productivity while working at your primary desk, then simply grab the computer and go when it's time to leave.

The attractive arm includes our desk edge / grommet clamp mount. Alternately, inquire about our slatwall, slatrail or wall mount options. The cast aluminum arm will provide durable and stable support for your portable.
Key Features:
Quick attach and release for workers on the go.

Works with both notebook and tablet computers.

Adjustable clasps allow free access to jacks and ports.

Mounting arm floats computer above desk. Simply grab and move to desired position.

Arm extends up to 18 inches, with vertical adjustment of +/- 5 inches from horizontal.

Integrated cable management keeps cords off the desk.

Mount clamps to desk or through grommet.

Aluminum-casted arm provides sturdy and durable support.

Tablet PC users: Enables one-handed use of the tablet. Frees your lap and your desk.

Tablet PC users: Use tablet in portrait or landscape position.

Tablet PC users: User-adjustable tension at joints allows writing or drawing on tablet.

Retail Price : $299
Watch or download the High Res version (11 minutes, 39mb, Windows Media streaming or direct download)
Check out Innovative Office Products website
All GottaBeMobile.com InkShows are sponsored by:

As an Amazon Associate I earn from qualifying purchases.