GBM InkShow: HP tx2525 Entertainment PC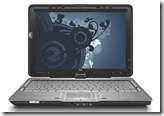 Over the past week or so, I have been taking a look at the HP tx2525 Entertainment PC.   I shot some video of a few features on the new machine that I thought would be of interest to someone wanting to purchase on of these Entertainment PCs.   The video starts off with a quick look at the tx2525 compared to the tx2051.   After the quick look, I test out the touch screen feel and inking functionality using Windows Journal.   Then, since it's an Entertainment PC, I give a quick look at the HP utility on the machine that is a hub for all media.   I play a DVD then move to using my Slingbox to show how easily the application functions.   At the end of the video, I use the included remote control to navigate my way around Windows Media Center.
The video is:
Video after the break
BTW – Don't mind the infomercial playing in the video… it wasn't on when I started and I had to redo a section late at night :)
All GBM InkShows and Podcasts are sponsored by TechSmith.

As an Amazon Associate I earn from qualifying purchases.